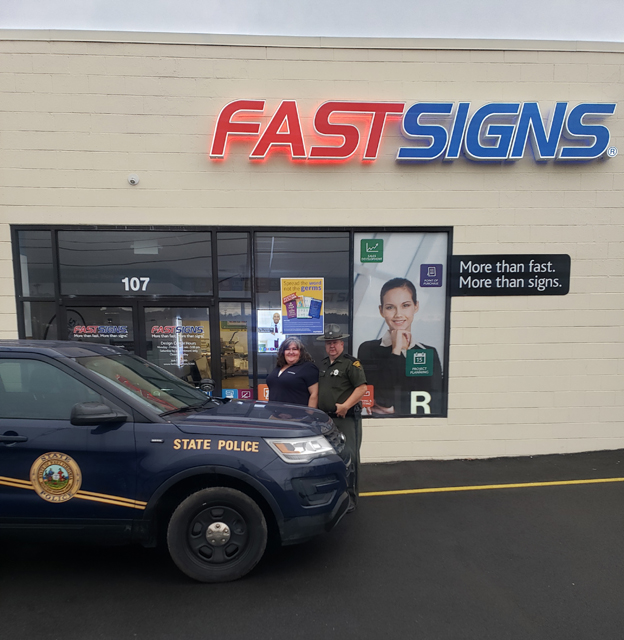 Billie Jackson had already been running her small sign and graphics shop Daddy Rabbit Graphics in Beckley, West Virginia for eleven years when, two years ago, she made a big decision that would change not only the direction of her business but also open up a better way to manage the challenges that were coming her way.
Daddy Rabbit Graphics had been quite a family affair—Billie owned and operated the mom-and-pop business with her husband Joe and her son working part-time. (Note: Joe has also served as a full-time West Virginia state trooper for the past twenty-three years.)
Attending a tradeshow a couple of years ago, Billie and her husband took advantage of the FASTSIGNS discounted franchise fee for first responders and decided to convert their existing Daddy Rabbit Graphics business into a franchise location in order to provide additional products and services to clients in their area.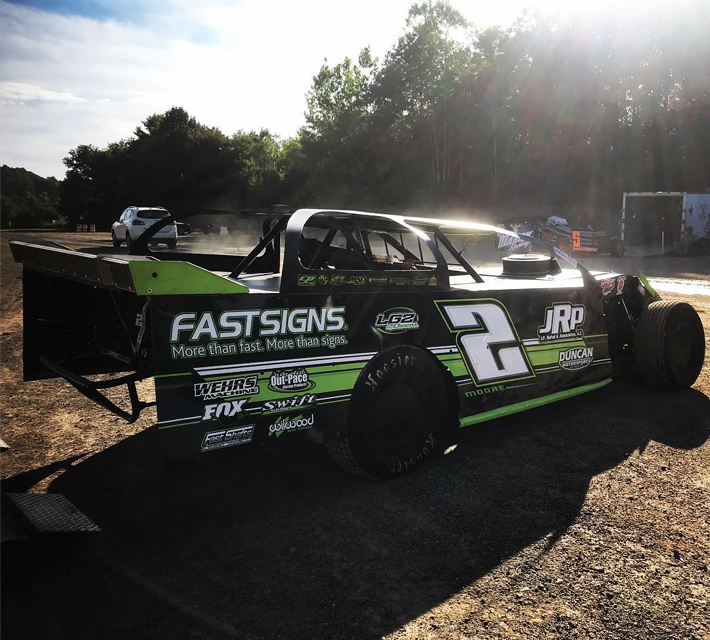 But let's rewind for a moment here: Billie initially moved into the sign and graphics industry thanks to her family being into dirt track racecars. Her son was one such racer. "On these racecars, you have to have sponsors on them," she says, "and we needed to find a way to add these sponsors and other graphics to his vehicle."
The big challenge that crept up here was that Billie and her son didn't have easy access to anyone doing vehicle wraps in their area of southern West Virginia. So she did some research and, after learning how to print wraps, made the decision to buy the machines to help her create and print these graphics.
The sponsor was impressed, and a few weeks later, they asked Billie if she could make a vinyl sign for them based off the logo she had designed and printed for her son's racecar. That led to follow-up requests for screen-printed t-shirts for the sponsor's workers and then embroidered-style shirts for the executives—all projects that Billie was excited to take on.
Suddenly Billie was off and running with her Daddy Rabbit Graphics business.
However stress eventually settled in as Billie's clients were increasing, while her time to finish projects seemed to be decreasing. Her family was part-time help. Joe would come into the business at eight in the morning, leave at three to go to work at the state police until eleven and repeat the process again the next day. Meanwhile her son was only able to help out after school and before and after races. And space at the small-sized shop limited bringing on additional help.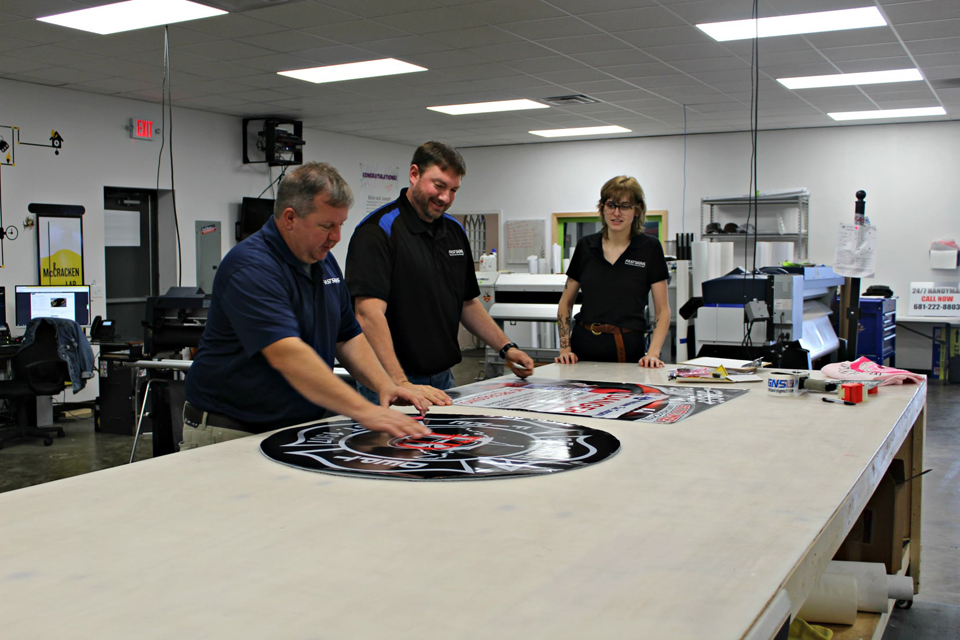 Realizing that she would need to expand their scope in order to grow their business as technology was changing so much, Billie started her process by looking for information.
"A customer would come in and say they had saw something on the Internet and asked if we create it for them," she says. "We would search frantically on the Internet trying to figure out how to get the materials, how to build it, and importantly, how to price it.
"By the time we would find the information and get an estimate out, the customer had moved on to someone else."
It was during this Internet research that Billie noticed ads for FASTSIGNS, so she made it a point to visit them at a local tradeshow her family attended. "That's when they told us about the First Responder discount," says Billie, "and we learned about their vendor support. It made so much sense for us to make this transition."
Billie and Joe eventually received lots of literature about FASTSIGNS in the mail and a designated representative frequently called them and answered any questions they had—even going out to lunch with them. "He also set us up to go visiting other FASTSIGNS locations within an hour or two from us," says Joe, "so we scheduled a few days away from the shop to go out and tour them and talk with those owners. And they all appeared calm and happy."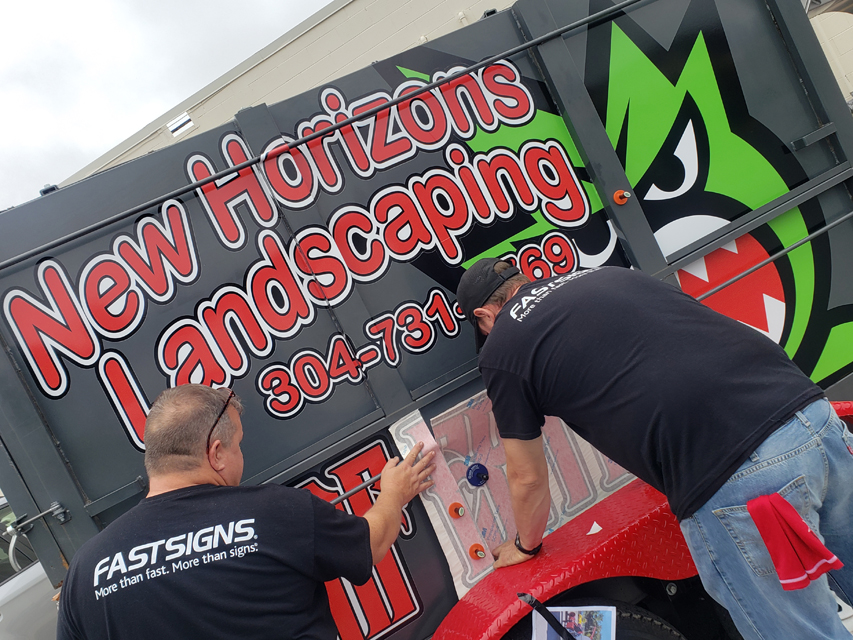 The first thing they did after converting to a FASTSIGNS was incorporate the franchisor's showroom package into their shop layout. It had a very positive impact. "It was the best thing we could've done. Our customers responded differently," says Billie. "We didn't realize how much of an impact it would have to be able to show our products. We couldn't display our products as a mom-and-pop because we didn't realize the benefits of having our showroom right."
Billie says that they had a marketing consultant work directly with them to make the transition smoothly. "We did have a few people that were concerned they weren't going to get the same thing. And it turns out they didn't get the same thing—they got something better!" she says. "They learned that we were the same locally owned and operated people that they were used to dealing with but better equipped to serve them at this point with better options."
After converting, the Jacksons still kept their FASTSIGNS at the metal industrial building location of Daddy Rabbit Graphics for awhile, but they outgrew the space within eight months and have recently relocated to a larger 3,500-square-foot space at a strip mall storefront location complete with a wrapping station and garage.
Since transitioning to a FASTSIGNS, Billie has been able to explore so many new types of sign offerings that she admits they couldn't have done before. "Before becoming a FASTSIGNS, we didn't have the knowledge, the vendors, or the support that we needed to do this," she says.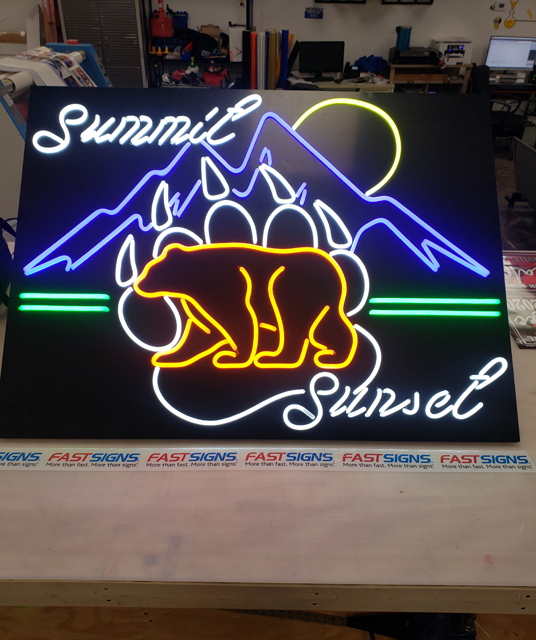 They've increased their wrapping capabilities to now expand into fleet graphics programs for vehicles. They've also moved into custom dimensional signage, even incorporating LED lighting for clients such as the Boy Scouts of America. "We've also started doing a lot of digital sign installations now," she says.
Today Joe is a full-time member of the company (having recently retired from his career as a state trooper), and they have since brought onboard a graphic designer, a production specialist, and an installer and have put out recent feelers for additional staff.
"We can bring anyone in and incorporate them if they fit the culture, if they have bright ideas, and if they want to be helpful to our customers," says Billie. "We like it if they have experience, but we can train anybody how to make a sign. And FASTSIGNS offers continuing education for our employees."
Billie and her crew recently finished up the biggest sales month ever in their twelve-month history, and they celebrated by bringing onboard a new Epson S60600 printer, as well as a new cutter, to help with their production.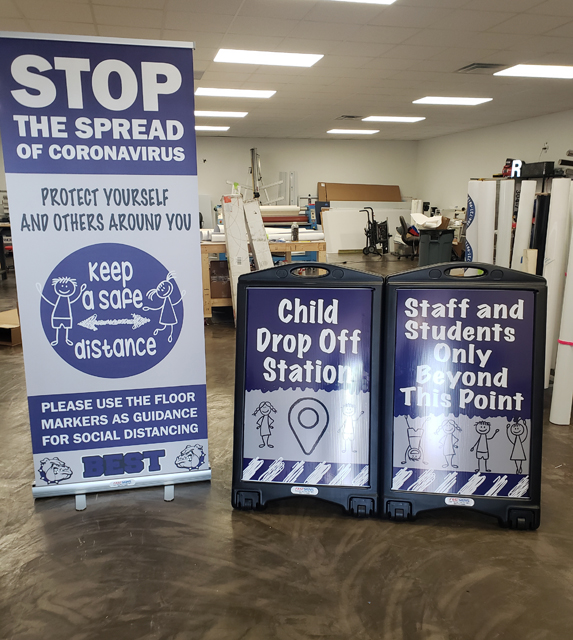 "People still need signage, and we were deemed an 'essential business' through the whole COVID-19 shutdown. So we were there to help our customers either maintain their businesses, reopen their businesses, or get used to a whole new way of operating," says Billie, noting they also recently fulfilled a work order of producing social distancing A-frame signage and banner stands for local schools.
—Jeff Wooten