United Franchise Group (UFG), comprised of several award-winning, entrepreneurial franchise brands, is accelerating its efforts to fulfill its mission of keeping franchisees thriving. Drawing on its thirty-four years of experience, as well as the vast knowledge of its network of franchise owners and entrepreneurs, UFG is doing everything they can to keep businesses in business as the health crisis continues to yield difficult challenges to franchise owners. They have launched Reopening America Together, an initiative developed to help businesses get back to business and re-energize the vibrant communities throughout the United States.
Leading the global market for entrepreneurs is no small feat, but a responsibility taken seriously by UFG. That's why they're doing everything they can to keep businesses in business as the health crisis continues to yield difficult challenges to franchise owners.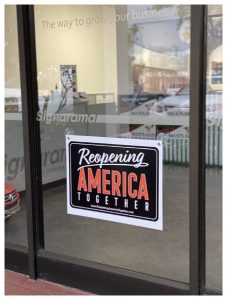 One of UFG's oldest and largest brands, Signarama, the world's leading sign and graphics franchise, designed "Reopening America Together" signage and offered it for free outside its South Florida headquarters. Local business owners were encouraged to grab a sign to display at their business.
For those not in the South Florida-area, business owners across the nation can also participate by visiting the website and downloading the "Reopening America Together" toolkit complete with a sign to display in storefronts, taking photos and sharing on social media using the hashtag #ReopeningTogether. Sign designs available for download include "Welcome Back," "We're Open," and "Ready to Serve," as well as additional free resources.
"As a franchisor, our job is to help and grow our franchise network of business owners," says A.J. Titus, president of Signarama, noting that his company is made up of businesses of all sizes. "We wanted to create an initiative that would encourage and inspire our business owners to encourage and inspire their customers and communities."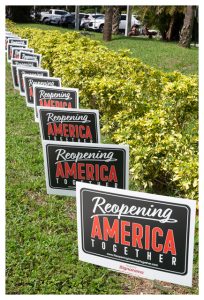 In addition to the free signage, the group is also selling Reopening Together-branded products including a storefront sign, a window sign, a t-shirt, and a bracelet. UFG is donating all proceeds from the sale of these products to the GoFundMe© Small Business Relief Fund. The fund supplies financial assistance and support to businesses across the country by providing grants, tools, and resources to help qualifying small businesses negatively impacted by the COVID-19 crisis.
Titus says that there are two key factors that contributed to decision to donate to the Small Business Relief Fund. "There is a misconception that franchises are big corporations," he says, "but, in fact, most are made up of entrepreneurs and are independently owned and operated, and our franchisees are no different. They're small business owners, and they have employees with families, and we want to support and promote them whenever we can."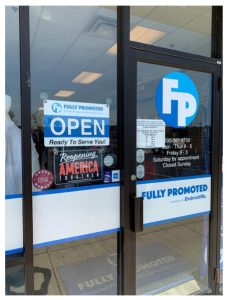 Secondly, Titus remarks, most of the Signarama end customers are also small business owners themselves. "We want to be able to help our franchisees' customers grow and get the relief that they need to help sustain them through this time," he says.
Fortunately most states recognized sign businesses as essential, and Signarama has been able to actively remain open, providing essential services and directional and social distancing signage and decals to hospitals, grocery stores, and restaurants.
Right now, the Reopening America Together initiative is open-ended, and Titus forecasts it running as long as it is needed.
"We're hoping this initiative spurs people into realizing that the sign industry is extremely important in helping to grow businesses of all sizes," he says. "As the country prepares to reopen, we're prepared to support business owners in every community. Both Signarama and UFG as a whole have continued to work every day to equip our franchisees with all they need to provide satisfaction at every turn—to longtime customers and newcomers alike."