Joe Landin recently turned thirty years old. He is married with three kids, coaches football and basketball—and is currently running a five million dollar sign business, BSC Signs in Broomfield, Colorado.
Joe was practically born into the sign industry, as his father and a few of his uncles have been involved in the industry for thirty-plus years. "My dad worked for a few sign shops and then decided to start his own small company and worked as a subcontractor for a few others around town," says Joe. "Through this time I found myself on summer breaks helping him with installs and light fabrication work between the ages of ten to fourteen or so."
As a kid, Joe always strived for the best (being honored as a Straight-A student and participating in school events as an athlete). However, in high school, girls took more of a priority, and as a sophomore, he received unexpected news. "At the young age of fifteen, I learned I was going to become a teen father," he says. "It was then that I knew it was time to buckle down and get a job to support my new family and responsibilities."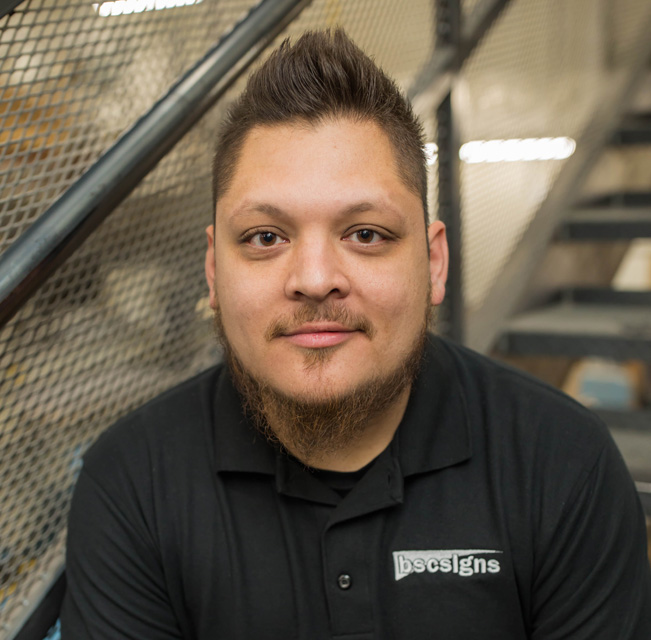 Joe ended up dropping out of high school and applying for a shop help job at a local sign shop—and the rest is history! "Thankfully, all the time I had spent with my dad working with him during summer breaks and being around the sign business at a young age really paid off for me, as I was able to do more than the average shop helper and grew quickly," he says. "I [started to understand] that, the more I learned and developed, the more money I could make and the quicker I could advance within a company."
One skill he learned well was his ability to paint. "By age seventeen, I was the paint department manager at a larger local sign shop managing several employees," he says.
Joe later switched to another custom fabrication shop where he learned to add fabrication skills to his repertoire. Eventually he was given the opportunity to become a production manager. "I managed about [more or less] ten employees and was responsible for the completion of many projects," he says.
However the company Joe was working for decided to relocate from Denver to St. Louis and consolidate with a larger company. Even though he was offered the opportunity to move out to St. Louis with them and become operations manage, Joe was not ready to make the move. "I did spend about twelve weeks flying from Denver to St. Louis to help the owners get the new facility and equipment set up, hire and train new employees, and make sure all was running smoothly," he says.
Joe's father was working as a CNC operator at BSC Signs, a full-service sign company in Broomfield, Colorado, and brought him onboard as a fabricator and painter. He later tried his hat in sales where he generated well over a million dollars in his first year and experienced a few more consecutive million-dollar-plus years after that. "While selling was fun, I knew in my mind that owning my own sign company or running the company was where I wanted to be. I stepped out of sales and learned estimating and did that for a few years," says Joe. "I then stepped out of that role and became our fabrication and install manager, then became the Operations Manager, and in early 2020 was promoted to CEO.
"Thankfully BSC and Owner John Dobie have been supportive and offered me the opportunity to grow and saw the fire and drive within me."
Joe has found that each milestone in his career and life has helped him better himself as quickly as possible while maintaining integrity and gaining respect from my peers. "I'm very proud to say that I oversee thirty-plus employees, manage a multi-million dollar custom sign company, and have had a hand in building a great team around me," he says. "Further growth, momentum, and success is just around the corner!"
Sign Builder Illustrated spoke with Joe to find out his thoughts about being young in the sign industry.
What are some of the biggest challenges you've found related to younger sign makers in the sign industry?
Some of the biggest challenges I have seen and found is their lack of ability to adapt while working with older generations. Typically the older generations don't communicate the same way the younger generations do. The best way I have managed to solve this challenge is by adapting and changing my personal communication preferences; for example, in just doing the simplest thing like picking up the phone or having a face-to-face conversation instead of sending an email or text goes a long way with the older generations and can really improve rapport, relationship, and ultimately communication.
Why do you feel the sign industry an attractive career for you?
There are so many different fields within the industry you can learn and or specialize in.  I have never felt trapped in one "profession."
Also the industry is challenging and expressive, and there is always opportunity to grow, improve, and learn.
What makes the sign industry an attractive career for younger people?
The younger generation tends to love customization. They're typically creative and expressive, and our industry is the epitome of all these characteristics. I believe younger people would find the sign industry quite appealing once exposed to it.
How do you think the sign industry should be recruiting other younger people to join?
Personally I think the sign industry needs to be more involved and collaborate more with trade schools and high schools to recruit young adults and educate parents. Parents have a big influence on these young adults, and if parents had some buy in, I'm sure there would be more influence and sway towards our industry.
Typically, when I'm hiring a younger person, I look for someone with a great attitude, someone who is responsible, someone who is a great communicator, and someone who is humble. I think these foundational qualities will lead to overall success in anything they do.
What have you learned about the sign industry from your experiences so far? What have others learned from you?
I've learned that there is never a dull moment and there are a lot of hardworking, passionate, and determined people working in this industry.
I hope that others have learned through me that age, race, background, etc., is only a limiting factor if you let it be one. There are no limits to what you can achieve, as long as you are willing to put in the time and effort and work to build strong relationships and support systems.
Are there any business practices, technologies, techniques, misperceptions, etc., you would like to see change in the sign industry in the near future?
I would like to see is more regulation on small "sign companies" that manufacture and install from their garages. Some of these people don't know what they're doing. We have seen some poor product and services hit the market, and it hurts the industry's reputation, not to mention that these companies tend to undercut the larger legit companies in price.
I would also like to see sign companies outsource less from foreign countries and continue to invest, train, and keep sign manufacturing healthy in the United States.
I believe younger people will evolve the industry in the future by automating more and training more efficient workforces, implementing new software's and technologies (i.e., smart signs), pushing the limits of fabrication and design through creativity and capability.