YESCO, the 103-year-old company known for creating, repairing, and maintaining internationally recognizable signs, announces the passing of board chairman Thomas Young Jr., on June 30, 2023.
"It is with a heavy heart we announce the passing of my father and YESCO board chairman Thomas Young Jr.," said Michael T. Young, executive chairman, YESCO. "My father lived a full life dedicated to serving not only his family but also his community. The Young family is committed to upholding and honoring his extraordinary legacy of service at YESCO and beyond."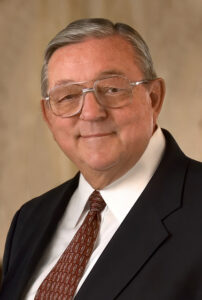 Thomas Young Jr. was the son of Elmina and Thomas Young Sr. Following Thomas Young Sr. founding YESCO in 1920 in Ogden, Utah, Thomas Young Jr. joined the company in 1942 at the age of fourteen. He was a servant leader and guided YESCO through years of incredible technology and innovation.
As a giant in the sign industry, Thomas Young Jr. was appointed president of the company in 1969 and became board chairman in 1988.
With sixty-five years of service in the Salt Lake City Rotary Club, Thomas Young Jr. was honored as a second-generation Rotarian following his father's participation in the chapter throughout his career.
With a passion for community service, he and his wife Dwan Young received the 2022 Summit Award from the club. The Summit Award was established in 2020 to recognize long-time members of the Salt Lake City Rotary Club 24 who demonstrated the Rotary motto of "service above self" and have made significant contributions to both the club and the community.
"We salute Thomas Young Jr. for his unparalleled role in creating the culture of service and excellence YESCO maintains today," said Executive Vice President Jeff Young. "We will miss him dearly, but his extraordinary example of professional and personal achievement will inspire every team member for many years to come."
—Press Release