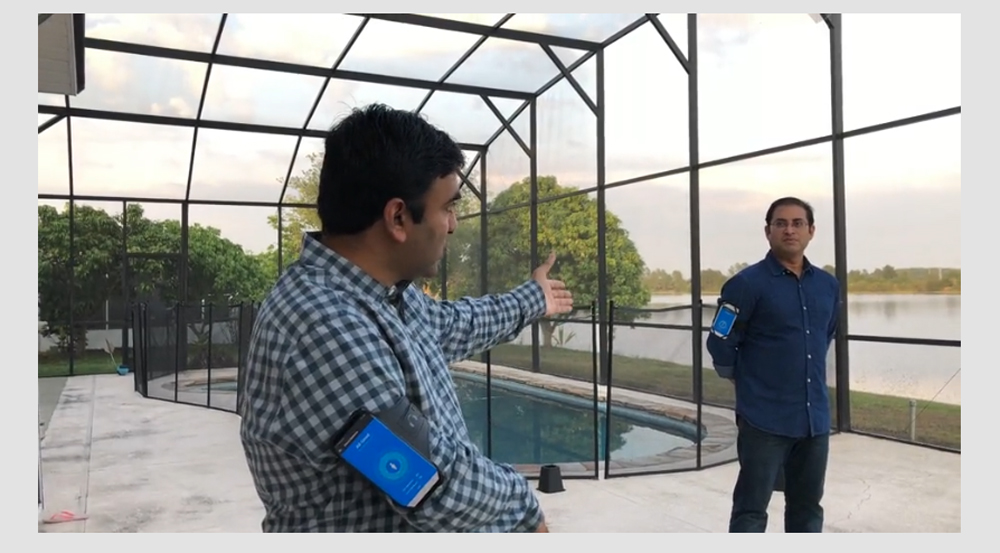 As businesses begin to reopen and people head back to work, safety will be a big concern. Employers are taking measures to keep their employees safe, including sanitizing workspaces, implementing safe work practices, screening employees for symptoms, and providing PPE to all workers. These measures certainly help, but ultimately human behavior is the biggest problem employers will need to manage. The Social Safety App, an upcoming tech solution, can help.
New York-based consulting firm FROM, The Digital Transformation Agency has developed a unique, easy-to-use, secure social distancing app that helps your employees keep approximately six feet away from each other at work. The Social Safety App is currently available in beta form by application, which can be accessed at http://SocialSafety.app.
"As people return to work, they will need to keep a safe distance from each other," says CEO Howard Tiersky. "This social distancing app alerts anyone who gets too close to another person so they can quickly move away."
"Social Safety takes the guesswork out of social distancing," adds Anis Dave, CTO of FROM and architect of the app. "It frees employees to stop worrying and focus on their work."
Here are three ways the social distancing app helps protect employees:
It's a gentle reminder to employees. "Even well-meaning people will forget to practice social distancing as they get back into their routines," says Tiersky. "The other day a delivery person rang my doorbell, and I nearly answered the door before stopping myself. Even after months of isolation, you still forget sometimes. We all need a little reminder to make sure we observe these rules, and the social distancing app provides that."
It keeps less compliant employees in check. "Workers don't want to have to police each other or worry about a worker who doesn't take social distancing seriously," says Dave. "The social distancing app keeps everyone in check without any uncomfortable confrontations."
It's an overall stress reducer. When employees are worried about safety and having to deal with irresponsible coworkers, they aren't doing their best work. The social distancing app lets them relax and get focused on their job.
How the Social Safety App Works
The employee installs the app on their phone and wears it on an armband while they attend work. If employees come within approximately six feet of each other, the social distancing app alerts them through beeps, vibration, and light display. As employees get closer together, the sounds and display become more urgent so there is no ambiguity or confusion about what to do. Visit http://SocialSafety.app to view a video demonstrating the app in action.
Additionally, the social distancing app keeps a secure, private record of accidental close contact between people at your business, so that in the case of infection, you will be able to warn employees of their potential exposure risk for self-quarantine purposes.
"A safe workplace is one where all employees are on board with social distancing," concludes Tiersky. "With this social distancing app, workers can be sure they are doing the right thing all the time. It gives employers the peace of mind they need to get back to business ASAP."
About Howard Tiersky:
Howard Tiersky is CEO of FROM. His company has helped develop innovative new products for a wide range of companies ranging from Amazon to Verizon and also including brands such as Sesame Workshop, A&E, NBC, The Shubert Organization, Avis, and some of the largest banks and sports leagues in the world. He is the author of a best-selling book and has been named by IDG as one of the "Top 10 Digital Transformation Influencers to Follow Today."
About Anis Dave:
Anis Dave is SVP and CTO at FROM, The Digital Transformation Agency. With over eighteen years of experience in the areas of technical architecture, software development, project management, and digital transformation, Anis is highly skilled in leading complex digital initiatives. Anis has driven large projects for leading brands including the NFL, Verizon, NBC Universal, A&E Networks, Airbus, Sesame Street, Constellation Energy, and Mattel in the areas of digital strategy, cloud strategy, design and implementation of mobile apps and web apps, conversion optimization, technical architecture, agile process implementation, internet of things, augmented reality, virtual reality, and e-commerce platforms. He has deep expertise in complex solutions that integrate multiple large platforms. He lives in Florida with his loving wife and two kids.