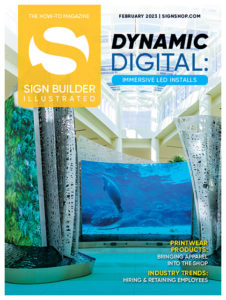 Dynamic Digital Signage leads the focus of our February 2023 issue, as we take a look at recent project designs and installs. We are also providing additional information about how sign shops can better get chosen for work in this field.
In addition, we have stories about large format trends that you need to watch this year, how apparel production can encourage your existing customers to spend, advice for planning and permitting processes, and analysis from our latest survey about hiring and retaining employees at sign shops.
Check out the February 2023 issue of Sign Builder Illustrated now!