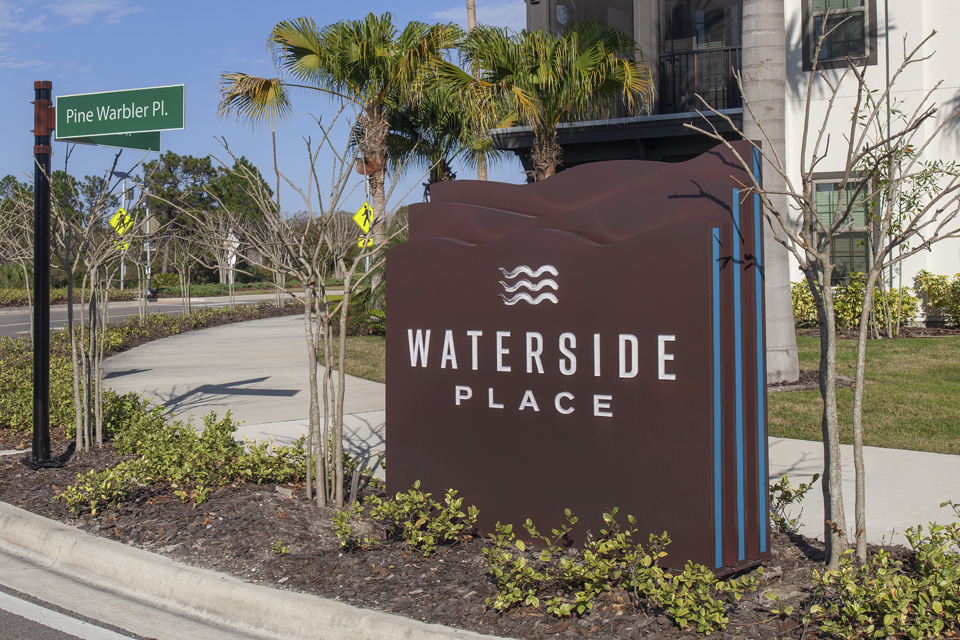 The Lakewood Ranch Development in the Sarasota/Tampa region of Florida is a collection of villages, neighborhoods, parks, and town centers spanning 150 miles near the Gulf coast. Waterside Place is the newest addition to Lakewood Ranch, and it's the only waterfront retail and lifestyle destination in Sarasota. In addition to its homes, Waterside Place offers restaurants, shops, and a variety of arts and entertainment options.
Given all the development has to offer, a comprehensive wayfinding and identity package was a must. And this is where Harbinger Sign comes in.
Located in Jacksonville, Harbinger Sign has been in business for over fifty years. The full-service sign company handles everything from code checks and site surveys all the way through to installation and shipping.
"We have a segmentation of the business that is proficient and excellent at brand or program signage. And we've always been a steadfast participant in the custom architectural signage community as well," explains Ed Busey, vice president of Business Development for Harbinger Sign, who says the company is capable of turning out both on-spec brand signage as well as custom architectural one-off projects in the wayfinding and high-end signage segments.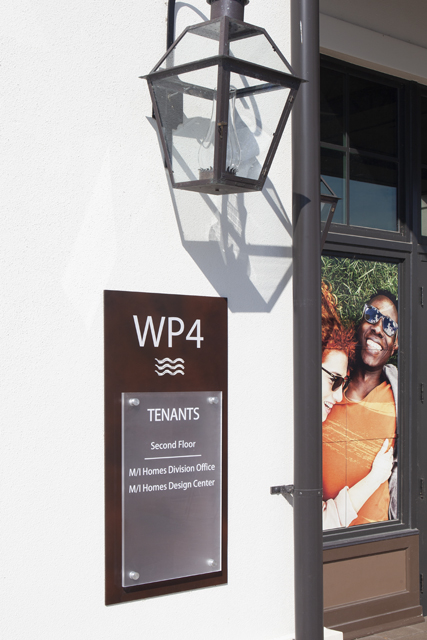 The Waterside Place project combines aspects of both branding and custom wayfinding signage, so Harbinger was especially suited to the job. The sign company was brought on by ArchitecturePlus International (api(+)), a design firm that Harbinger has collaborated with on four other projects.
"api(+) interviewed us based on our experience, past relationships, and vetted us," says Busey. "We went through a formal RFP process with pricing, interviews, and samples, and we were fortunate enough to be awarded that work directly from the owner of Lakewood Ranch."
Harbinger provided a total of 200 signs for the project. The project consisted of the design, fabrication, and installation of multiple sign types, including monuments, banners, kiosks, vehicular and pedestrian directionals, and interior and exterior room and building identification.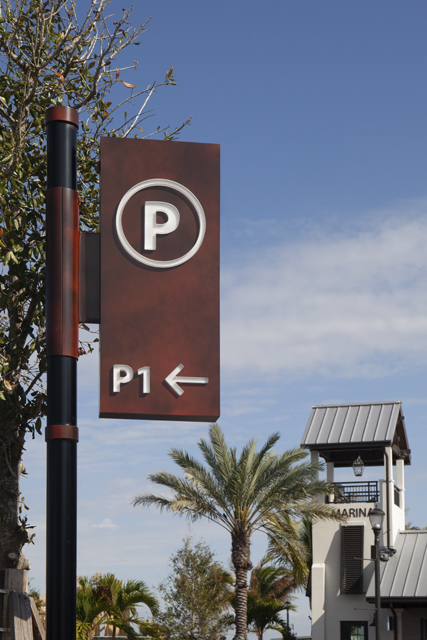 Getting From Here to There
Busey says careful and thorough project management is key on a job as large as this.
"You have to start off with a skilled, experienced project manager," he says. "This is a unique scenario. The product is unique, the setting is unique, and there's a lot of quantity and a lot of nuances to it.
"So we paired up with a very seasoned project manager who had a lot of experience in this realm."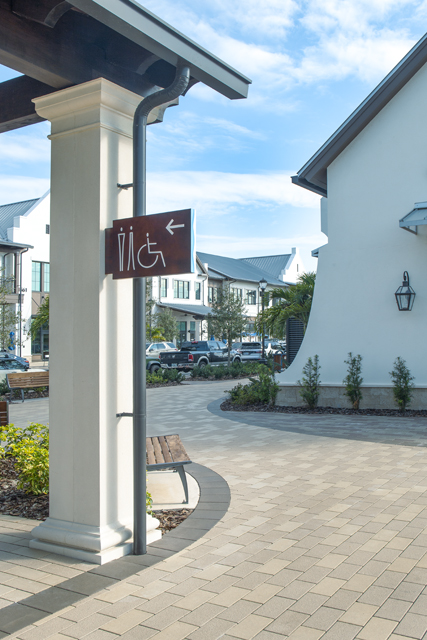 Busey also says Harbinger's internal tracking system of using project charts was important. These charts were shared with Harbinger's internal teams but also with the general contractor of Waterside Place so that the sign installation properly aligned with other trades on site.
"That's super important and very challenging to do on a project like this. While we're building all these signs, you've got buildings going up, retail going up, amenity spaces, landscape, hardscape pavers," he says. "And depending on our sign types, those have to go in at precisely the right moment when these other trades are doing their work. Otherwise you're too early or you're too late, and that causes problems."
Busey says the final piece of the puzzle is regular meetings. "We had weekly meetings with the general contracting side and the owner's project manager to ensure that we remained in lockstep with their process and schedule," he says.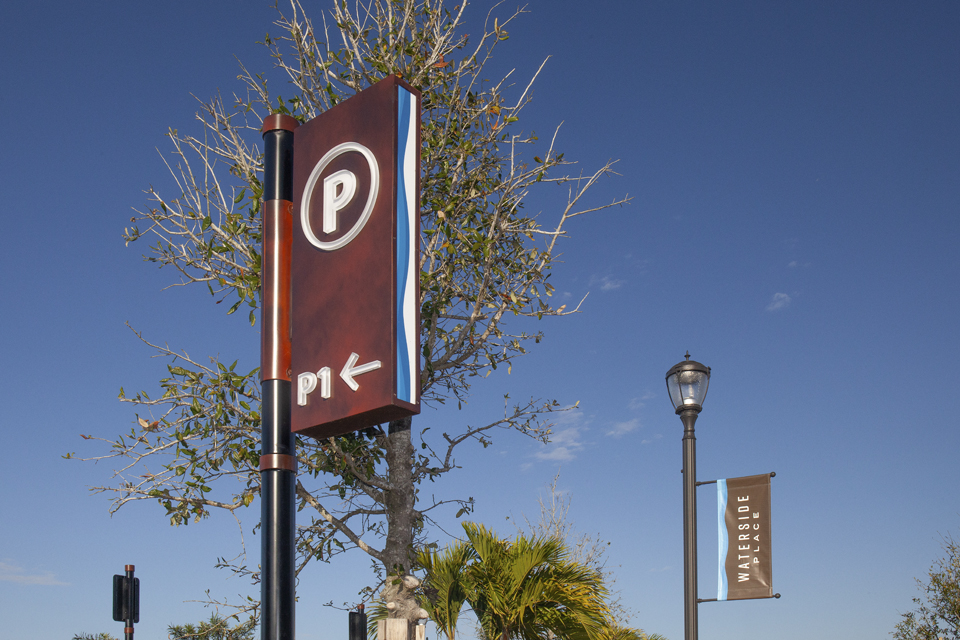 Design Directions
One of the aspects that made the Waterside Place project so unique was the carefully thought out signage design. Harbinger Sign worked closely with api(+) to bring the design to life.
"A keyword in the custom signage industry, as well as at api(+), is 'design intent,'" says Busey. "[Designers] rely heavily on entities like Harbinger Sign and our team to understand and digest their design intent and then supplement that with our intimate knowledge of the sign industry and the products, materials, colors, installation challenges, or nuances."
Busey has worked to foster the relationship between sign fabricators and the design community for his entire career.
"It's an extremely intimate level of trust," he says. "The designers are the visionaries of the aesthetic, and we as fabricators are the facilitators and executors of that vision. There's a lot of respect that goes both ways."
For this project, it was important to api(+) and the owners of Lakewood Ranch that the sign program was cohesive and matched the architectural style of the development as well as its vision for premium and quality.
To achieve this, the design includes a layered wave element created by api(+) as well as custom bronze and blue colors.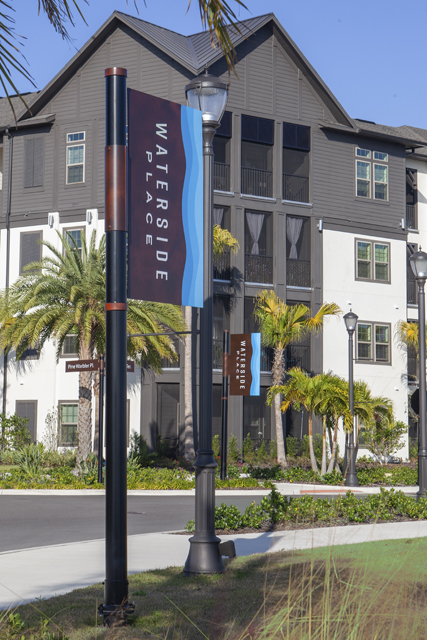 "Those colors are actually very complex. It's a model antique bronze finish that's made up of about four different paint colors," says Busey, who explains the multi-stage process was completed using Matthews Paint. "That's one of the very key earmarks of this whole development—all these signs have this very complex, multi-stage, antique bronze finish on the signs and/or the poles.
"It was a challenge, but it came out looking very, very good."
When designing a wayfinding system, Busey says it should be a blend of form and function. "Wayfinding is intended to guide and inform pedestrians and/or vehicles through a site, city, or campus. If it doesn't fulfill the function, it doesn't hold any water," he says, noting that the design api(+) created does that and more. "They're able to satisfy the functional requirements of moving people and vehicles efficiently through a campus or a site, but they can go a step beyond that.
"They can take an aesthetic, a vision, an architectural style, and a brand and deploy that in a creative fashion while achieving the same functionality. That's the difference maker."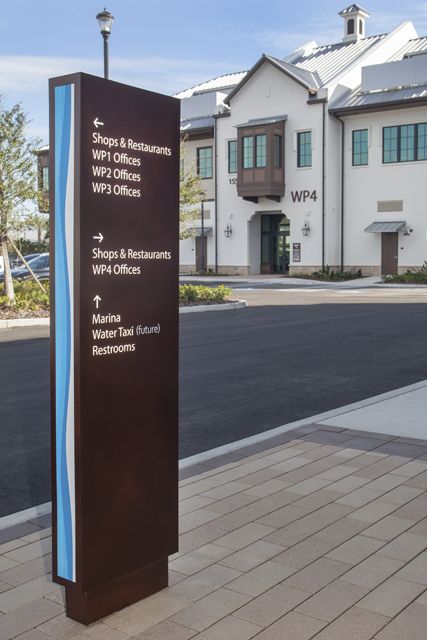 Putting the Pieces Together
Once the design was finalized, Harbinger got to work on the fabrication process.
On the interior, there is a mix of aluminum signs and polymer material signs. The exterior signs are all made from aluminum, which has an advantage over steel in terms of rusting and corrosion in the sometimes harsh Florida climate.
"Our home base is in Jacksonville, Florida, so we're very familiar with the climate and the harshness of it, as is the designer," says Busey. "The designer automatically understands those important conditions and typically starts off from a position of appropriate selection of materials right away."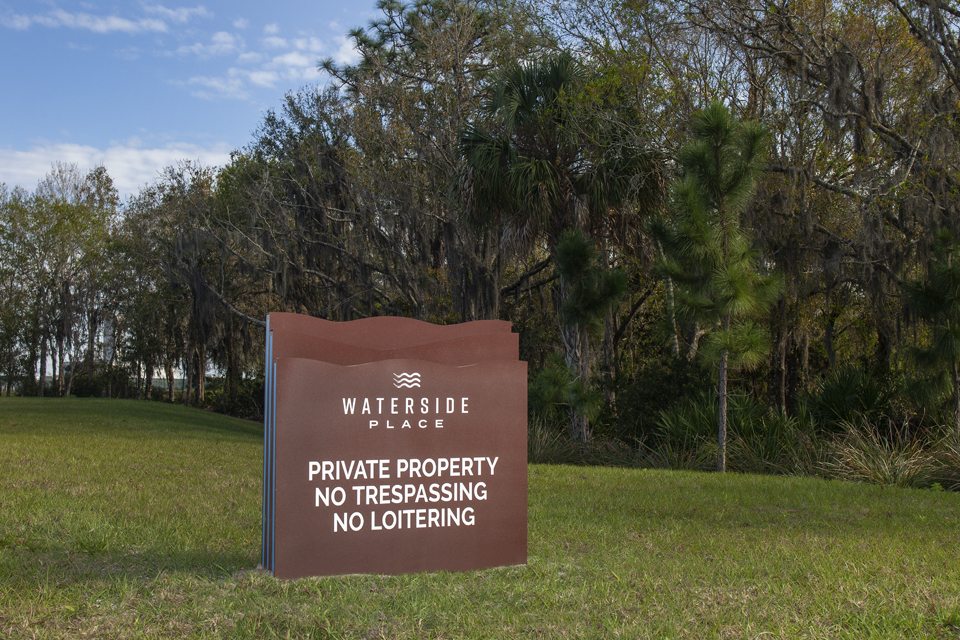 The use of Matthews Paint also provided durability to the signs. Apart from developing the very complex bronze finish, oainting the signs had its own challenges.
"Not every single sign came through our facility at the same phase. So even though we knew how to create this custom antique finish, we still had stops and starts," explains Busey. "To have that consistency over the course of this many signs is challenging and takes a lot of skill to replicate such a unique finish throughout."
Many of the signs were also illuminated. Harbinger used Principal LED products throughout.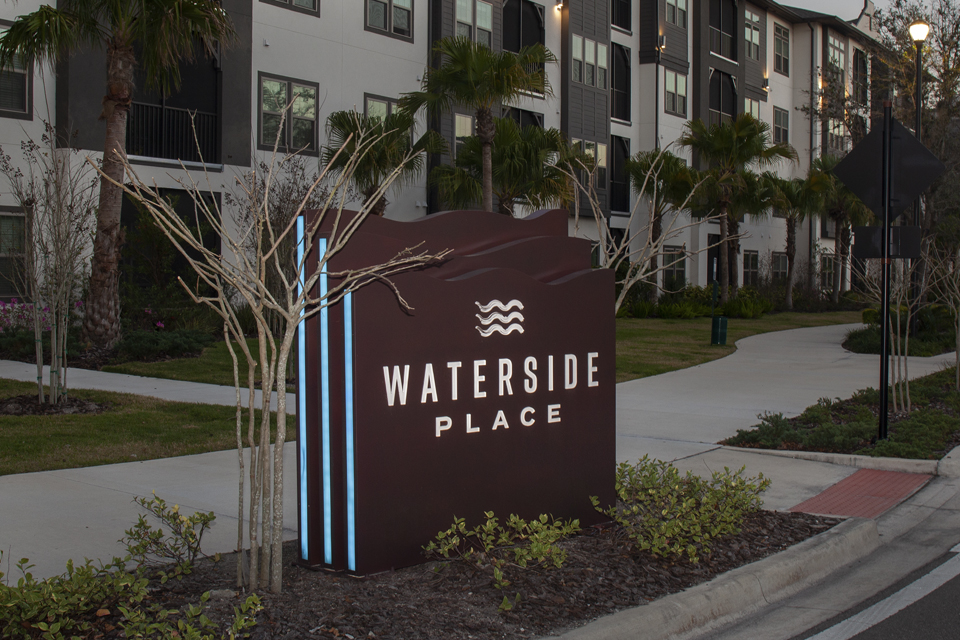 Busey says a few factors went into deciding which signs to illuminate.
First the signs that needed the most attention either for brand recognition or their importance in the wayfinding system—the monuments, main identifications, and a few of the larger directional—were illuminated. By contrast, most of the smaller signs and the signs deeper in the development are not lit.
Finally cost was also a consideration in whether to illuminate a particular sign or not.
"When it comes to deciding which signs and how many need illumination, you're talking about a significant cost increase over a program this size to do that," says Busey.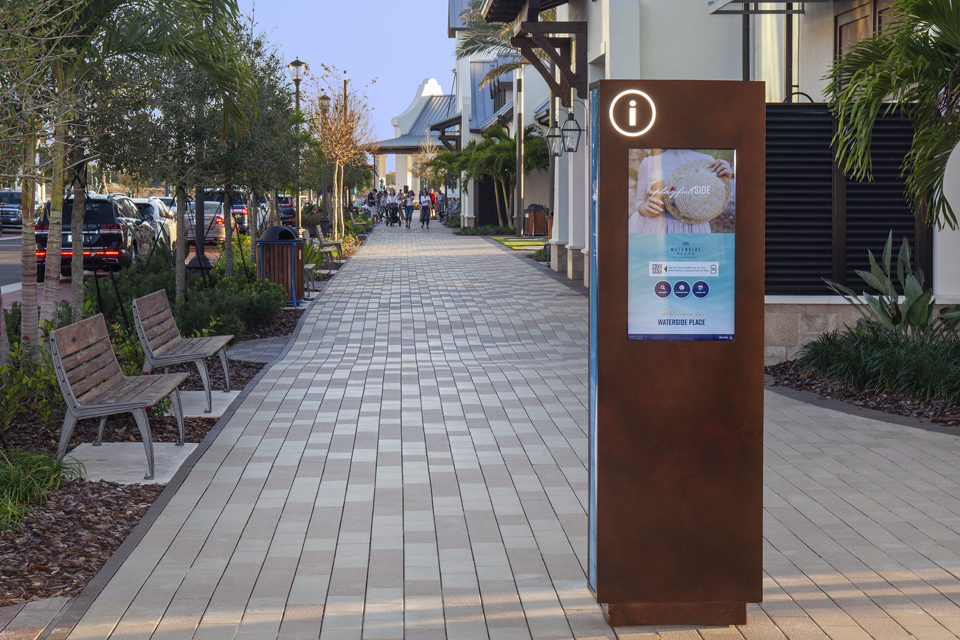 Digital signage also played a role thanks to a number of kiosks with touchscreen digital displays. "It's a very engaging and active community, and they use [the digital kiosks] as a vehicle to communicate events and programs," says Busey.
Busey has seen an increased use of digital signage in wayfinding systems thanks to a decrease in the cost as well as an increase in available products with better functionality and connectivity. "If they can spring for that budget, that contemporary functionality is just a tremendous advantage," he says.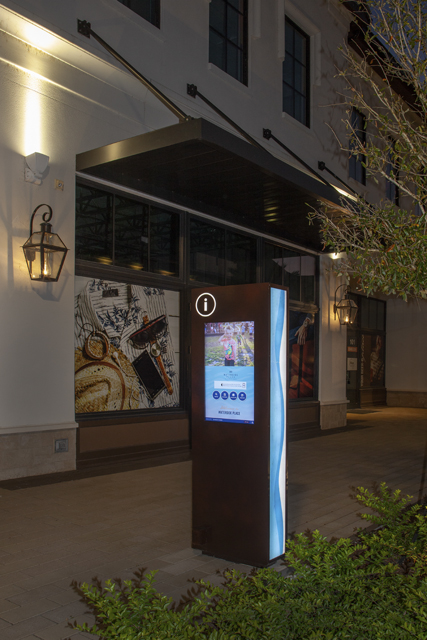 Information Installation
Placement is also paramount when it comes to wayfinding systems. "Not only the placement but the orientation," says Busey. "It's one thing to get the sign in the correct, let's say X and Y, position on a site. And then it's another to orient these multifaceted signs in the correct directions so that they face either a road, a path, or a sidewalk appropriately."
When placing the Waterside Place signs, Busey says he started off with locating the sign types on the architectural site plan. "You take the architectural site plan and, depending on the sign type, you place it literally in a two-dimensional setting," he says.
As the content and messaging of the signs were clarified, he got more detailed about the positioning. From there, Harbinger conducted multiple site walks with the designer, the owners, and the general contractor to be sure the conceptual placements matched up with the real world placements.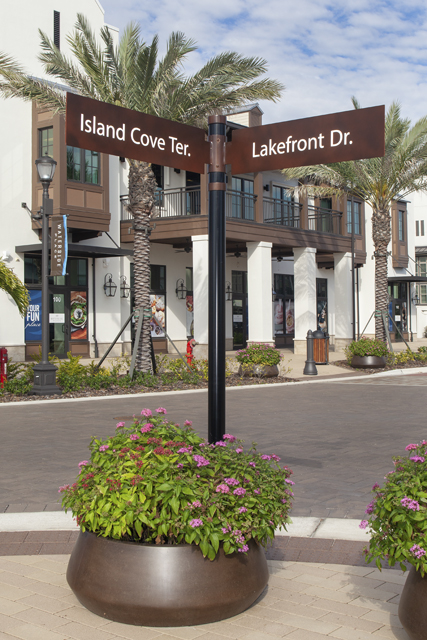 Harbinger then moved to the "staking process," where they stake out the actual locations on the site.
The biggest challenge in installing the signs was working around the other trades on a very active construction site.
"There's a lot of construction equipment, people, debris, and dirt and grime moving around, and you're trying to install a very pretty object," says Busey. "There's a lot of precautions and planning that have to be taken to ensure that the product arrives, gets installed, and you walk away without it looking dinged up or scratched.
"That really goes back to the timing. You need to be there when you're supposed to be there and not be late to the party. Otherwise it's going to cause challenges for us as the sign installer, but it could potentially cause challenges for the other trades on the site."
To install the signage, Harbinger used standard bucket trucks and smaller powered, front-end loader machines.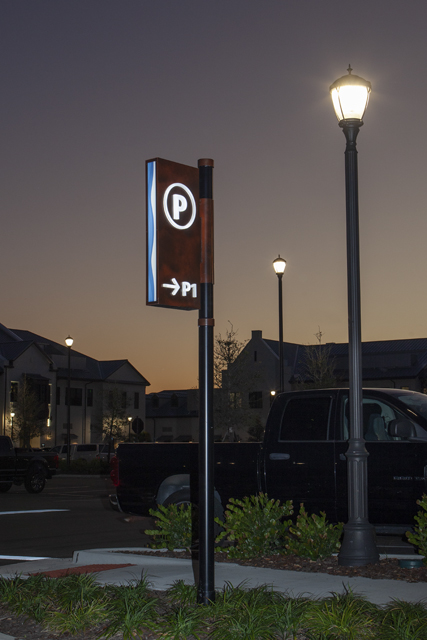 Arriving at the Destination
The entire wayfinding project took sixteen to eighteen months, with Harbinger finishing up in February.
Lakewood Ranch Development ended up very satisfied with the final product.
"They were appreciative to us that we executed on deploying the finished sign product that matched that high level of finish that the owner was looking for," says Busey.
—Ashley Bray