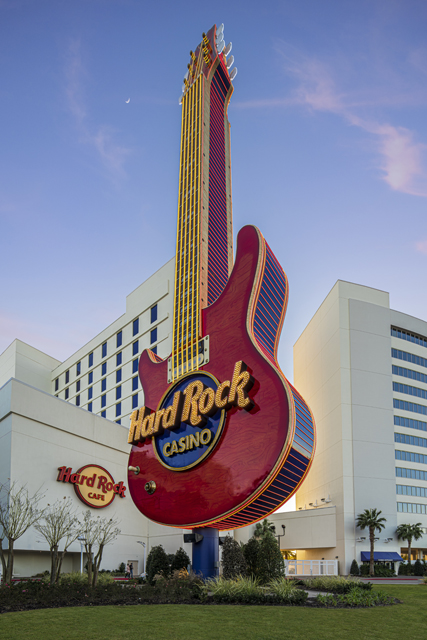 YESCO, the 102-year-old company known for creating, repairing, and maintaining internationally recognizable signs, announces the refurbishment of the iconic guitar sign at the Hard Rock Hotel & Casino in Biloxi, Mississippi, a Bally's Corporation property, which was originally constructed in 2005.
At the time of construction, it was the tallest Hard Rock guitar sign in the world. It survived the wrath of Hurricane Katrina largely intact. The Hard Rock Hotel & Casino was originally scheduled to open in 2005 however, days before the grand opening, Hurricane Katrina destroyed the casino and damaged the resort. The property eventually opened in 2007.
YESCO's involvement with Hard Rock guitar signs spans more than thirty years with the design, fabrication and installation of the first Hard Rock Café guitar sign in Las Vegas, Nevada, in 1990. The guitar stood in front of the café until it was removed in 2016, after which it was restored and installed in The Neon Museum Boneyard in 2019.
The guitar is 112 feet tall and is a replica of a Peavey HP Signature.
Approximately 6,000 linear feet of Dynamic RGB programmable LED lights to create various colors and light shows to coincide with special events and holidays.
The guitar received a complete overhaul with replacement of all lighting components, wiring, power supplies, and transformers.
The display was also completely sanded down, and body work was completed to repair aging seams and panels.
The guitar was custom painted in the field to restore it to better than original condition. In fact, the guitar has survived several major hurricanes since it was installed in 2005.
It took approximately 4,800 man-hours to renovate and restore the guitar.
"It is a thrill to work on such an iconic monument with such a rich history," said Jeff Young, senior vice president of YESCO. "I remember building the first guitar for the Hard Rock Café in Las Vegas, which has since been retired from its original purpose, yet remains on view to thousands of visitors to The Neon Museum annually. It's gratifying to see the new version come to life in such spectacular fashion in Biloxi, where it can be enjoyed by its visitors for years to come."
—Press Release