Trotec co-hosted a second joint seminar with IKONICS Imaging and JDS Industries earlier this month to provide hands-on training for three business-building technologies—lasers, sand carving, and sublimation. On February 8-9, 2018, at Trotec's Regional Service and Support Center in Norcross, Georgia, forty-one attendees from thirty different companies gathered to learn the basics of each technology as well as some of the more advanced user topics.
The $50 registration fee included training and a networking dinner, held the evening of February 8. (The cost to attend without dinner was $25.) Proceeds were donated to Camp Kudzu, a Georgia-based children's camp that offers programs to support the special medical needs of children with Type 1 diabetes.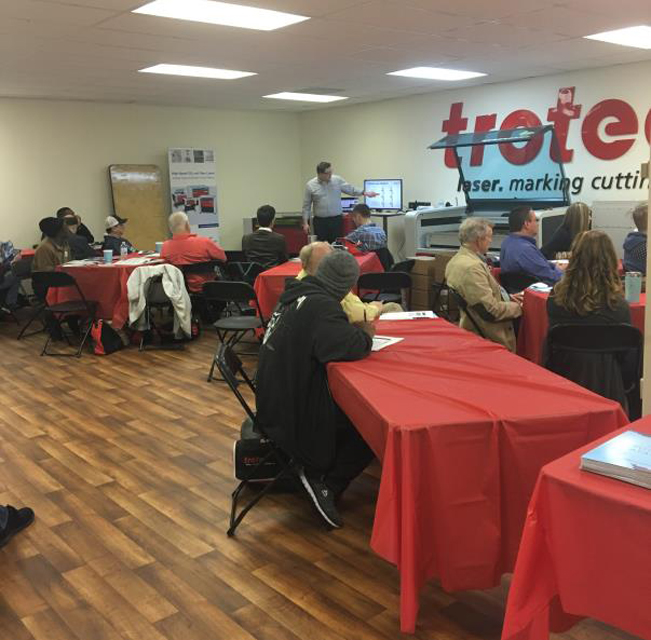 The two-day seminar began with detailed presentations on the basics and best practices of each technology, then was followed by hands-on training. The agenda then progressed into advanced breakout sessions, demonstrations on how to integrate the technologies, and training on how to sell into various markets including awards, promotional products, and giftware, to name a few.
Each technology is used in an array of industries and markets using a number of different materials and techniques. Designed to provide attendees with an understanding of the uses and opportunities each represents, technical sessions covered sandcarving techniques such as stage carving, frosting, and compound curves; how to choose the right laser processing method for your application; and how to step up sublimation results.
Attendees were also able to ask detailed applications questions, and try different techniques for using each technology. "Training and educating is one of the key ways that we cultivate ongoing business relationships with our customers," says Warren Knipple, president of Trotec Laser, Inc. "The purpose of these events is to provide attendees with training and knowledge that will help them broaden product offerings, increase quality, and ultimately grow business—which falls directly in line with our mission to make our customers more profitable."