Over the past year, the Laminators Incorporated team has been diligently working to make their sign panel product line more streamlined, economical, and the first of its kind. After much planning, designing, and testing they're ready to introduce us to their newly redesigned Alumalite® product line, including—Alumalite® Standard, Alumalite® Economy, Alumalite® Ultra—all of which are perfect for a wide variety of sign applications.


Alumalite Standard, the original member of the Alumalite family, is an aluminum composite panel with a high-density corrugated polypropylene core. Being strong and lightweight, Alumalite Standard is the same weight as .040 aluminum sheet metal yet 50 times stronger. Routs and cuts easily, achieved using standard carpentry tools and it can even bend around corners. Alumalite Standard has been field-tested through extensive freeze/thaw cycling tests with no significant structural panel failure. When properly fastened between two posts, Alumalite Standard can withstand winds over 120 mph. Panels are available in 6mm and 10mm sheet thicknesses and in various colors and sheet sizes.
Alumalite Economy, the newest member of the Alumalite line, is an aluminum composite panel with a new clear-profile, corrugated polypropylene core. As stated in its name, Alumalite Economy is an economical version of Alumalite Standard, redesigned from Econolite®, with thinner aluminum skins and a profile core. Panels are available in various sheet thicknesses including—3mm (previously D-Lite), 5mm (NEW! replaced the Econolite 6mm), and 10mm (previously Pro-Lite). Alumalite Economy is an excellent option for various flat applications.
Alumalite Ultra offers all the benefits of Alumalite Standard with the structural performance of plywood. Like Alumalite Standard, Ultra is a strong, aluminum composite panel with a high-density corrugated polypropylene core. Alumalite Ultra is the only panel in the market available in 15mm & 25mm thicknesses for maximum rigidity and flatness. It delivers an excellent strength-to-weight ratio and has a 56% greater flexural rigidity over plywood (25mm panel only). An excellent option for applications that require longer, unsupported spans—tradeshow exhibits, POP displays, industrial packaging, shipping/storage containers, and so much more.
The Alumalite product line offers a colorfast 10-year limited warranty. Panels feature a single- or double-sided, finished surface* of high-gloss factory baked polyester painted aluminum that adds high gloss brilliance and rigidity warranted not to crack, chip, flake, or peel. Ideal for paints, digital inks (both UV or solvent cured), screen print inks, and pressure-sensitive vinyl. The corrugated polypropylene cores will not swell, corrode, rot, wick water, or delaminate even under prolonged water exposure. All have a "Class A" flame spread rating and are a UL Recognized Component.
In addition to the newly redesigned Alumalite product line, Laminators Inc. also consolidated their wood core product line—LusterBoard™ & Omega SignBoard™. SignPly is now part of the LusterBoard family.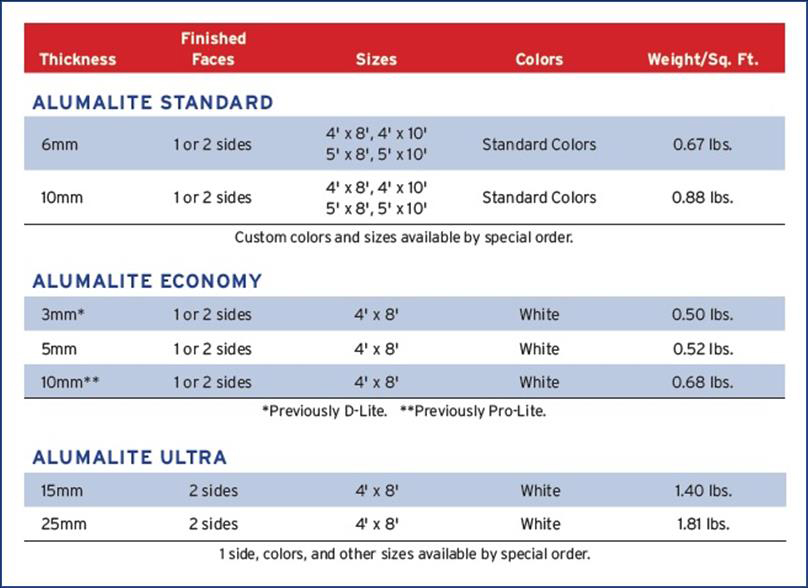 LusterBoard is composed of a premium, exterior furniture-grade plywood, featuring smooth, tight, sanded veneers for optimum surface beauty. Its factory-baked polyester painted aluminum surfaces covers the hardwood core, to create a smooth, glossy finish. Panels are available in 1/4″ and 1/2″ (previously SignPly) sheet thicknesses.
Also composed of an exterior-grade plywood core, Omega SignBoard features a brilliant white vinyl finish that is impact-resistant and formulated with high-performance UV inhibitors to reduce fading. Panels are available in 1/2″ sheet thicknesses.
All of the panels are manufactured with the highest quality products at the Laminators Inc. facility in Hatfield, Pennsylvania, USA. Call 800.523.2347 or email [email protected] for more information.