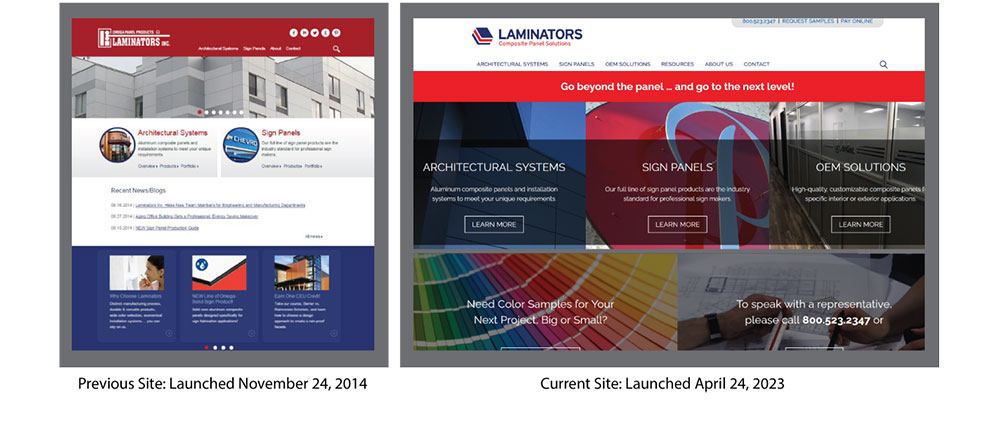 Laminators Incorporated is proud to present the release of their new modernized website, designed with a fresh new look and user-friendly navigation, updated with the latest information about their products, systems, and services.
Launched on April 24, 2023, the new website represents months of hard work to better serve customers and visitors, with expanded capabilities for learning, sharing, and interacting… finding more options and information each time.
The new modernized website has improved functionality for their Architectural Systems, Sign Panels, and OEM Solutions divisions; as well as enhanced features including a new Samples Request Form and the capability to Pay Online.
Additional features include:
Project Portfolios – Search through detailed Architectural, Sign and OEM project portfolios to find certain products & installation systems used; specific projects in your location(s); types of projects & applications; and so much more.
Product Selector Tools – Use the easy architectural and sign selector tools as a guide for deciding on which panel or application system is right for your needs.
Installation Systems – Learn about the various proprietary installation systems and download each of their guides.
Downloads & Resources – For brochures, product specifications, installation instructions, technical information, detailed CAD drawings, etc.
Color & Finishes – View sixty-plus Kynar 500/PVDF and Polyester colors including the popular Matte, Designer, and Natural Series colors and finishes.
FAQs – Get answers to the most frequently asked questions.
Services – Learn more about their fabrication capabilities, take-offs, ACM drawings, and installer training.
Rep Locators – Find your local Architectural, Sign and OEM representative.
Newsroom & Articles – Read more news and updates featuring Laminators.
CEU Course – AIA LU/HSW course to earn one CEU credit.
It's been several years since Laminators Inc., launched a new website and although there was nothing inherently wrong with their old site, they knew it was time to make a change.
As with their previous website, Laminators worked directly with the marketing agency Klunk & Millan Advertising in Allentown, Pennsylvania on the overall vision and creation of the new site. Laminators' primary goal was to build on the strong foundation they already had and make the new website easy to navigate, allowing visitors to quickly find the information they need from Laminators.
Laminators Inc. will continually be expanding their online content to bring you updated and relevant information.
—Press Release