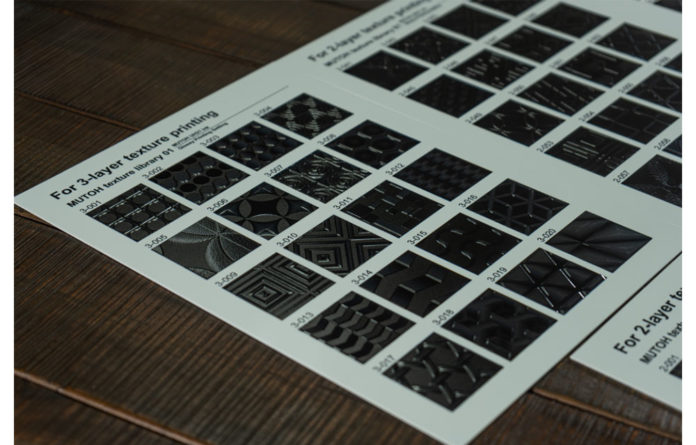 Wide format printers and cutters manufacturer MUTOH has announced the release of a new texture library that includes one hundred different matte and glossy varnish textures specifically designed for use in Adobe Illustrator and their proprietary award-winning RIP software VerteLith.
The new texture library is now available for download on the MUTOH Club under the VerteLith tab > Application and Manual.
The texture library includes all one hundred pattern swatches for Adobe Illustrator, making it easy for designers to add a unique touch to their designs with just a few clicks.
Additionally the files also include the print environments for MUTOH's VerteLith RIP software, which allows for the generation of many different varnish effects.
"We are thrilled to offer this new library to our customers," says MUTOH America Product Manager Derek Moffett. "With one hundred different varnish textures, designers can add depth and texture to their designs with ease. The files are designed for use in Adobe Illustrator, which means designers can easily incorporate the textures into their workflow.
We're excited to see what our customers create with these new tools."
The texture library is part of MUTOH's ongoing commitment to providing its customers with the best tools and resources. With the addition of the texture library, designers can add a new level of creativity to their designs while saving time and effort.
Coming soon, MUTOH will also release the texture library for use in FlexiDesigner MUTOH Edition.
—Press Release