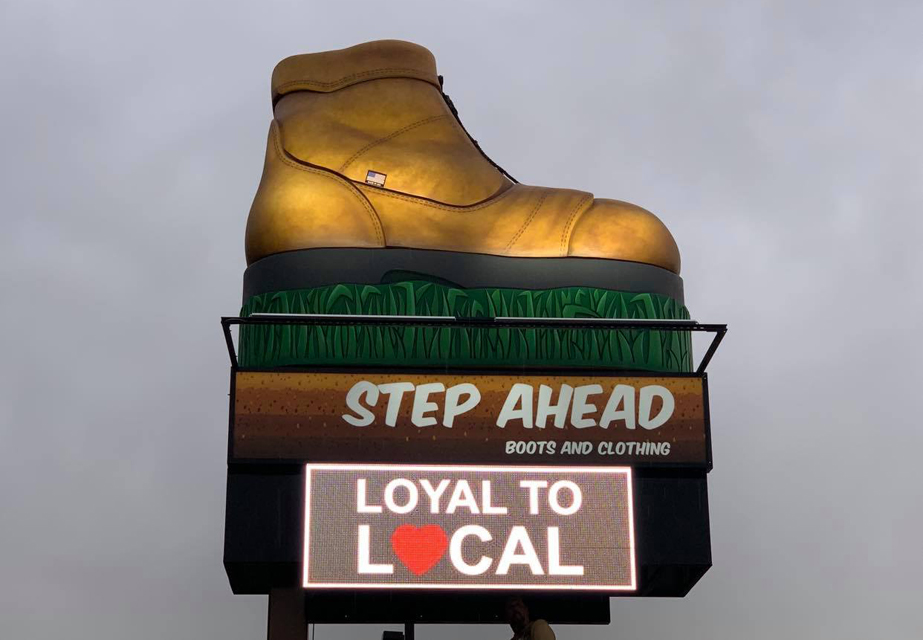 The small town of Iron Mountain is located in Michigan's Upper Peninsula and got its name because of the valuable iron ore found in the vicinity. It's a very scenic area—both of the natural variety and the man-made type.
For example, drive along the streets of this small town and you'll venture across quite the identity sign on the property for Step Ahead Boots and Clothing, a work apparel and shoe store that's a mix of rustic and industrial décor. Outside its doors stands a large pole sign complete with a vinyl-faced cabinet sign, a Cirrus LED electronics message center, accompanying LED accent lighting— and a twelve-foot-tall replica of a work boot made out of Expanded Polysterene (EPS) foam.
It's a finished footwear sign that, according to everyone involved, is definitely a "step ahead of the rest."
The company responsible for putting this oversized project together is Baker Sign Company, also based in Iron Mountain. This shop started up business back in 1999 strictly as a neon manufacturer and has since grown to now becoming a full-service company specializing in illuminated and non-illuminated signs, full-color graphics, banners, vehicle wraps, safety signs, and much, much more.
The owner of Step Ahead Boots and Clothing actually has many other business ventures in the Iron Mountain area and has long used Baker Sign Company to fulfill his signage needs for those locations. On this particular project, he let them know that, since he was relocating to a new, custom-built store, he was going to need a new, standout outdoor identity sign for it.
"[This owner] knows that we can make any of his visions come to life and that he will receive a professional, quality sign from us," says Ben Baker, owner of Baker Sign Company.
For the new Step Ahead, the owner knew he wanted something that would stand out amongst the surrounding scenery. He envisioned a large-sized working boot atop a sign pole.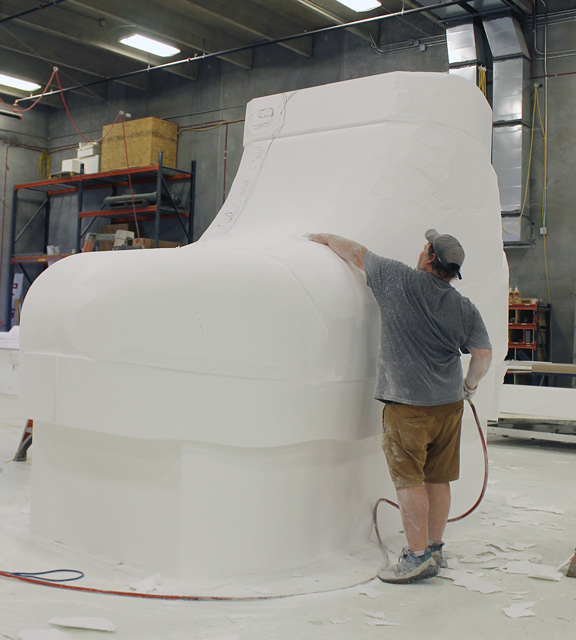 As with any project they work on, Baker Sign Company started out by performing a site survey so as to be in compliance with not only city and county codes but also the Michigan Department of Transportation. "Once we had the design partially started, we then did an architectural study looking at where the sign was going to be located," says Baker.
Baker Sign Company drew up multiple revisions until they found a design idea that worked for the owner—a golden brown work boot atop green blades of grass.
The original plan called for a vacuum-formed cabinet in the shape of a boot that would be internally illuminated with LEDs. "However we weren't able to get the dimension we wanted, not to mention that there were would be multiple distracting seams if we went this route," says Baker.
Instead Baker Sign Company opted to use EPS foam since it would show no visible seams; however this material was going to eliminate any internal illumination from the equation. "Fortuately the LED accent lighting we added around it definitely made up for this," says Baker.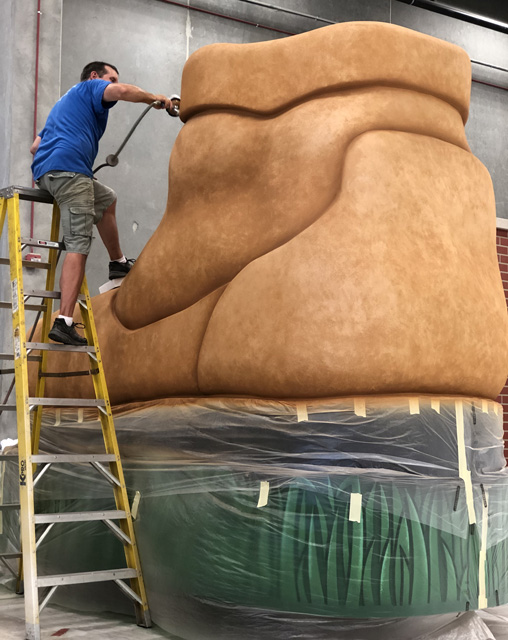 Baker Sign Company ended up contacting Signs By Benchmark of Watertown, South Dakota to carve and craft the twelve-foot-tall work boot out of EPS foam while they would work on the other components of the pole sign. "All the foam signs they have made for us in the past were not only how we envisioned them but also easy to install," says Baker.
The sign shop's graphic designers drew up a hand-sketched design of the boot-atop-grass and then turned it into 2D vector artwork using Adobe® Illustrator®. They sent this image to Signs By Benchmark as an Encapsulated PostScript (EPS) file.
In turn, Signs By Benchmark used a combination of AutoCAD and Adobe Illustrator to work the EPS file into a presentable fabrication format. This was a bit of a different process than the norm for them. "We model the majority of our signs, but due to the cutting required for this project, 2D files were going to be easier to work with and quicker to produce," explains Jamie Kakacek, lead designer at Signs By Benchmark.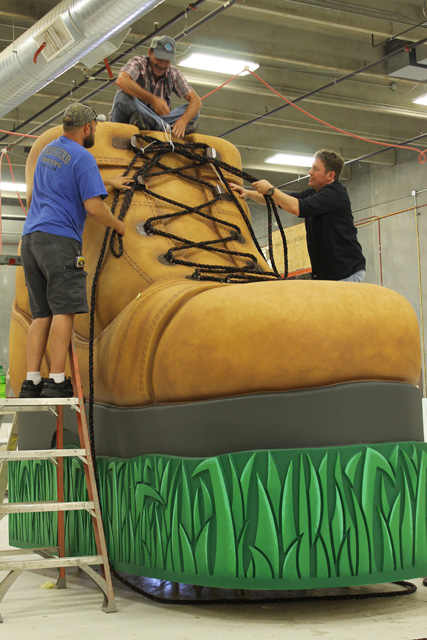 The giant work boot was made out of one-pound-per-cubic-foot density EPS foam. "A higher density material adds to the cutting time slightly, yet we were more interested in the sculpting benefits," explains Kakacek. "Using a lighter density material shapes easily, and you don't have to work the surface nearly as much as heavier densities.
"Since the boot was going to be later encapsulated in our polyurea coating, our main priority was to have a stable substrate to act as the mold."
This giant work boot involved eight sections in total. Signs By Benchmark tried to split this in ways that made sense for the project, so they ended up following the seam lines in the boot. "Not only did this allow us to help hide any seams, but it also aided in the sculpting process," says Kakacek. "If we ran into any problem while sculpting, we could pull that section and replace it with a fresh part.
"Luckily, we didn't run into that issue, but the option was always there."
An extra detail about this large-sized boot sign is that it features laces. Signs By Benchmark used a UV-stable rope and physically laced it to the boot. Kakacek points out that, even though the rope is UV-stable, it will break down over time and later need replacing. This required a bit of planning-ahead ingenuity on their part.
"We created eyelets out of metal and attached them to the points we had built into the shoe," explains Kakacek, noting that this should help out quite a bit down the road when needing replacement and keeping the boot looking nice for years to come.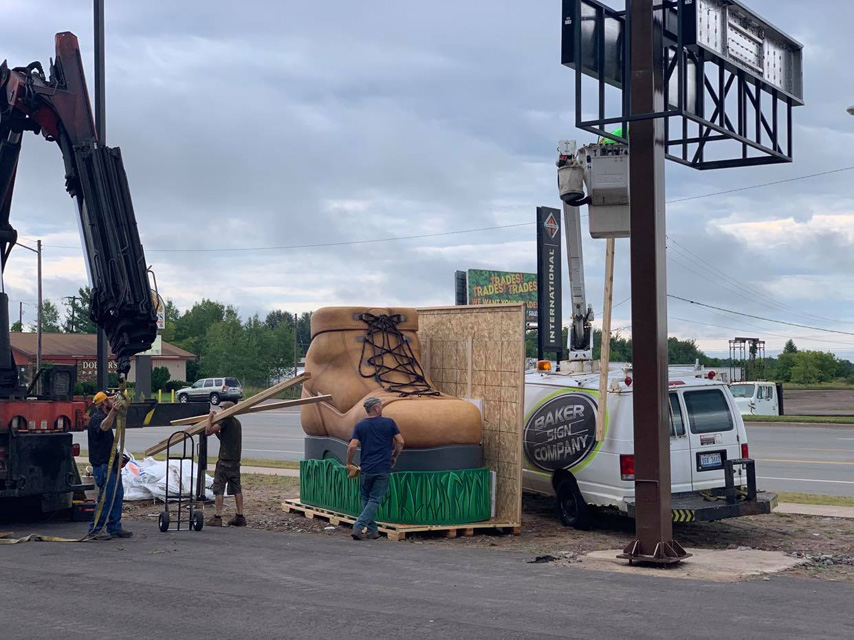 Speaking of "points," Signs By Benchmark fabricators installed pick points throughout the boot to help with its later lifting into place atop the pylon sign. "We applied mounting provisions to the bottom of the sculpt to help attach it to the cabinet below it," says Kakacek.
The eight foam sections of the twelve-foot boot were glued together using a combination of adhesives. "Once glued, we could then continue with the final sanding on the boot and prep it for our polyurea coating," says Kakacek.
In addition to sculpting, Kakacek says the other priority of this oversized boot project was painting. "It was all about building layers to create the desired outcome," he says. "Originally the customer sent us images on how they wanted the finished boot to look. Based on those images, we used a combination of oranges and browns to create the look of a worn or aged work boot.
"For certain parts, we did have to make custom stencils or shields to make painting a little bit easier."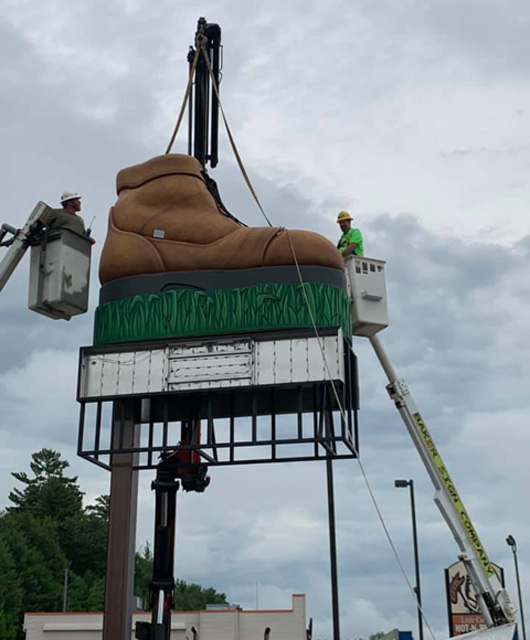 Another benefit to using EPS foam for this project is the weight. "Given the size, other materials could involve a substantial amount of weight," says Kakacek. "This boot came in around only 600 pounds."
Baker adds that correspondence and progress photos provided to him by Signs By Benchmark during the fabrication process kept the customer happy while he waited.
Due to the size of the finished boot, Signs By Benchmark decided to ship it straight back to the install site via a dedicated truck. "This helped us quite a bit during loading and also eliminated any unnecessary stops or handling while in transit," explains Kakacek.
When the boot arrived at the job site late on a Friday night, the Step Ahead owner was so excited to see it that he drove up his forklift from two miles down the highway just to unload it and uncrate it for a preview before it went up the following day.
The pole for the sign (complete with framework for the sign cabinet and EMC) had already been installed on-site prior to this. Baker Sign Company used a crane to lift the 600-pound work boot into the air and a couple of installers in boom trucks to guide the shoe and lock it into place.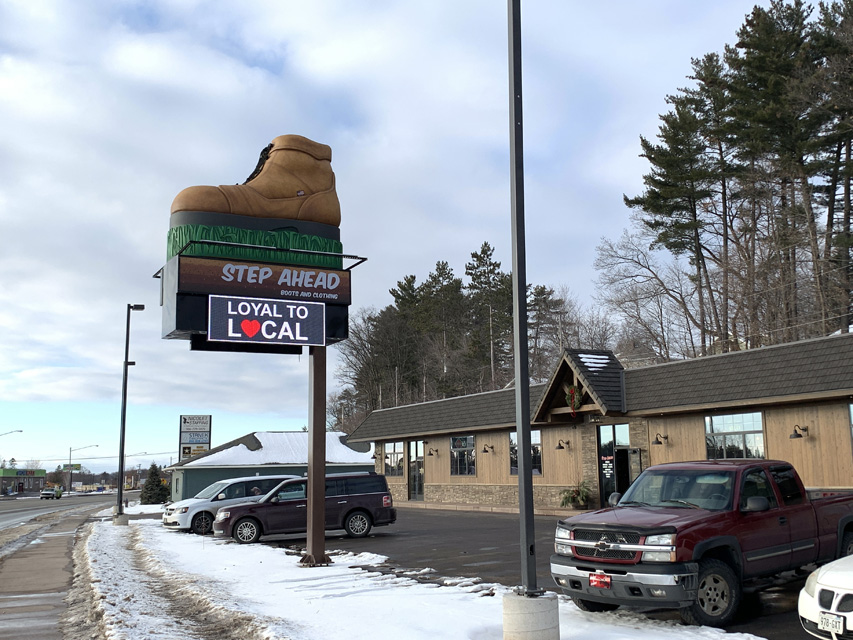 The most challenging part of this install ended up being the local terrain. "The earth in Iron Mountain was very difficult to work with because it is filled with iron, slate, and shale," says Baker. "The minerals made it harder to excavate, and we needed heavier equipment than what we would normally use."
Once the boot was installed, installation of the internally illuminated cabinet, LED accent lighting, and Cirrus EMC followed. (Note: "The Cirrus panels come in a one-by-two-foot size and are easy to install and use," says Baker. "They're also modular, which means the owner can create a larger EMC in the future, if he wants.")
In the end, the client was extremely happy with his giant work boot, and Baker Sign Company was equally excited to be a part of making it a reality. "This project was definitely very fun and also challenging," says Baker.
—Jeff Wooten