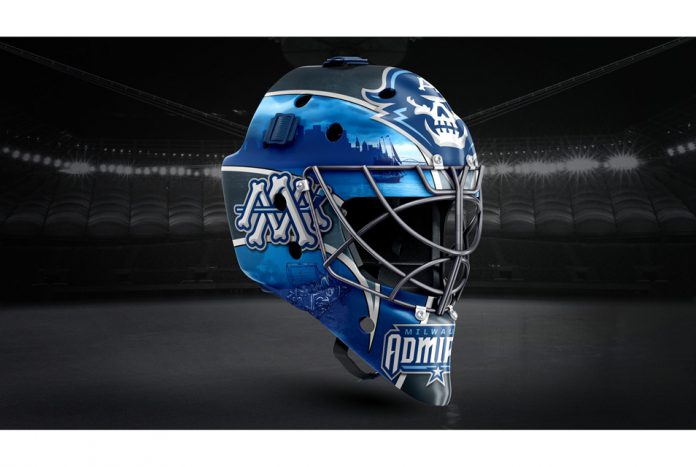 Adam Brown, co-owner of Sign Effectz Inc. (a full-service custom sign company in Milwaukee, Wisconsin), is a passionate ice hockey fan, so it was only natural that this sport would recently cross paths with another one of his passions—creativity.
The larger-than-life goalie mask that his company built and installed for the Milwaukee Admirals American Hockey League (AHL) team is all the evidence you need.
A Non-Icy Relationship
Brown's relationship with the Admirals stretches back more than fifteen years, starting from the days when he coached youth hockey. During this time, there were numerous outings with youth teams to see the Admirals play.
Along the way, Brown met the team's front office personnel, including their sales and marketing team, and he has worked with them to accomplish their signage needs for many projects.
Recently Brown, the Admirals marketing team, and Team Owner Harris Turer brainstormed ways to engage with the fan base and reinforce the team's brand.
Brown decided that they needed to design and build a giant goalie mask that not only embodied the team's current brand and color scheme but also paid homage to the city of Milwaukee and previous aspects of the Admirals' history (such as their past logos).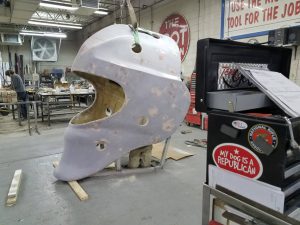 The discovery process involved many steps to help everyone understand the true needs and requirements of making their vision a reality.
Brown estimates that it took about one year of back-and-forth discussions—including estimates, 3D printing models, CAD model drawings, and some proof-of-concepts. One-off custom-built products such as this over-sized goalie mask require proofs of concept…or they will just get left behind as "great ideas."
Sign Effectz Executes the Game Plan
Brown likens the process of building the giant goalie mask to one method of how boats are built.
"You'll see a lot of similarities to conventional fiberglass layup boat building, such as how Boston Whalers are made," he explains. "They're foam-filled for strength and buoyancy. They're built in such a way that you could cut one of their boats in half and it still floats.
"This isn't to say that the mask needed to float, but it certainly needed the 'strength' characteristic."
For Sign Effectz, production design all started with 3D CAD modeling. A CAD model was developed to match a Bauer goalie mask and then sliced in a strategic fashion to develop cross section profiles to be machined later on the company's Gerber Saber 408 router table.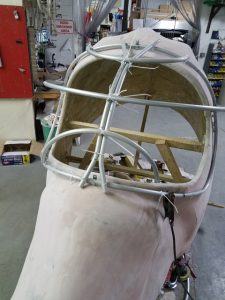 The initial step in the fabrication was to create the 1/2-inch plywood substructure. The plywood was machined in-house and then stapled/screwed together to create a skeleton base structure.
The skeleton was then wrapped in polyethylene plastic sheeting and attached to the wood skeleton frame using a staple gun.
The polyethylene sheeting material was selected because it serves well in releasing casting resins and foam once cured and is used in many different casting processes.
Once wrapped, it was time for Brown to flip the piece over and pour-fill it with FOAM-iT™ expanding urethane foam purchased from Smooth-On. (Note: Brown could have also done this in a spray-on fashion, but doing so would have required an entire additional line of tooling to execute.)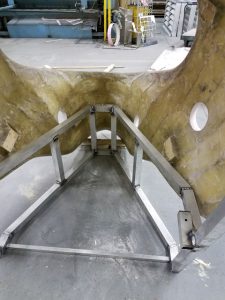 "I wanted to add some strength to the piece without adding any weight," explains Brown. "It was important to me to not totally rely solely on the fiberglass shell for its structural strength. We would have had to add far more fiberglass, and [doing so] would make the helmet heavy, fast."
FOAM-iT is a two-part expanding urethane that's available in varying density (from two to twenty pounds). The general rule here: The heavier the density, the stronger it will be, but the less it will expand.
Two densities were used: A mid-level eight-pound density for the areas that required structural stability and strength, and a four-pound density for ease of carving and filling in the gaps or voids that might not have been filled completely by the eight-pound.
The Sign Effectz crew peeled off the polyethylene once the foam was cured and set and then started hand carving it with hand tools in order to match the plywood skeleton. Doing this allowed for the rough shaping of all the compound curves.
Once the rough shape was properly attained, the remainder of the process was similar to laying out any fiberglass layup structure.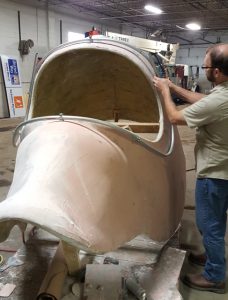 A polyester resin and combination of both four-ounce and six-ounce fiberglass cloth was laid down. Between each of the three or four layers, Sign Effectz sanded it to get a smooth application surface for the next layer.
There were several resins to select from, but Sign Effectz chose a polyester resin, since it is a more versatile and economical option. Other advantages are that it holds good strength characteristics and is readily available.
Next multiple layers of polyester resin mixed with various filler materials were used for an additional sculpting base. Fillers were added to not only make it easier to sand but also for application purposes.
By itself, the resin is runny like maple syrup. The fillers made it possible to squeegee and spread the resin like cake frosting. The result was a resin that was able to remain in vertical positions.
Meanwhile wood and talc powder fillers were applied because they're inert. They also do not affect the chemical curing process and are relatively easy to sand.
Once the shape of the mask was complete, a Matthews urethane basecoat primer was applied to it and spot putty was used to fill in any small voids, imperfections, or bubbles.
Once completely wet sanded and super smooth, a grey Matthews urethane top coat was applied to the oversized mask. This served as a base color for the airbrushed artwork.
The Sign Effectz team also developed an aluminum supporting sub frame, which Brown refers to as the "mobility frame." This aluminum tube frame allows the giant mask to be moved easily around the concourse of the arena on removable casters.
There is a bin located in the chin area of the mask for storage of the casters when the mask is placed in its location. The frame for it was modeled and designed in CAD to ensure it would fit inside the mask.
The mask was then shipped to Wenzel Design in the suburbs of Milwaukee for the airbrush work, which took about two weeks to complete.
The designs featured on the mask include the team's history through nostalgic logos and the Milwaukee skyline. Local artist Chuck Wenzel designed and painted all the artwork here using House of Kolor urethanes and various techniques to achieve the underwater effects, skylines, and logos.
When he returned the mask to Sign Effectz's shop, the sign makers masked off the airbrushed artwork so that they could paint the interior surface. Final painting steps on this oversized piece included four coats of Matthews high-gloss clear urethane.
Benches were also added to the interior of the mask for fans to sit during photo opportunities.
A one-inch-diameter steel tube cage was roll formed and bent to enclose the front of the mask. This added some well needed detail to the mask and finished it off.
Out of the Sign Box
The Sign Effectz crew loaded the completed mask on an 8.5-by-20-foot car hauler trailer and shipped it to the UW Milwaukee Panther arena, located in downtown Milwaukee, on December 21 (just in time for Christmas).
The helmet wheeled around the arena with ease on the new mobility frame, and when put in its new home, the casters were removed and stored in their bin.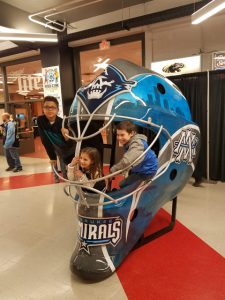 According to Turer, the new Admirals goalie mask sculpture is an instant hit. "It allows fans to take pictures and post them to their social media pages for all to see," he says. "We are excited for everyone who comes to a Milwaukee Admirals game to see the mask and take a picture inside it."
Brown and his family attended an Admirals game the day after Christmas. He reported that the giant mask was well received by fans.
"It's hard not to be impressed with the level of detail, such as the bearded pirate wearing hockey skates. [Wenzel] did an amazing job on the artwork," says Brown.
Sign Effectz takes great pride in achieving the behind-the-scenes engineering and development processes. This was a very challenging project for them from a form and function standpoint.
In the end, Brown scored game tickets for all of his employees so they could take their families to the arena and show off their hard work. It ended up being a joyous Christmas for all!
—Michael Quill