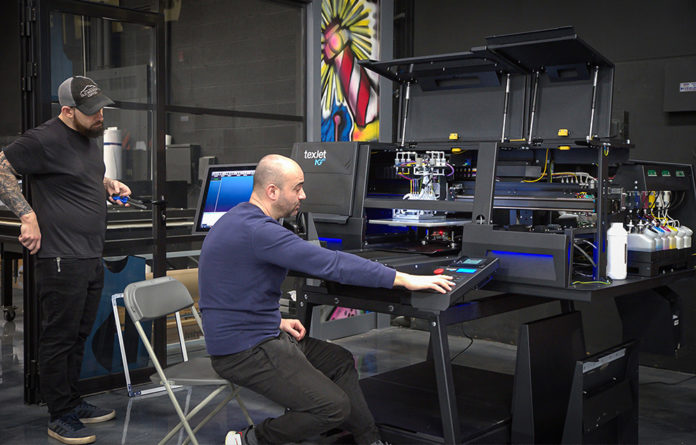 Polyprint and American Print Consultants (APC), have signed a distribution partnership agreement whereby APC will sell and service the new, Texjet NG DTG and DTF series of printers in the Mid-Atlantic, Mid-West and North-East regions of the US. APC will also provide technical support, consumables, accessories, and spare parts to the existing customer database in the US market.
Founded and operated by veteran technicians, APC is a service-forward provider of equipment and supplies for the signage, industrial and textile printing industries. APC provides the highest level of service and support to its clients, establishing partnerships that prioritize exceptional service. With a team of expert staff, APC can efficiently identify the necessary parts and services needed to address even the most challenging problems that customers may encounter.
APC's Digital Consultants are equipped to install or repair equipment, provide training to client production staff, and troubleshoot printing and finishing processes. This level of attention helps cultivate a lasting relationship with the customer, extending far beyond a singular sale or service call.
"We are very pleased to announce our new strategic partnership with APC, a reliable distribution partner with an extensive reach throughout the United States," says Polyprint President/CEO George Benglopoulos. "APC's dedication to providing exceptional products and services aligns perfectly with our goals, and this collaboration marks a significant milestone towards achieving our shared vision of growth and success.
"Our expertise in the DTG/DTF market, combined with APC's exceptional customer support and service, will enable an extended customer base and a stronger foothold in the digital garment printing industry"
Rob Almstrom, CEO of American Print Consultants, stated, "We at APC, like many of our customers, have been interested in adding a DTG solution to our product line for quite some time. In the past there were two main classes of equipment, one being unreliable and inefficient, the other being too expensive for many print shops to effectively realize a return on their investment.
"When we took a hard look at the Polyprint solution, we were pleasantly surprised to find that it checked all of the boxes. It offers high quality, consistent results and ease of use, all at an affordable price. When packaged with the state of the art, computer controlled Pretreater Pro and our conveyor dryer or heat press solutions, we can now offer a complete, turn-key package that opens up fast, reliable, and economical DTG printing, as well as Direct-To-Film transfer capabilities, all in one affordable package."
Almstrom concluded, "We are excited to have the Polyprint equipment line in our arsenal of solutions and look forward to introducing a new era of direct apparel printing to the market."
—Press Release