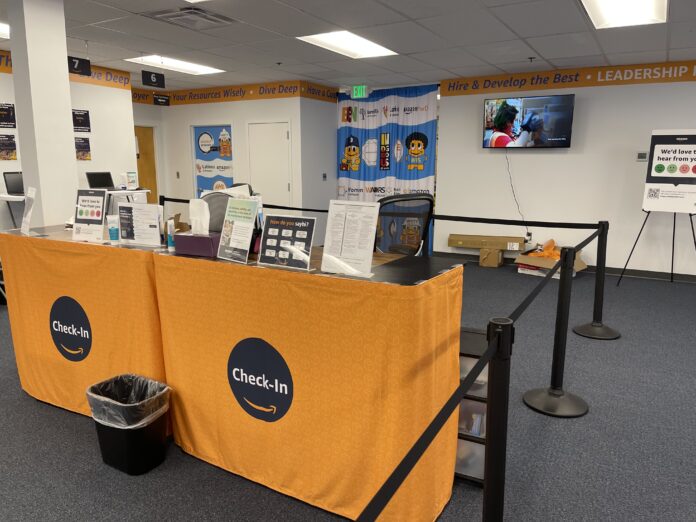 Sign shop owners are always looking for new income streams, and as we all know, recurring projects are some of the best work you can come across. That's why FASTSIGNS of White Marsh/Joppa, Maryland jumped at the chance to work with their local Amazon fulfillment organization to create recruiting centers for the online shopping giant.
"FASTSIGNS is the preferred vendor for Amazon. So, through the higher ranks, there is a connection there," says Owner Bobby Jordan. "When the local Amazon affiliates—the hiring recruiting stations specifically—need some signage work done, they know to call FASTSIGNS. That's how we got connected here. It was just a referral from another location.
"They've been renting storefronts for brick-and-mortar recruiting purposes. They were in hotel ballrooms previously; so now, instead of renting those rooms, they're getting leases. This was the second space we did for Amazon, and we really got in a groove."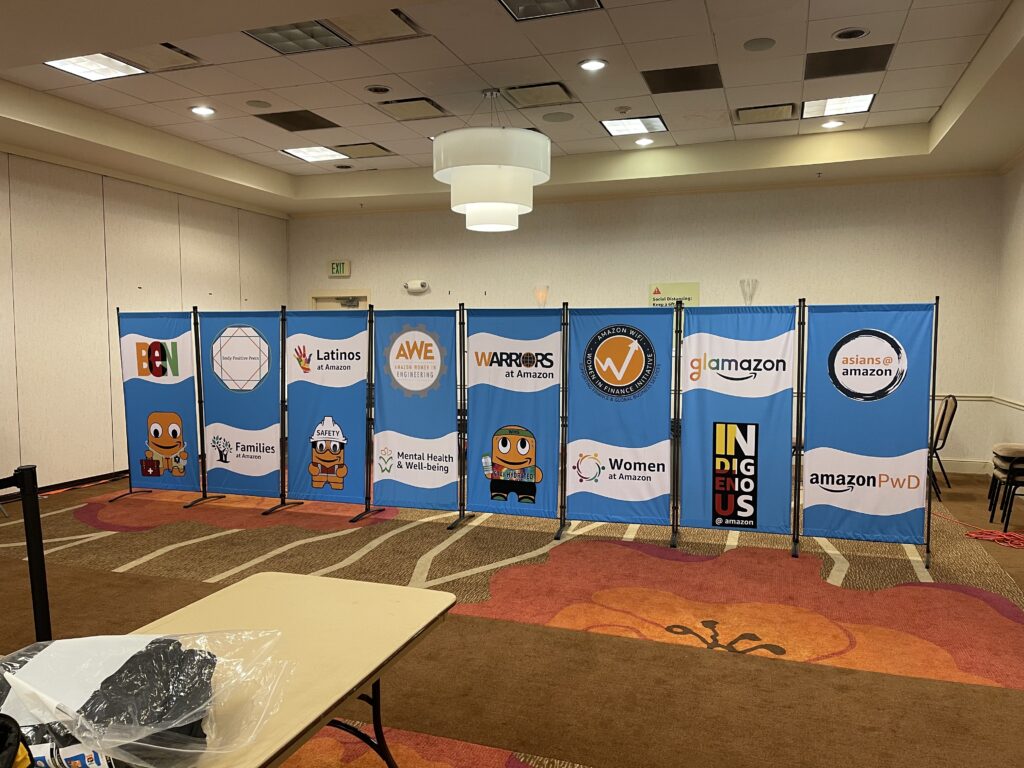 Amazon needed their recruitment centers to become welcoming places of encouragement, so Jordan and Kaitlynn Mayers, a Top Young Sign Makers nominee earlier this year (April 2023), got to work with some pre-set designs from Amazon. They also developed some new logos themselves.
"The process is a little bit of show and tell," says Jordan. "The recruiting center has certain warehouses that they fulfill with employees. So it was our idea to take their organization logos and put them on a repeating pattern.
"With all the icons, it came out really well. We created a couple of icons for them; some of them are just icons for the pins they receive at the warehouse. We tried to use as many characters as we can to make it more interesting and fun in there."
Mayers, just twenty-three-years-old, helps FASTSIGNS Joppa/White Marsh in multiple realms (design, production, and installation) and was responsible for the repeating logo wall graphic design installed at the Amazon recruiting center.
"Having Kaitlynn's help has been amazing," says Jordan. "She has huge potential in this industry."
Jordan and his team used an Epson SureColor S60600 Bulk Ink Printer to print the majority of the installations in the recruiting center, printing onto 3M IJ40C Vinyl Wrap.
However Amazon requested custom curtains for certain areas of the room, which Jordan accomplished by relying on a third-party provider.
"We don't print fabric at our shop, so I worked with Indy Imaging," says Jordan. "I told them, 'They want to have curtains. What do you recommend as far as curtain material?' And then I talked it over with my team and realized we can just sew it at the top, make a pole pocket, and just get a curtain rod and slide it on so that it's adjustable.
"We made them a little long, so that it looked like a curtain. But they're eight-ounce heavy-knit fabric."
The good news is a third Amazon recruiting center installation is on the books for FASTSIGNS Joppa/White Marsh, in the fall, using the same design.
As Amazon warehouses continue to pop up across the country, it's a great idea to take a page from Jordan's book and market your services to them and their like who may be in aggressive hiring modes as the holidays approach.
A relatively simply wall graphic or banner could help separate a hiring business in your area from the pack. Make sure they know what your shop is capable of doing!