Sign shops are often involved in the opening, refurbishing, or rebranding of a business— whether it's an accounting firm, a coffee shop, or a five-star restaurant. New outdoor signage is needed, as are new wall decals, new wallpaper, digital displays, and so on and so forth.
However, many sign shops are losing out of additional income opportunities when it comes to one aspect of physical branding: merch and apparel.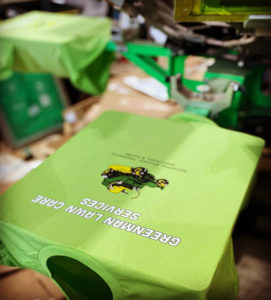 Now more than ever, people are wearing branded apparel from their favorite businesses. Additionally corporate apparel has long been a relatively affordable way for business owners to unite their teams and bring uniformity to the workforce.
So why shouldn't your sign customers be able to get all their physical branding materials—from the awnings to the aprons—from your shop?
"When a sign shop adds custom apparel to their product offerings, they get an additional stream of revenue for their business. This provides an extra layer of security that is good for their bottom line," says Brian Meshkati, vice president of SinaLite. "New products like custom apparel tend to attract new customers while also bringing back churned ones. It gives them one less reason to go to your competitors to get their printing done.
"Your business ends up becoming a one-stop shop to meet all your clients' printing needs."
And that's exactly the goal: controlling your prices and proactively retaining customers.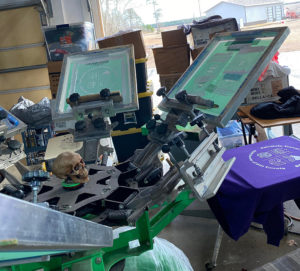 "There are advantages associated when adding apparel decoration capabilities to a sign shop. Most importantly would be control. Control of the costs, process, production timeline, the quality of graphics and keeping control of your customer," says Jay Busselle, vice president of Sales and Marekting at Equipment Zone.
"There are many 'sign shops' that are already very capable and are currently managing a wide variety of apparel production processes."
Apparel production equipment distributors across the nation can work with sign shops to introduce a machine to your shop. Manual presses also tend to get auctioned off, especially in these "post-Covid" times, for great prices. All it takes is a quick Google search of screen printing equipment auctions in your area to start the process.
And then there are also a handful of screen printers found on YouTube (such as Lee Stuart or the team at "The Print Life") who can help you get those squeegees going.
For newer machines, companies like ROQ.US and M&R Printing Equipment have many options when it comes to both automatic and classic manual screen printing presses.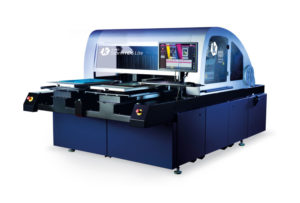 Big printing players like Brother, Kornit Digital, and Epson offer direct-to-garment (DTG) printers that can also get the job done well.
In the past, direct-to-garment methods were considered to be lower quality ways to produce custom shirts. However the technology has drastically improved, and very solid pieces can be made this way.
"Without showing my bias as to which brand, I think a production shop that is already comfortable with inkjet technology will have a shorter apparel decoration learning curve if they start out with DTG printers," says Busselle.
Now if all that sounds a bit too intimidating, don't fret; wholesale promotional item manufacturers like Sinalite are there to help. By partnering with them, you can use the logo files, color schemes, and mission statement of your signage customers to create anything from puzzles to tote bags.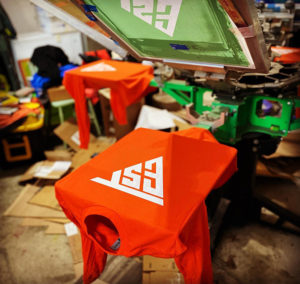 So let's say that you've decided to go forward with apparel and merch offerings for your customers. How can you encourage them to give you a shot? Or even better, how can you encourage them to make a big commitment to custom apparel?
"It isn't ok to merely send an email blast saying, 'You can buy shirts from me now.' My marketing advice would be to define your target audience of your best ten, twenty-five, or fifty existing customers and develop a theme centered around a practical business need," says Busselle. "For example: prospecting, hiring new employees, or employee retention. Create an engaging kit with three to four items that are fun, desirable, and useful. I would design a theme with complementary graphics. I believe strongly in the power of personalization, so wherever possible, I would personalize the messaging and the apparel.
"The goal is to have the people who receive this kit be emotionally connected, genuinely surprised, and wanting to do the same thing you just did—but for their customers."