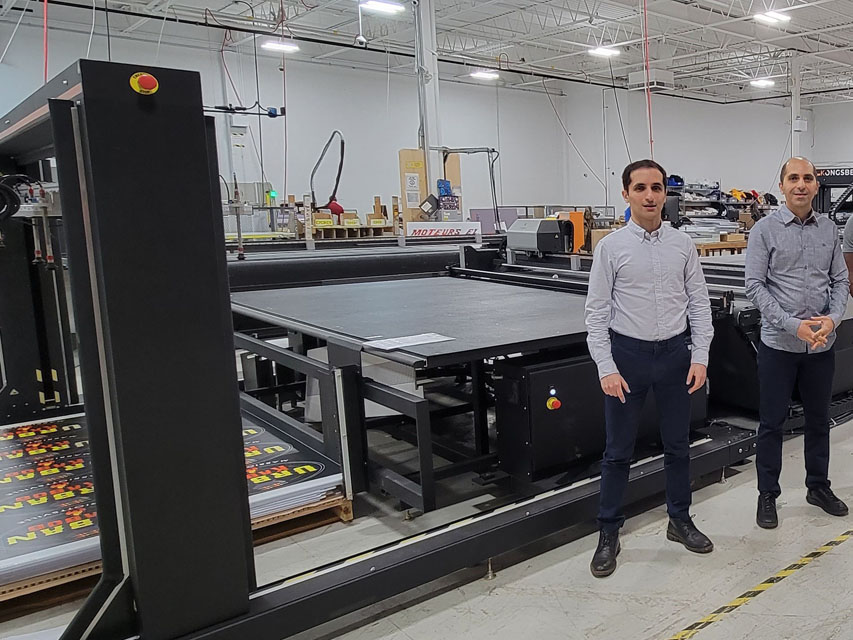 One of North America's leading wholesale trade printers, SinaLite, has installed a new Kongsberg C64 cutting table with Feeder & Stacker at its Ontario facility, to automate production and meet growing customer demand.
Adding to the Kongsberg C60 already in operation at SinaLite's headquarters, the latest acquisition from Kongsberg Precision Cutting Systems (Kongsberg PCS) will automate the plant, boosting productivity and efficiency while ensuring the company continues to deliver the highest quality and best service to its customers. The addition of the powerful new machine is part of a multi-million dollar program of growth, as the business expands its offering with additional corrugated packaging products.
"Despite being one of the largest trade-only printers serving all of North America, we are still a family-owned business," said Mike Meshkati, president of SinaLite, who took over running the business originally set up by parents Oscar and Fara. "Since the beginning, we have never compromised on their three core values—quality, service, and meeting customer deadlines.
"With this latest investment, we are able to bring a level of automation to our production facility that will ensure we can maintain the highest standards on which we've built our name, while handling the ever increasing—and varying—demands of our customer base."
With offices in both Canada and the United States, SinaLite has invested more than $25 million in state-of-the-art technology in recent years, with the new Kongsberg C66 and Feeder & Stacker at the heart of the 100,000-square-foot Markham facility.
"We see our mission as to help printers and print resellers maximize their profits and grow their businesses," said Mike. "We do that by empowering our partners to get ahead of the competition by providing the print services, tools, and knowledge that they need to achieve more. When we were looking to add to our offering, we looked at our options and Kongsberg's impressive automation solution was the natural choice to boost our productivity and our capabilities.
"We were impressed both with the size of the C64 unit and the level of performance, service and support we're already familiar with through our Kongsberg C60. The addition of a new automated feeding and stacking solution means we can now produce at higher speeds and with greater precision, without compromising on quality. This is crucial to our plan for business growth, as we are enjoying a huge increase in demand for short-run corrugated packaging jobs as we continue to expand our customer base. In terms of our large format business, the investment has also enabled us to produce yard signs and other rigid signs for our resellers significantly faster than ever before."
Vince Tuccitto, Kongsberg Precision Cutting Systems Territory Sales Manager for Eastern Canada, said the Kongsberg C64 delivers the highest levels of performance. "With its state-of-the-art engineering and technology, it combines an aluminum composite tabletop, rack and pinion drive system and dynamic table mapping to deliver the greatest cutting accuracy and consistency," he said. "The addition of the Kongsberg Feeder & Stacker removes the need for operators to manually load materials, reducing the risk of human error and enabling Mike and the SinaLite team to significantly increase productivity.
"With its impressive stack height and quick automatic load cycles, the Kongsberg Feeder & Stacker is the optimal solution for short run production on a wide variety of materials. The underside camera takes away the manual process of checking each sheet and calculating registration marks. It scans the sheet from below, on the print side, and automatically locates the registration marks, barcodes and the corner of the sheet. This saves anything up to thirty minutes on each job set up, boosting productivity even further."
Mike Meshkati said that with the addition of the new Kongsberg PCS solutions, SinaLite is now equipped with the necessary tools to deliver the speedy turnaround and flexibility needed to quickly adapt to current trends and changing demands of its growing customer base.
"We aim to help our customers' print businesses grow because when they succeed, we succeed too," he said. "With this new automated digital finishing set-up from Kongsberg, we have been able to expand our offering and ensure we deliver even more high-quality products and services for our customers—and in less time."
—Press Release