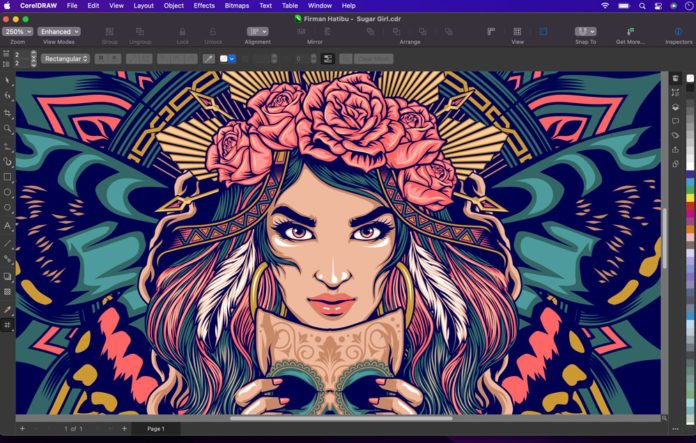 As part of the new vision of its recent rebranding as Alludo, CorelDRAW Graphics Suite, the complete design solution for vector illustration, layout, photo editing, typography, and real-time collaboration, has introduced several updates that empower designers to be creative and produce stunning results more quickly.
Available with a subscription, these latest features and enhancements enable users to hone their skills and make it easier to start a creative project.
"The latest updates simplify the design process, making it easier for anyone to unlock the power of creativity and produce stunning results," said Klaus Vossen, senior product manager for CorelDRAW. "We want to empower designers to be successful sooner with access to the tools that give them the freedom and flexibility they need to develop creative projects, on any device, and from anywhere."
Here's what's new for CorelDRAW Graphics Suite subscribers:
NEW! Creative design templates and practice projects: Boost your creativity and improve your graphic design skills with access to a variety of new design templates and practice projects.
NEW! Scaling tool: Enjoy total flexibility and accuracy when scaling objects.
ENHANCED! Export workflow: Create amazing results even faster with a simplified Export workflow.
NEW! Customer-requested enhancements: Taking direct user-requests from the CorelDRAW Ideas Portal, subscribers can enjoy new WebP file support, a reimagined New Document dialogue, performance improvements, and more.
The updates come on the heels of the newly released CorelDRAW Academy, an e-learning resource that helps CorelDRAW Graphics Suite subscribers increase their graphic design knowledge and skills and grow their creative potential.
Designed by creative professionals and free for all active CorelDRAW Graphics Suite subscribers and maintenance customers, the CorelDRAW Academy offers modular-based training sessions that are engaging, easy to follow, and focused on real-life design scenarios so users can apply new techniques to everyday design projects.
CorelDRAW Graphics Suite subscribers can enjoy a more flexible way to stay up to date with access to exclusive new features, content, and enhancements, and support for the latest technologies, as soon as they're available.
—Press Release