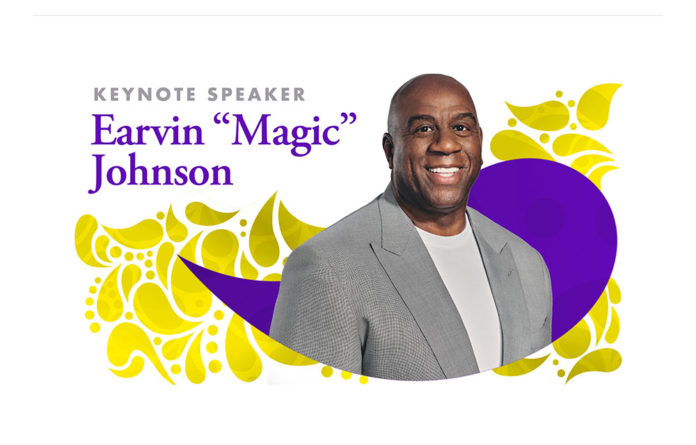 Basketball Hall of Famer and international business leader Earvin "Magic" Johnson will deliver the main keynote at the Dscoop Edge St. Louis World Expo. The NBA legend will share his thoughts on teamwork and leadership during Dscoop's flagship conference, set for May 7-10 at the America's Center in downtown St. Louis.
Registration is now open for the annual event, which unites print professionals around the world who want to learn new strategies, discover new tools and technologies, meet new partners, and have fun together. Dscoop is the largest digital print community in the world.
The event's website includes hotel and travel information, the schedule at-a-glance and more. Full descriptions of education sessions will be published soon.
Conference Designed to Help Printers Shape Their Future
Everything about the Dscoop Edge St. Louis World Expo — from Magic Johnson, to member-led panel discussions, to a redesigned Solutions Showcase that embodies the innovation and can-do spirit of the 1904 World's Fair in St. Louis — is designed to bring maximum value to attendees and partners.
The conference is an ideal opportunity for anyone looking to improve their business, their team or themselves. Keynotes, education sessions, networking time and the famous Dscoop Party are all part of that value.
"The Dscoop global community keeps growing, and it's a testament to the amazing energy level, optimism and idea-sharing of our members across the world," says Peter van Teeseling, Dscoop's Executive Director. "This is a community of print mavericks, and there's nothing quite like the energy of everyone gathering in-person! We also look forward to welcoming many first-time attendees looking to advance their business or career with digital print."
Planned education tracks include:
Sales & Marketing
Business
Automation
Operations
Sustainability
HP, Other Partners Showcasing Innovative Technology
The Solutions Showcase at the Edge St. Louis World Expo will be buzzing with activity, a welcome sound since the pandemic. HP and other partners will be bringing equipment, showcasing business-building technology and discussing new market opportunities.
"So many of our customers around the world are involved in Dscoop not just to learn how to get the most value from their HP Indigo and HP PageWide technology, but also because of what they can learn from each other," said Haim Levit, Senior Vice President & General Manager, HP Industrial Print. "Dscoop is the most powerful network in print, and I am looking forward to the conference so we can listen to real-time feedback from our customers and better understand how HP can help them grow.
"I'm excited that HP will have a major presence in St Louis this year."
—Press Release