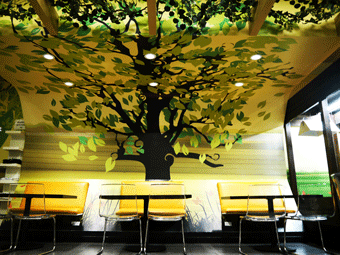 Roland DGA Corp. is excited to announce that Gamut Media of Brea, California, is the North American November People's Choice award winner in the 2011 Roland Creative Awards. Voted number one by site visitors from more than ninety-five regional entries, Gamut Media's nature-inspired wall wrap for Saladish has earned the firm's owners, John Kim and Phillip Yu, a 16 GB Apple iPad2* and Roland headphones.
The winning entry was part of a complete branding campaign for Saladish, a Los Angeles restaurant well known for its famous business partner, L.A. Laker Metta World Peace (formerly Ronald William Artest, Jr.). For Saladish, Gamut Media designed and printed logos, menus, window graphics, and signage, but the element that stood out the most was a floor-to-ceiling mural featuring a bold, illustrated garden scene.
"We produced the prints on our VersaCAMM SP-540V inkjet printer/cutter and they came out rich and vibrant," Yu said. "Our Roland equipment really came through for us."
Kim added, "This massive mural is a signature graphic for Saladish that makes it both a memorable brand and a truly awesome place to eat."
Based in Brea, California, Gamut Media specializes in branding and graphic design services, as well as high-quality printing for wide-format graphics, including canvas prints, banners, signs, wall murals, window graphics and vehicle wraps. Gamut Media clients include individuals, corporations and small businesses located primarily in the Southern California area.
Since its launch in September 2011, the Roland Creative Awards contest has received more than 570 entries from 14 participating regions representing 123 countries worldwide. Contest entrants compete for monthly People's Choice awards, as well as the grand prize trip to Japan and a machine of their choice. Entries are being accepted through December 31, 2011.
To submit your best work, or to join in the vote for this December's North American People's Choice winner, visit the Roland Creative Awards official site at www.rolandcreativeawards.com.
* "iPad2" is a trademark of Apple Inc., registered in the U.S. and other countries. Apple, Inc. is not a sponsor of the Contest and has no responsibility or liability regarding the conduct or administration of the Contest.