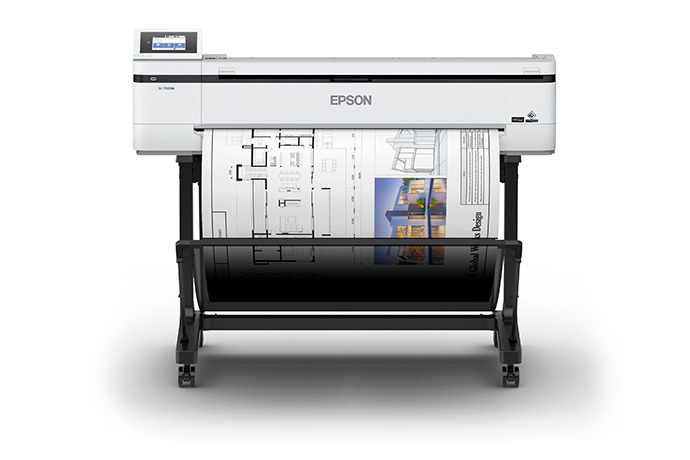 Epson announces that it is releasing its new 24-inch SureColor® T3170M and 36-inch SureColor T5170M multifunction printers.
Featuring a sleek design and compact footprint (product size excluding stand), the new printers are designed to enhance workflow and support seamless collaboration ideal for today's remote working environment.
The models tout an integrated high-detail scanner with simple top-loading functionality for easy copy and scanning of blueprints, technical documents, renderings, and graphics.
Built for professionals in the construction, architecture, engineering, and CAD printer markets, the new SureColor T3170M is available now, and the SureColor T5170M will be available in May online, through channel affiliates, and authorized Epson Professional Imaging resellers.
Noreas Inc., a scientific, technical, engineering, and construction management support company has been using the SureColor T3170M to print and digitize their wide format drawings.
"We have been using the SureColor T3170M to help print technical plans for projects and scan large documents. We have really been putting the SureColor T3170M to the test—it fits right on our desks and it's a reliable, robust printer that has greatly helped our business workflow," said Michael Price, project environmental engineer at Noreas, Inc. "The integrated scanner and copier have simplified our process for sharing documents with clients and colleagues. The printing and scanning quality are excellent."
The SureColor T3170M and SureColor T5170M https://epson.com/surecolor-t-series-plotters come equipped with an industrial-grade Epson PrecisionCore® MicroTFP® printhead for ultra-fast print speeds, producing accurate A1/D-size prints in as fast as 34 seconds and 31 seconds, respectfully. (Note: Print speeds are based on the print engine speed only. Total throughput time for any print depends on various factors including workstation configuration, file size, print resolution, ink coverage and networking. Actual print speeds will vary.)
The integrated 600 dpi scanner and copier support enlargements and reductions, as well as enhances tracing and offers highlight detection for scanning annotated blueprints.
The SureColor T3170M and T5170M support easy document sharing through scanning directly to USB drives, network folders, or scan to e-mail, ideal for sending documents to team members, including remote and on-site departments, vendors and clients.
Both printers include integrated wireless and Wi-Fi Direct® connectivity3 to seamlessly print from virtually anywhere in the home or office with a smart device4 or from a USB thumb drive. (Note: Wi-Fi CERTIFIED™; level of performance subject to range and type of the router being used. Wi-Fi Direct may require printer software.)
Touting enterprise security features and protocol support, employers and employees can feel secure creating and sending CAD, GIS, architectural, and engineering drawings.
"A lot has changed in our work environments in the last year, and these models are ideal for businesses looking for a multifunction device that will conveniently fit into modern work from home and small office environments," said Jacob Hardin, product manager at Professional Imaging, Epson America, Inc. "From the small footprint to the advanced features and multifunction capabilities, the new SureColor T3170M and T5170M were designed to help industry professionals increase productivity and create stunning CAD, GIS, architectural, or engineering technical drawings."
—Press Release