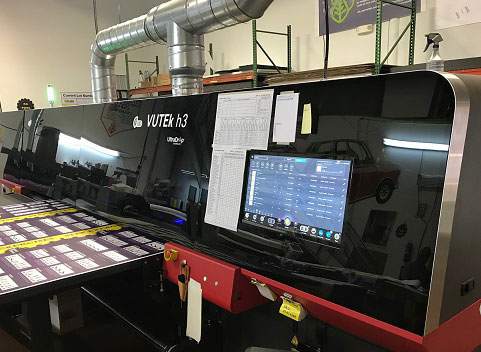 Electronics For Imaging, Inc. is now shipping its most-advanced hybrid flatbed/roll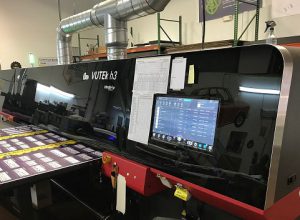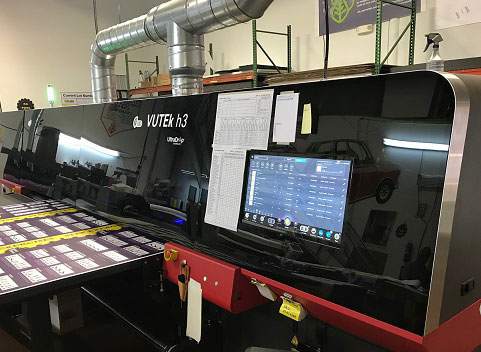 superwide-format printer technology to date – groundbreaking new VUTEk® h series printers that give customers higher reliability, better serviceability and greater ease of use, as well as increased functionality, quality, productivity and expandability. Environmental graphics production specialist Northeast Color recently became the first company to install the h series, with a VUTEk h3 model operating in the company's Portsmouth, N.H., production facility.
The new printer platform, which was developed by EFI's global R&D teams from the ground up, is designed for high-volume production of premium-quality signage and graphics applications. First shown at the 2018 FESPA Global trade show in Germany, the 126-inch-wide h series builds on EFI's legacy as the leading provider of sustainable "cool cure" production LED inkjet printers while establishing new benchmarks for productivity and profit opportunity. The h series is available in two models. The EFI VUTEk h3 prints up to 74 boards per hour and offers eight-color and optional four-color printing modes plus white, as well as five-layer print capability in a single pass.
The printer is a highly extensible platform as well, one that gives users the option of increasing throughput capabilities as needs demand. The VUTEk h3 model can be upgraded to an EFI VUTEk h5 model on site. With the upgrade, users can get even greater speed and capacity – up to 47% higher productivity with top print speeds of 109 boards per hour.
A new platform for growth with even better color and faster throughput
The printer series' first user, Northeast Color, specializes in environmental branding, signage, and graphics for the franchise industry. The VUTEk h3 will make Northeast Color more efficient on stock inventory items the company produces while also opening the door to new products requiring higher-end imaging.
Northeast Color also operates a pair of EFI VUTEk UV hybrid printers, and when the company sought to expand its business to address growing print capacity needs, Northeast Color President Jalmar Dijkstra saw a unique opportunity based on the VUTEk h series' strong capabilities.
"We were looking at printers from EFI and other manufacturers when EFI presented us with the option of being the first installation site for the h3," Dijkstra said. "It is the next step for us in terms of offering our clients better quality and higher capacity.
"The name of the game in our market is volume," he added. "A single franchise client can easily represent hundreds of locations, and at any given time there are multiple franchise sites that need to switch out and install new graphics. Our newest printer is designed to give us more agility and greater technical abilities to better serve our customers by producing even higher volumes of work on a wide range of substrates."
"Northeast Color turned out to be an ideal first site for our new h series," said Ken Hanulec, co-general manager, EFI Inkjet Display Graphics. "The company has a strong understanding of EFI and our total technology offering, plus Northeast Color's high production volumes and product diversity will put the printer through its paces to ensure it exceeds market requirements for high-quality, high-volume production graphics printing."
The printer series – the first hybrid VUTEk LED printer offering 1,200 dots per inch (dpi) resolution – features new high-velocity 7-picoliter grayscale printhead imaging for precision dot placement and consistency from print to print at high production speeds. VUTEk h series printers can run high volumes on a broad range of rigid and flexible substrates up to 2 inches thick at full rated speeds thanks to automated material handling options to meet nearly any production need.
"We could tell the h3 model would really be a fit for us because of the quality it offers with 7-picoliter-drop imaging and its phenomenal speeds," said Christopher Shaw, production manager, Northeast Color. "For example, we have a repeat job printing wood grain images on PVC, and we can produce 40 to 45 pieces of that job in a single shift on our current UV-inkjet printers; with the VUTEk h3, we will be able to do that in half the time."
Faster, easier maintenance and new print management tools
The VUTEk h series platform comes equipped with ImageEdge technology for fast and easy printhead replacement; automated table and carriage alignment; and a camera-based vision system for subpixel alignment, printhead density balance and step and bi-directional set up. A new, modular drop-in ink delivery system design eliminates ink waste and provides fill-while-printing functionality for continuous productivity.
EFI VUTEk h series printers also have a significantly improved user interface with touch-screen control monitors on both the input and delivery sides. The printers are part of a complete, integrated system available only from EFI for world-class production workflow automation and production management. The latest-version EFI Fiery® proServer Premium digital front end (DFE) used with the printers combines faster RIPing with enhanced color management and screening features.
The new VUTEk series provides a technology advantage for Northeast Color, a company that has built a strong reputation as a complete environmental graphics provider for franchises. Color accuracy and high-volume output on a broad range of substrates are especially important, as the company serves as a "brand custodian," taking responsibility for nearly everything franchises may need in terms of signage, graphics and other décor pieces – including floors, furniture wallcoverings and ceiling tiles.
Northeast Color's client roster includes successful, growing national franchises in the health club and education spaces, and the newly installed printer will help meet capacity needs when those clients add new locations or execute new re-branding strategies.
Given the often-complex shipping and fulfillment requirements that come with supporting numerous franchise locations, Northeast Color has established a highly organized and efficient business and production workflow using an EFI Midmarket Print Suite with Pace™ MIS/ERP software. The company's Suite also features shipping and web-to-print components, and the entire workflow is connected with the EFI Fiery proServer DFEs used to drive the company's digital printers for more accurate, efficient production scheduling and management based on incoming job workloads and client delivery dates.
EFI VUTEk h series printers are available now from EFI and authorized EFI VUTEk distributors.