One can make the case that education has played a significant role in shaping the career of Thomas Lamont.
He studied auto body work at a vocational school and then learned painting, hand lettering, and airbrushing at the famed Butera School of Art in Boston where he was able to later focus these skills at various sign shops and even his own start-up sign company in pre-vinyl application days. Eventually Lamont adopted skill sets related to the burgeoning inkjet printing and vinyl cutting and found himself installing graphics for retailers like TJ Maxx and Marshall's. He has even externed at other sign shops training their employees in vinyl applications.
Today Lamont is successfully teaching students about the art and technologies of the sign trade (among other things) at the U.S. Blackstone Valley Regional Vocational Technical High School (Valley Tech) in Upton, Massachusetts, and opening their eyes to possible careers in the industry that they never knew existed before.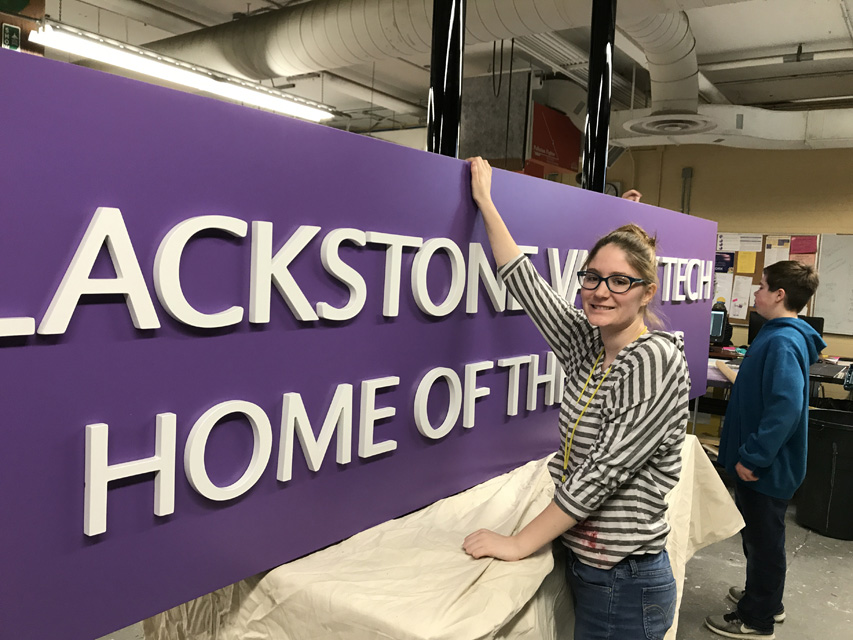 Lamont first started with Valley Tech in 2014, after his son was accepted as a student there. He learned that the school was looking for someone to enhance and transform their curriculum and technical offerings in the Painting & Design Technology program with an infusion of interior decorating and more modern equipment and techniques. In essence, Lamont found himself going "full circle" back to his beginnings. (Note: Lamont has a co-teacher helping him with implementation of this program.)
The Painting & Design Technology curriculum encompasses a wide range of segments related to interior design and interior and exterior painting. One of these fields is "signs and graphics," which has helped increase the program's popularity. "The sign industry allows us to add more technologies, like being able to buy more printers," says Lamont. "Now the students are designing their own graphics in Illustrator and producing them on our state-of-the-art machinery."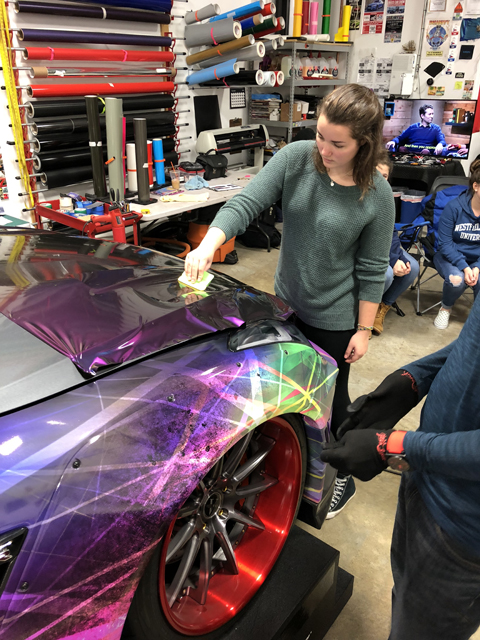 Accepted students start the program after exploring various fields of study they want to pursue. Lamont uses the analogy of the variety found at a grocery store to describe the four-year Painting & Technology curriculum at Valley Tech. "There are interior designers, painters, graphics artists, architects, sign makers, installers, etc.," he says. "ADA and wayfinding even tie into the program. We're showing students that, if they want to be an interior designer, the sign industry works hand-in-hand with that. They can see how it all marries together."
Lamont says the Painting & Design Technology program has boomed ever since his first year; today every single student that comes through their program was a first choice, and the school has now set up a waiting list for it.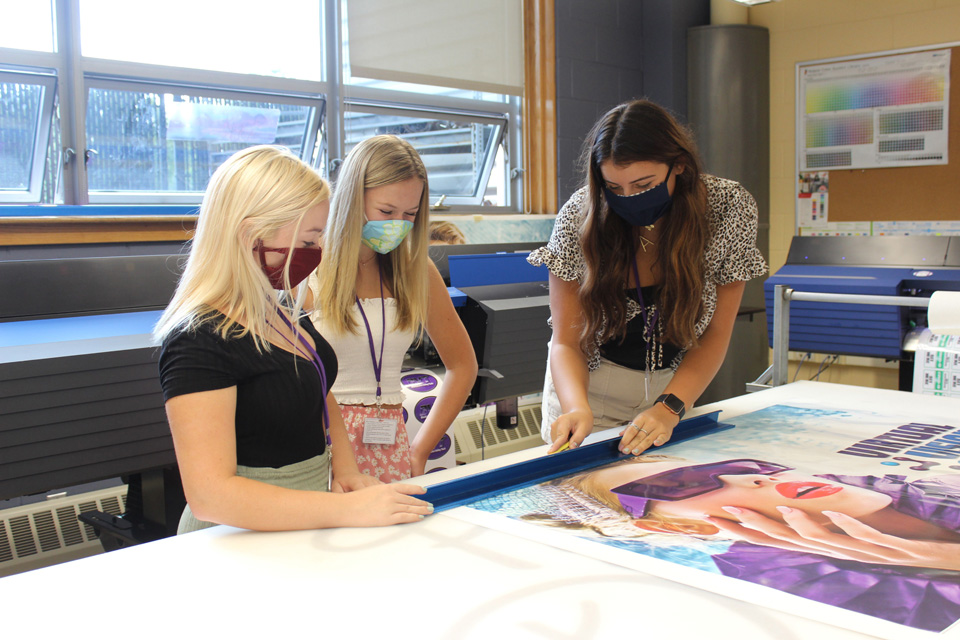 Being equipment-heavy has attracted a good amount of student interest. "Kids today want technology," says Lamont, "and the sign industry really helps with that."
Among the on-campus equipment his curriculum utilizes are two Roland DGA printer/cutters, a Canon printer, a Royal Sovereign laminator, a CNC router, a brand-new Epilog laser, and even a spraybooth. The school develops a budget to purchase needed equipment and has been successful at smartly and frequently applying for grants. "When I was hired, I told them that I was going to need a laminator, vinyl cutters, printers, etc., and they literally bought every single thing that I wanted!" says Lamont. "All of our equipment is brand new—and probably even better than what a lot of sign companies around here have."
Lamont says that a lot of students in the Exploratory part of the program love to "make stickers," a name they've adopted for decals and vinyl prints. "All of our students have laptops, and we teach them how to use Adobe Illustrator," he says. "These kids catch on pretty quickly. We give them a file and they modify the designs and send them to the printer and then take them home and apply them to their laptops or cellphones. They really love it!"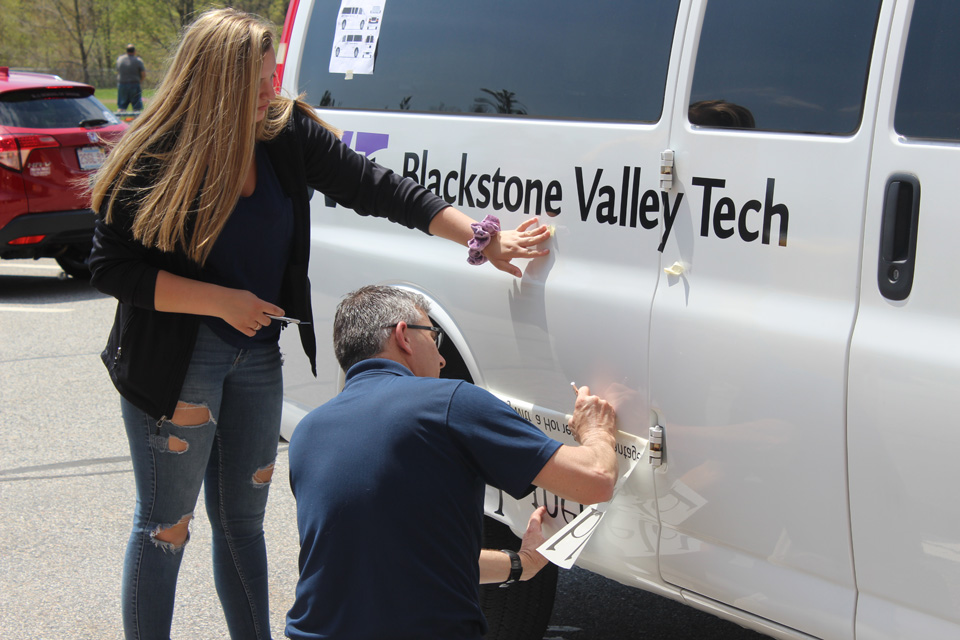 One of the more popular courses in the program is the Distressed Sign Workshop. "We are an interior design/painting/signs-and-graphics shop, so we always try to incorporate all three things," says Lamont. "This class teaches them the different types of woods used in interior design, how to prep it, how to sand it, and how to paint it.
"Then we teach them how to make a vinyl graphic for the lettering in Illustrator. We show them how to use the plotter, weed the vinyl, put the transfer paper on it, and paint it. Then we teach them how to pull it off leaving a distressed look. It encompasses all these different things in one lesson."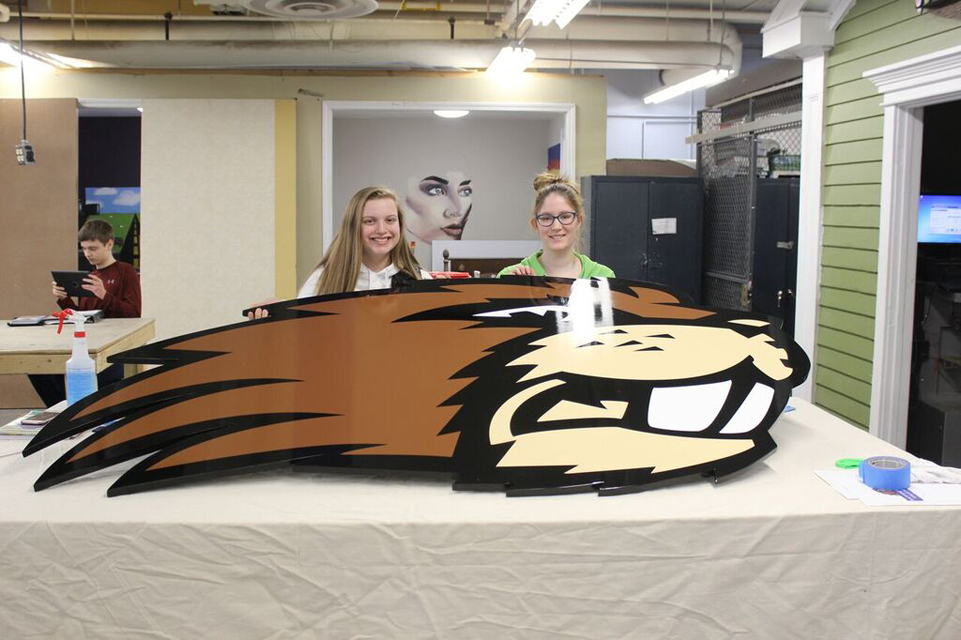 Work created by the students can be found all over Valley Tech. They letter the school's vans and apply window graphics and frosted vinyl along the campus. They even worked with a local sign shop to design and build a huge Watchfire digital scoreboard featuring a vinyl-covered PVC cutout of the school's beaver logo attached to the top of it.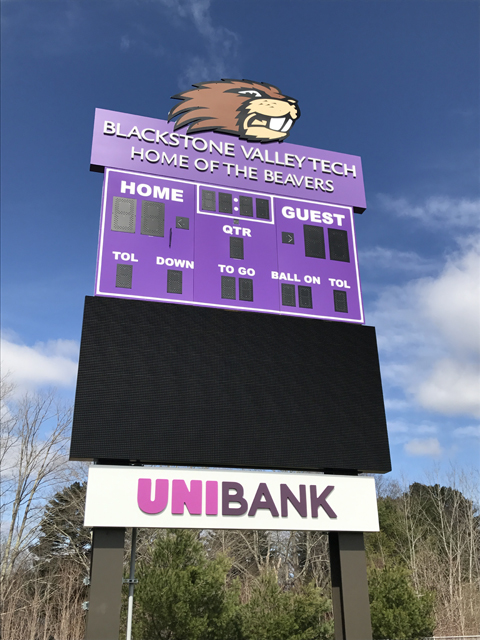 "The students also designed, produced, and applied thousands of safety and social distancing stickers and floor graphics for the school on our Roland printers during the COVID-19 onset," says Lamont.
As you might expect, vehicle wrapping is also popular. Lamont's classes have also done quite well with high finishes at several SkillsUSA Promotional Billboard competitions in Louisville, Kentucky, where they caught the attention of 3M and Roland DGA, both of which have driven their demo trucks to the Valley Tech parking lot to further help train students.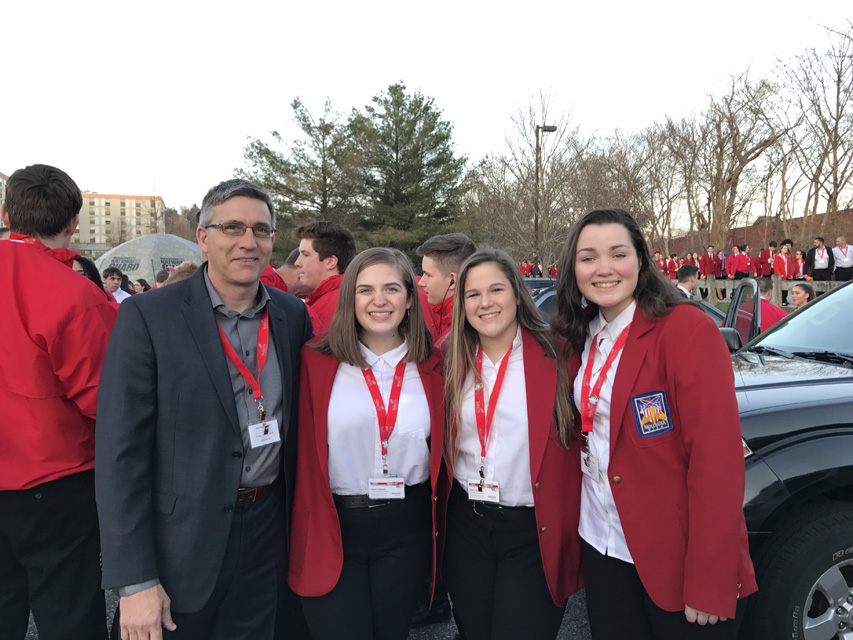 Since Lamont knows a lot of car guys in the area thanks to his auto body background, his students have been able to work on applying graphics to Lamborghinis, Masaratis, and Ferraris brought to the school shop. Some of Lamont's students were even invited to a nearby prestigious car show where they were encouraged to wipe down McClarens and use squeegees and rollers to apply vinyl graphics to them.
Lamont reinforces the message to his students that they shouldn't be afraid of achieving something that they think is out of the realm of their achievement. "I tell my students that they have a talent and are doing something that these guys are in awe about," he says. "They're noticing the sixteen-year-old kid putting a decal on their car absolutely perfectly, which is something they can't do. It gives our students so much pride that somebody who owns a Lamborghini sees that in them."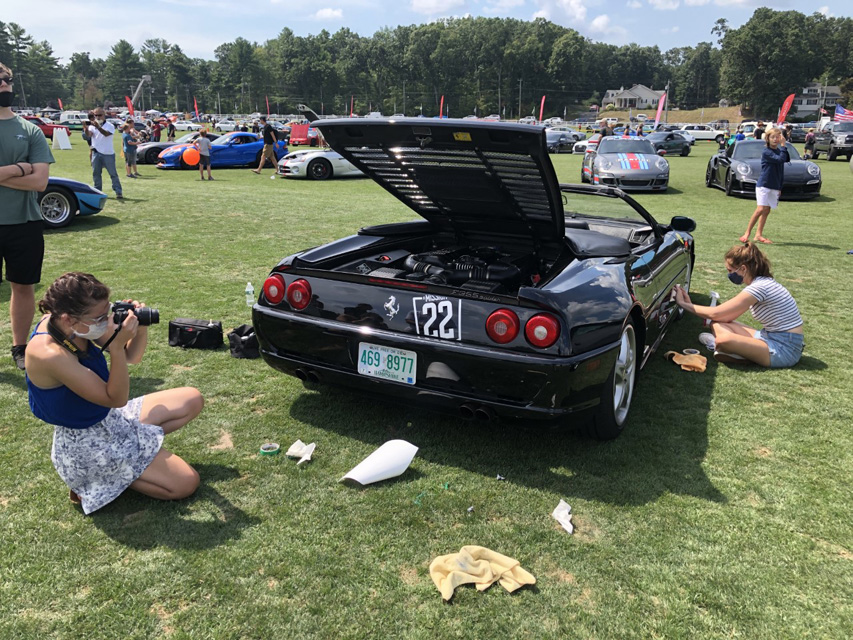 Lamont also uses his class to do work for the community—actions he identifies as "teachable moments."
They do a lot of work for Mission 22, an organization that raises awareness for veteran suicide prevention. "We've been making decals for them and donating them," says Lamont. "We show our students their video and talk about who they are. We show them how we can give back to people by making signs, and they appreciated that because it's a good cause."
They recently wrapped three hoods for the Upton Police Department's cruisers as part of "Think Pink" breast cancer awareness week. "We're not just teaching kids about signs," says Lamont. "We're able to show the kids that police officers are real people and that they're here to help our community too."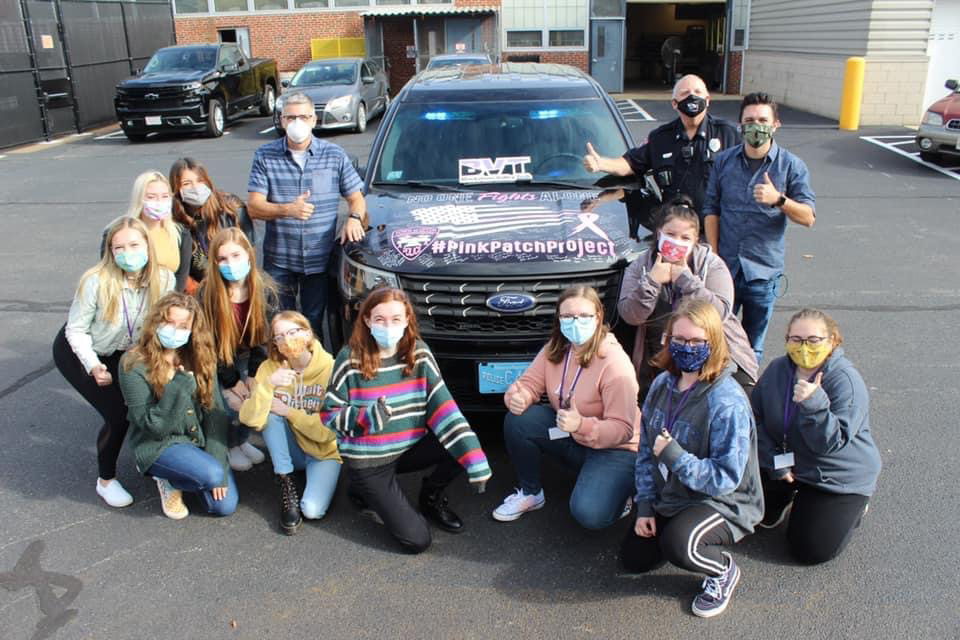 Lamont says that they have co-ops available at the school, and several students have been hired in sign companies from this experience. The owner of a local sign company that Lamont partners with has three lasers and was looking to find people to work with this technology. "So he gave me his old laser to train our kids how to use it, and when they learned how, he was going to hire them. And he did end up hiring three of them!"
Seeing the value in this technology, Lamont convinced the school to invest in a laser engraver. "It shows you that our technology is getting kids hired," he says, "and at the end of the day, that's why we're here. We want them to learn a trade and get them employed."
While Lamont says that, a lot of times, his students will leave to go to college, he is proud that they always have design on their minds and someday they'll get back into the sign and graphics workforce.
Lamont is not only making a difference in his students' lives, but they're making a difference in his life as well. He was recently awarded the Teacher of the Year for the state of Massachusetts.
"This was awesome because it highlights what it is that we're doing here and how we're making changes," he says. "Even other area shops and schools are now using our successes as a model and buying printers and equipment. It's changing their shops too."
NOTE: Some photos featured in this article were taken before the COVID-19 pandemic and the protective measures that have been suggested to prevent it.
—Jeff Wooten