Canadian large format print company Creative Silhouettes recently used Drytac Polar Grip white polymeric self-adhesive vinyl to create a striking application at a busy intersection in its home city of Toronto.
Creative Silhouettes was approached by the City of Toronto and real estate company Brookfield Properties to produce an eye-catching piece of print that would brighten up a large space at the outdoor location.
The aim of the project was not to advertise or promote a product or service, but instead to introduce a splash of color to the otherwise dull, beige color of the building.
As a long-term user of Drytac products, Creative Silhouettes was familiar with the many benefits of working with Drytac's high-quality materials. The company had no hesitation in returning to Drytac for this latest project, opting for Drytac Polar Grip on which to produce the print.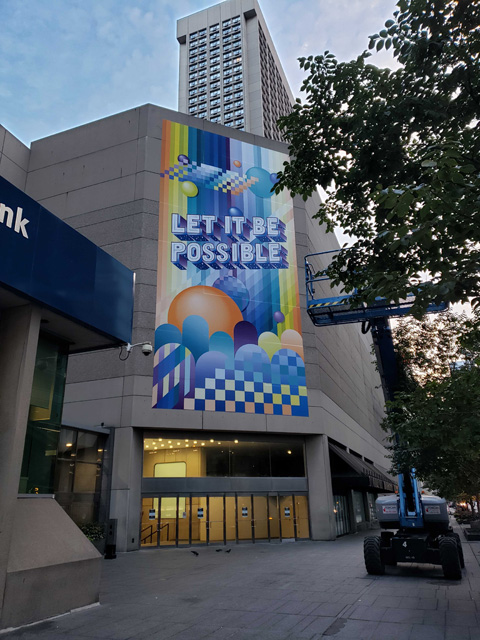 Creative Silhouettes used an HP R1000 Latex printer to produce the final graphic, which measured sixty feet high and thirty-five feet wide. Installed in early September 2022, it now colorfully towers over passers-by in Toronto.
"We chose Drytac Polar Grip as we have used the product a number of times in the past, so our team is highly familiar with its properties and qualities," said Giovani Pereira, Project and Business Development Manager at Creative Silhouettes. "We have been using this material for the past three years in a wide range of applications. Drytac Polar Grip was the ideal solution for this job in particular as it is able to hold well in both hot and cold weather on rough surfaces, such as the building at the intersection, meaning it will stand up to the elements.
"The customers were incredibly happy with the look of the final project, as are we as a team."
—Press Release