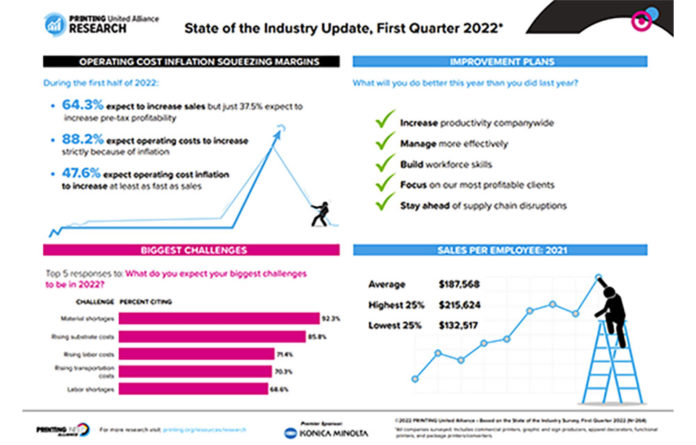 PRINTING United Alliance, the most comprehensive member-based printing and graphic arts association in the U.S., today announces that Canon U.S.A., Inc., has collaborated with the association to sponsor its invaluable "State of the Industry" research, a series of quarterly, panel-based reports addressing current print market and economic conditions, economic sentiment, and the strategic decisions being made across the varied segments of printing. Visit the Alliance's State of the Industry Research page for more information.
For the first time ever, in addition to the comprehensive "State of the Industry" research series, a segment-specific "Print Business Outlook" series will be offered, produced specifically for commercial, graphic and sign, and in-plant printing.
"Economic forecasting and market research is a critical component for business decision-makers. This research reinforces the Alliance's commitment to members and the industry at large to provide regular, thorough, and sound methodology on the latest indicators in print," says Andy Paparozzi, chief economist, PRINTING United Alliance. "Canon's sponsorship ensures the uninterrupted delivery of timely and incisive research."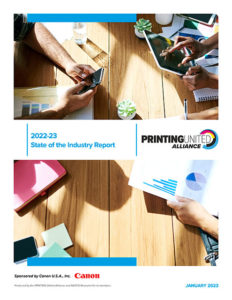 "Market leaders in the printing industry continue to work with Canon because they count on us to be mutually invested in one another's success," says Robert Barbera, director, production solutions marketing, Canon U.S.A., Inc. "This body of work will deliver actionable intelligence to help guide today's print providers with their critical business decisions. We have a robust plan in place to share this across all our relevant business units through a variety of customer tools and events planned throughout the year.
"In collaboration with PRINTING United Alliance, Canon U.S.A. is proud to sponsor this analytical work and insight it provides to the print industry and our customers."
The next "State of the Industry" installation will be available this month and is free to Alliance members. Included in the report is a forecast of expected market conditions and critical, implementable action items that print service providers can execute on to ensure success.
Future reports this year will be available in March, July, and December.
—Press Release