Mimaki USA, a leading manufacturer of wide format inkjet printers and cutters, introduces two revolutionary sustainable technologies in textile printing while at ITMA 2023: an environmentally friendly Textile Pigment Transfer Printing System and the Neo-Chromato Process.
These innovations are showcased for the first time, and ahead of commercial availability, at the exhibition in Milan, Italy, solidifying Mimaki's leadership in sustainable and environmentally friendly solutions for the textile printing industry.
A Better Way to Print: Textile Pigment Transfer Printing System
Hearing a demand for more sustainable and environmentally friendly ways to print, Mimaki has developed a Textile Pigment Transfer Printing System.
Traditional methods of dyeing natural fibers with dye and pigment produce nearly 2 billion tons of wastewater, accounting for almost 20 percent of all industrial wastewater. This water contains chemical substances generated from pre and post-dying processes worldwide. In addition to this negative environmental impact, large-scale dying facilities are responsible for high CO2 emissions from their production and the overseas transportation which is usually required.
Mimaki's Textile Pigment Transfer Printing System uses nearly zero water for printing and significantly reduces CO2 emissions due to its on-site capabilities and small-scale structure (Figures 1 and 2).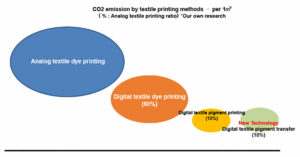 This smaller system makes it more affordable than conventional textile dye printing methods (Figure 3). It allows small-scale textile production to be done outside major textile-producing countries, reducing CO2 emissions attributed to overseas transportation.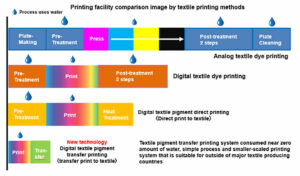 The Textile Pigment Transfer Printing System comprises three parts: Textile Pigment Ink, Textile Transfer paper, and Transfer System. The textile pigment ink is currently undergoing bluesign® certification, with an anticipated approval in September 2023.
Evaluations are currently being conducted on the compatibility of these elements with the fiber materials needed for apparel, home goods textiles, and soft-signage applications. Mimaki plans to officially launch The Textile Pigment Transfer Printing System in fall 2023.
Reducing Waste with Reused Textiles
Another debut at ITMA 2023 is Mimaki's unique Neo-Chromato Process, revolutionizing the reuse of colored polyester textiles.
By removing the color from polyester textiles that have been dyed using dye sublimation technologies, this innovative process allows materials to be re-printed or dyed immediately, contributing to a smaller environmental footprint. There is no limit to how often reused polyester can be treated with the Neo-Chromato Process, which minimizes water usage and pollution.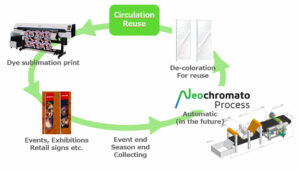 Colored polyester textiles typically have short-term uses for products like banners, backlit signs, and tablecloths. These applications, along with fast fashion apparel and sportswear made of colored polyester, frequently find themselves incinerated after use, while only a small portion is recycled.
According to Mimaki's research, polyester textiles account for approximately 60 percent of the 92 million tons of wasted textiles worldwide.
The Neo-Chromato Process eliminates the need for incineration and recycling by reusing these polyester textiles, making it a sustainable technology for the textile industry.
These two announcements align with Mimaki's commitment to bringing new innovations to the print market that are sustainable and minimize environmental impact. Listening to customers' needs worldwide, Mimaki USA feels that it is their responsibility to actively collaborate with industry patterns to explore the full potential of these new technologies.
—Press Release