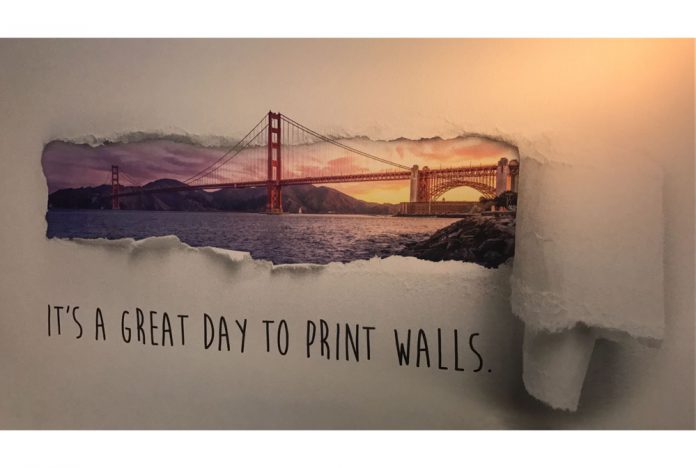 An innovative and highly practical solution that uses inkjet technology from Xaar (www.xaar.com) to create wonderful designs on indoor and outdoor walls has been launched in Germany by Wallpen GmbH. The Wallpen printer is a patented, mobile, large format UV printer system for printing pictures and graphics direct to walls and vertical surfaces. It prints in brilliant, durable and high-definition colors directly onto a wide variety of substrates including plaster, wallpaper, wood, stone, plastic, tiles, glass, metal, and concrete.
Following extensive market research, the Wallpen printer was developed over two years and is underpinned by fifteen patents, enabling the creation of a unique and high-performance printer. Incorporating a four-color Xaar 128 print bar, the Wallpen printer utilizes a rigid and lightweight aluminum structure to print the image. At the same time, it scans across the surface using a laser to adjust for surface imperfections and undulations. Therefore, the printer automatically and continuously adjusts the print arm for any changes in the surface of the substrate onto which it prints.
Able to create colorful designs on walls up to almost four meters high, with no limit to the printable width, the Wallpen printer can cover up to four square meters per hour at a resolution of 370-by-600 DPI. It is compact, fits in a mid-size car, can be easily transported, and can be set up by one person in just five minutes.
The Wallpen is the brainchild of Wallpen Managing Director Andreas Schmidt, who specially developed the vertical printer to have a wide range of possible applications. These include printing eye-catching designs onto vertical surfaces in public spaces like shopping malls, bringing color to bland hospitals and other municipal buildings and creating displays on museum or office corridor walls. The Wallpen printer is of interest to painters, decorators, and interior designers, as well as sign makers, advertising agencies, graphic designers and companies in many more sectors.
"Since the launch, we've had a great deal of interest in the printer from a wide variety of industries, and sales are already looking very healthy," comments Andreas. "The Xaar 128 printheads are central to our product because of their ability to jet UV ink, and also because they can be easily incorporated into a small and lightweight printhead unit. As a consequence, Xaar technology is playing a major role in the Wallpen printer's success.
For more information about the Wallpen, visit https://wallpen.com/.