When a residential client wanted to turn their living room into a home office, they wanted to enhance the space's privacy while still letting in natural light. One of the ways the client sought to achieve this balance was by installing window films over their interior doors. To help bring their vision to life, the client reached out to Kitchen Concepts, who partnered with sign and design firm The Visual Edge Signs & Design.
For eight years, The Visual Edge Signs & Design has been designing, printing and installing graphics for the sign, graphics and large-format printing industries. Initially, the client wanted to use perforated window films for the job, but the sign and design firm knew it wouldn't provide the amount of privacy the client was looking for. To help the client choose the best films for the job, The Visual Edge Signs & Design did color density testing on the client's interior doors to ensure the chosen films were opaque enough to provide the desired privacy and while still letting in ample light.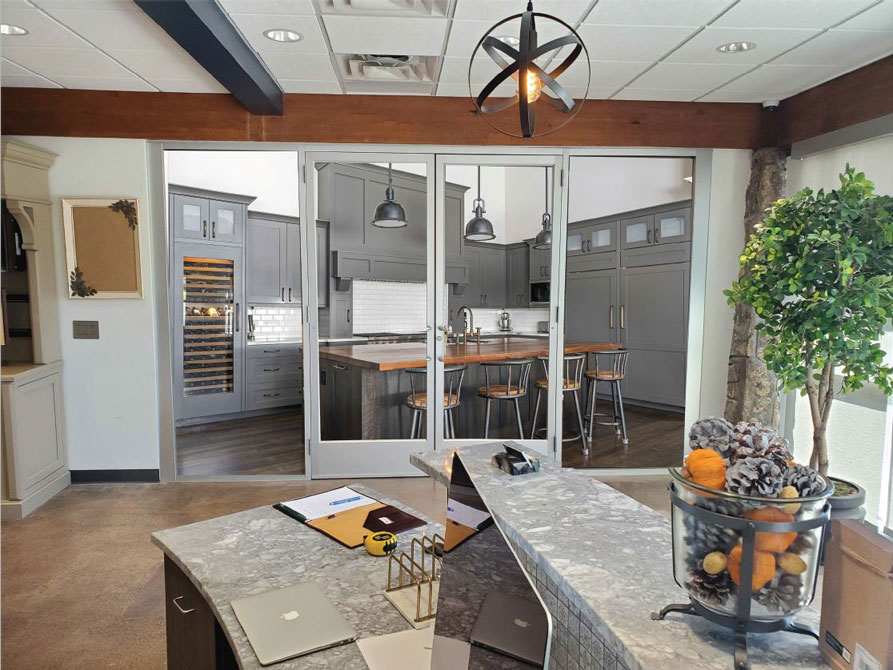 The client selected Mactac's IMAGin® B-free Frosted Window Film (JX5796MBF) for the job, because of the exceptional clarity the films offered. IMAGin B-free Frosted Window Films are known for their ability to be applied quickly and easily—without any graphic wrinkling or bubbling. The client purchased the image they wanted printed on the films and The Visual Edge Signs & Design resized the image and printed it on the films with an HP 365 printer. The installation took two installers three hours to complete.
"We have been using IMAGin B-free Frosted Window Films since we opened our shop eight years ago, and it's our go-to frosted material," said Tim Eunice, co-owner of The Visual Edge Signs & Design. "The film prints very well with latex printers, but with the new HP 365 printer, we were able to increase the ink density and the image looked even better than the client imagined."
IMAGin® B-free Frosted Window Film is a 3.1-mil translucent, matte-frosted polymeric PVC film. It is coated on one side with a micro-structured, repositionable permanent clear acrylic pressure-sensitive adhesive and is supplied with 80# poly-coated layflat liner. The unique adhesive allows for the increased speed of application, without air bubbles or wrinkling.