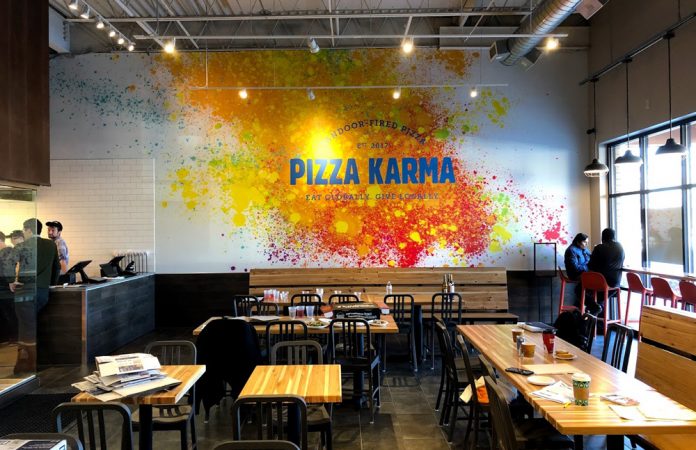 Like many converts to the sign industry, Eric Gustafson had no sign background when he opened Impression Signs in Oakdale, Minnesota in the summer of 2013. Gustafson's previous careers include a background in accounting as well as stints in various leadership roles in corporate America.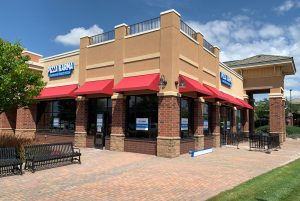 It wasn't until he decided he wanted to start his own business that he happened upon the sign industry and the Signworld business model, which is a business owners' alliance of more than 350 sign companies.
At the start, the model operates similar to a franchise as it trains its members, recommends the type of space to lease, etc. After that, each business operates as an independent brand with no fees. "It's a really awesome support network for starting a sign business," says Gustafson. "Unlike a franchise, there's no royalties other than what you paid them upfront."
Impression Signs is a full-service shop that does everything from vehicle and fleet graphics to exterior channel letters and monuments to interior ADA and wayfinding signs. Recently the shop has provided larger sign packages consisting of exterior wayfinding, ADA, monuments, etc., for apartment complex renovations.
The shop is guided by a set of five core values: integrity, value, partnership, client success, and getting better everyday. "We're really focused on, number one, helping our clients succeed first as a mindset," says Gustafson. "And two, making sure that we ourselves are getting better everyday."
Impression Signs recently put its core values to work helping a new restaurant franchise, Pizza Karma, succeed. Developed by Raghavan Iyer, a Mumbai-born, Minneapolis-based cookbook author and culinary instructor, Pizza Karma puts an Indian spin on pizza that is cooked in clay-lined tandoor ovens.
Thanks to a referral from a channel letter job Impression Signs had worked on for a local Indian market, the sign company was introduced to Pizza Karma.
Impression Signs provided a sign package for its flagship location in Eden Prairie and then, a year later, worked on its second location in Maple Grove, Minnesota.
At both locations, Impression Signs worked with architecture firm Little Box, which handled the restaurant design. Impression Signs provided a combination of exterior illuminated channel letters, window graphics, miscellaneous interior wayfinding signage, a large interior wall mural, and polycarbonate panels retrofitted into an existing shopping center pylon sign.
Wall Murals
For the mural, the restaurant wanted a paint-splattered background with the words "Pizza Karma" written over it. The main challenge was enlarging the raster image of the splattered effect Pizza Karma wanted to use without it looking pixelated.
"The art provided to us wasn't of great resolution, and it wasn't easily converted to a vector-type art that would result in the same effect," says Gustafson. "We went through a lot of different methods for enlarging that image. From a distance, any of them would have been fine. But the fact is that's a wall that people queuing up in line are literally right next to, so we wanted to make sure it wasn't horrible to look at from close up."
With the image size and resolution taken care of, Impression Signs printed the mural out on 3M™ IJ180 film using its HP Latex 560 printer. Pizza Karma wanted the mural to have texture, so Impression Signs used 3M™ Décor Overlaminate 8600 Series in the riverbed finish. (Note: To save money on the mural at the second location, Pizza Karma opted to use a basic 3M™ 8520 Scotchcal Matte Overlaminate.)
Impression Signs outsourced the mural install to a subcontractor it frequently works with on other projects.
"At the end of the day, it turned out great, and it's been a key piece," says Gustafson, who notes the murals have become very recognizable symbols of the restaurant as they are often used as the backdrops in marketing images and for interviews the owner gives to media.
Window Graphics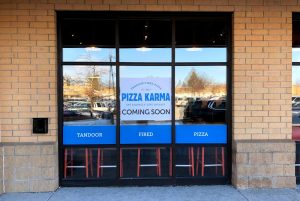 In the first location, Impression Signs fabricated and installed 3M vinyl graphics printed on its HP Latex 560 printer to the windows to provide privacy for diners seated at the window tables.
Due to the large amount of windows at the second location, Pizza Karma elected for the sign company to provide white cut vinyl graphics instead.
Channel Letters
For both locations, Impression Signs created channel letters for the exterior of the building spelling out "Pizza Karma" with the tagline "Tandoor-Fired Pizza" below it.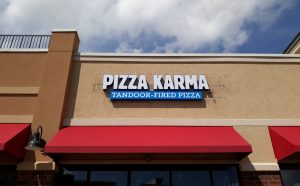 Impression Signs tweaked the logo a bit so that it better translated to channel letters. The company outsourced the fabrication of the letters to wholesale sign manufacturer Sign Fab in Missouri, who bent the cans using a channel bender machine.
The channel letters at both locations were illuminated with Principal LED Qwik Mod LED modules.
Additional Elements
Other signage elements provided by Impression Signs included the polycarbonate panels for the plaza's pylon sign. 3M translucent vinyl was applied to the polycarbonate in order to create the look.
Impression Signs also provided interior informative signage. These included signs identifying the recycling area that were made from Ultraboard and signs for the handwashing area that were made of MAX-Metal aluminum composite panels.
This signage was important to the restaurant since Pizza Karma focuses on sustainability and cleanliness as part of its "good karma" philosophy.
Graphics like these that help tell a brand or business' story are more important than ever in the atmosphere of COVID-19. Gustafson says that, despite financial setbacks in the spring of last year due to the onset of the pandemic, grants and a PPP loan have enabled Impression Signs to keep doing what they love—making signs to help businesses succeed.
"We're thankful that we've come this far through COVID and still are financially strong," says Gustafson. "We're looking forward to continuing to serve a wide variety of clients and needs, and we're continuing to grow our team with skillsets to help our clients succeed."
By Ashley Bray
All Photos: Impression Signs.