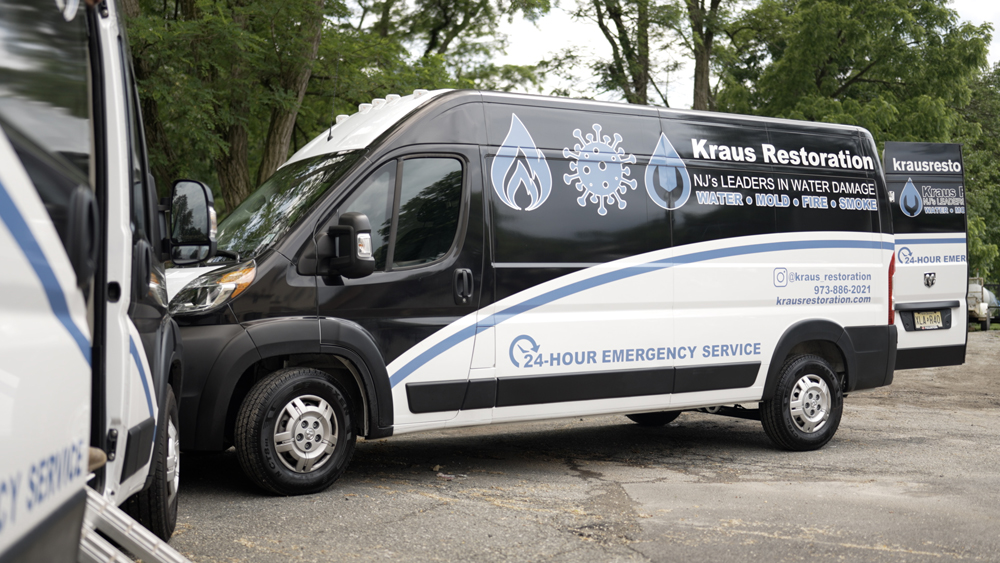 Kraus Restoration is a restoration contractor based in New Jersey that specializes in recovering residential and commercial property that has suffered from water, fire, smoke, or mold damage.
When Kraus Restoration started looking for someone to wrap its growing fleet of vehicles—which includes Ford Transit vans and Kia Souls with more vehicles on the way—they happened upon Wrapmate in an Instagram ad.
"We were looking for something that we didn't have to do much of the leg work on," says Corey Kraus, owner of Kraus Restoration, in a video for Wrapmate. "I was really hoping for a company that would just listen to what I had to say and convert that into a graphic that we were looking for and transpose that onto a vehicle.
"I wanted to be able to depend on a company that was going to take care of that for me."
Wrapmate, a nationwide vehicle wrapping company that designs, produces, and then pairs businesses and individuals with wrap installers, was happy to take on the project.
Wrapmate CMO Javier Lozano, Jr., says the company's business model is perfect for busy companies like Kraus Restoration. "It creates efficiencies for the company because now the fleet manager or the business owner doesn't have to manage three different projects on top of their job—they can talk to one company that's going to handle their entire graphics, all of the design, all of the installation/coordination, and all that fleet manager has to do is drop the vehicle off at the specified location," he explains.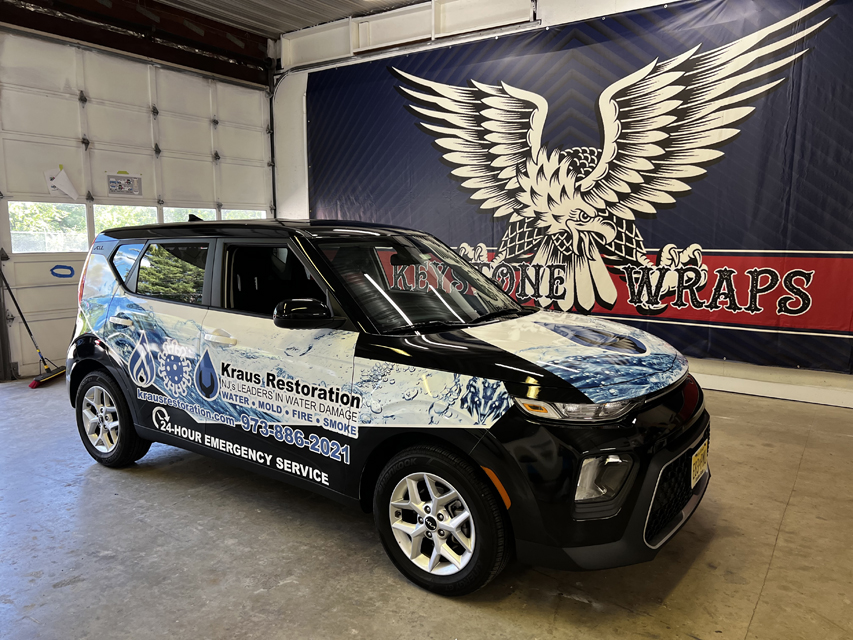 Wrapmate customers start by using a vehicle wrap calculator that provides a quote based on the vehicle and desired wrap coverage.
From there, Wrapmate has the customer fill out an intake form to gather more information—including the vehicle's VIN number, pictures of the vehicle to catch any existing imperfections or decals/wraps that need to be removed, and design details like logos. If the customer doesn't have a logo, Wrapmate will even design one for an extra fee.
"That intake form helps us alleviate the pain from both sides," says Lozano, Jr. "It gives us a starting point."
Next Wrapmate will have a conversation with the client about their vision for the wrap—color schemes, stand-out details, etc. Using the Adobe Creative Suite—with heavy use of Adobe Illustrator and Adobe Photoshop—Wrapmate gets to work on designing the wrap. They will create a mock up on the vehicle to show the customer, who then has up to three rounds of revisions on the proposed wrap design.
"The customer is in control," says Lozano, Jr. "They can experience the entire process of making sure they're putting together the best wrap for their brand to stand out from the crowd and promote their business 24/7/365."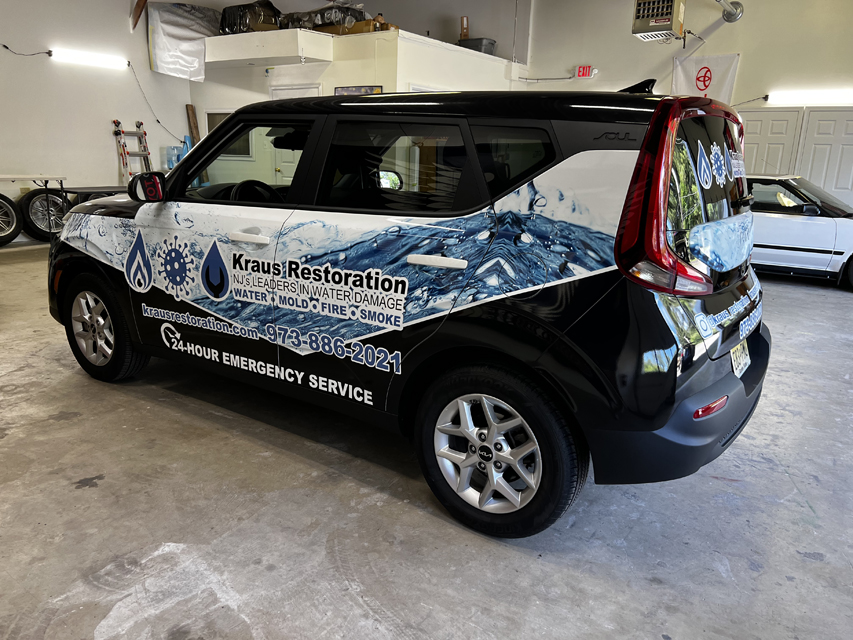 For the Kraus Restoration fleet project, Wrapmate put together a design featuring the brand's colors of blue, white, and black.
A dynamic graphic of water in motion is also included on the Kia Souls in the fleet. Large symbols representing fire, water, and mold run along the side of the vehicles, along with the words "water," "mold," "fire," and "smoke," to make it clear what the company does.
The wrap also includes the company's contact information—its Instagram handle, phone number, and website address.
"We try to make the wrap do two things—one, cover the brand in so far as it stands out so that it has 'pop,' it has great color, and it has something that draws attention," says Lozano, Jr. "And then two, make sure it has a very simple call to action. Sometimes that call to action can literally be just a phone number and then a QR code. Other times it can be a website.
"We try to keep the call to actions very simple and not use graphics that are difficult to read."
"I highly recommend putting a QR code on the wrap because everyone is now accustomed to scanning QR codes," continues Lozano, Jr., who says the codes can go directly to a phone number or even a website that can include more information than you can fit on the wrap.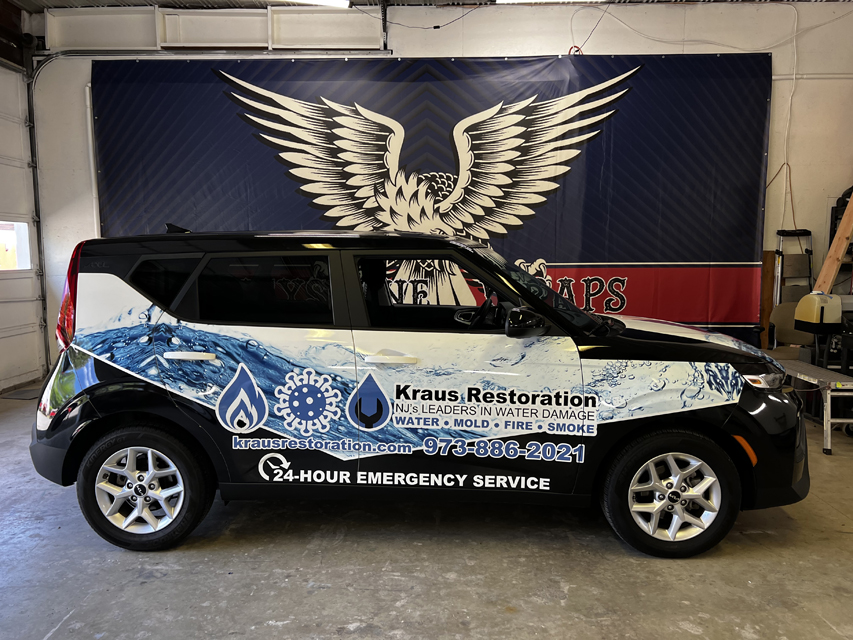 Once the design has been approved, Wrapmate works with a company that does all of the printing for them to help maintain consistency across factors like color. For the Kraus Restoration job, the wrap was printed on 3M™ Controltac™ Graphic Film with Comply™ v3 Adhesive IJ180CV3. A 3M™ Scotchcal™ Gloss Overlaminate 8518 was applied.
The wrap was then shipped to a Wrapmate installer located near Kraus Restoration—Keystone Graphics in Doylestown, Pennsylvania, which specializes in vehicle wraps, privacy films, architectural films, wall murals, and retail graphics.
"Our installers know exactly how to install that wrap because we give them exact instructions on how each section is going to be placed on that van, truck, car, or whatever the vehicle is," explains Lozano, Jr. "It makes it very seamless."
Wrapmate builds out its network of installers in a number of ways. Sometimes it reaches out to installers, especially if it likes their work.
Wrapmate also has a collaborative relationship with 3M, and the vinyl company has recommended and encouraged its certified installers to join the Wrapmate network.
Finally some installers reach out to Wrapmate on their own and are then interviewed for eligibility. (Note: Interested installers can sign up at wrapmate.com/pro.)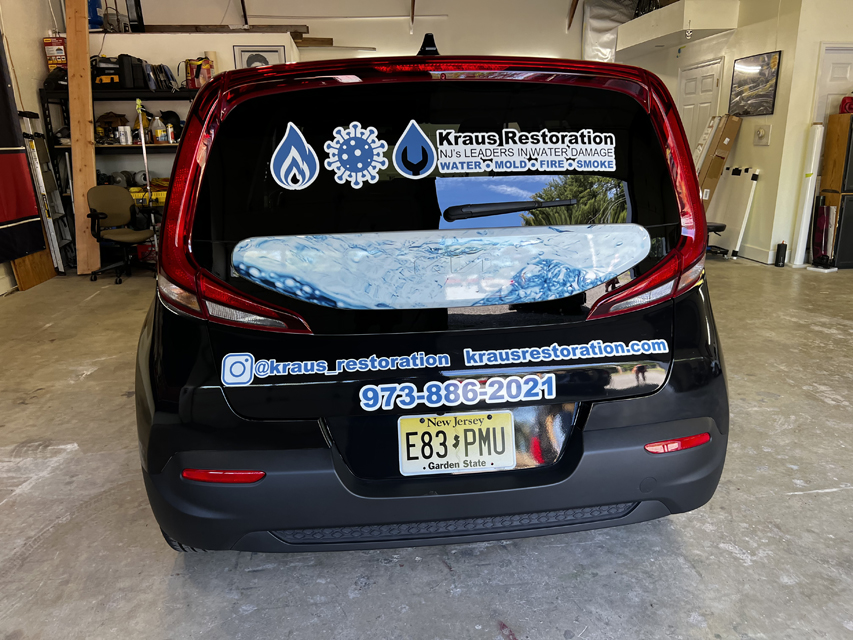 "[Installers] want to join the network because it's another way for them to add some revenue into their business," explains Lozano, Jr. "At the end of the day, these installers are motivated to want to be in our network because they don't have to go acquire the customer. They don't have to design the actual vehicle wrap. They just have to install.
"We're giving them a customer that is actually ready to move forward."
For Keystone Wraps, the ease of the process was one reason they decided to join Wrapmate.
"Wrapmate offers a seamless process for the client, and as a result, we found we could work easily with their team," says Patrick Mulreaney, owner of Keystone Wraps, who is a 3M Preferred Installer and has over fifteen years of experience in the industry. "Their wrap designs are well thought out and appeal to the installer, as the body lines of the vehicle are taken into account when creating each design. So not only will it look great on paper, but it will look just as good in real life when installed."
Kraus Restoration dropped off its fleet vehicles at Keystone Wraps to be wrapped in phases since it's a 24/7 business and couldn't afford to have all of its vehicles off the road at once.
Mulreaney says each wrap took about one day to complete.
"We are always sure to take the extra time to mock up the graphics onto the vehicle prior to installation to be sure both the driver and passenger sides are placed the same and follow the same body lines of the vehicle," he says. "This helps to ensure both sides are symmetrical and sets us up for consistency across all of the vehicles in the fleet."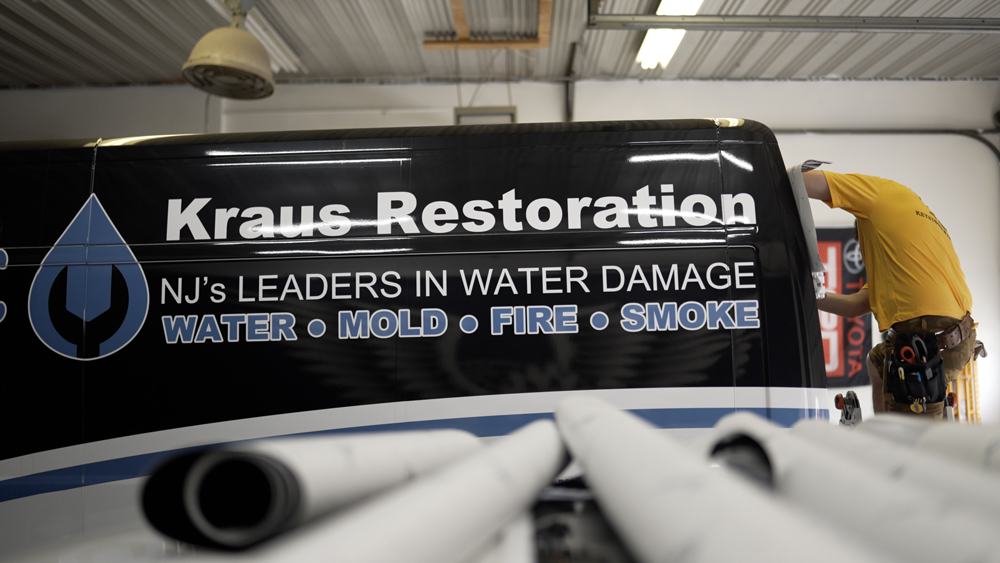 Kraus Restoration is already reaping the benefits of its newly wrapped fleet. "Showing up to a job site now with our vans just looks professional [and] it feels right," said Kraus, in a Wrapmate video. "A customer who sees us when we pull up knows who we are."
Lozano, Jr., says it's this branding awareness that's one of the main benefits of a company using fleet graphics. "When they're sitting in front of a customer's house, for instance, other neighbors are going to be seeing that brand," he says. "From a marketing standpoint, it helps them generate inquiries and leads."
It's also a form of advertising that is always "on."
"There's no other more cost-effective and cost-efficient way of marketing your business than a vehicle wrap right now," says Lozano, Jr. "A vehicle wrap in a town can get as much as 70,000 impressions in a day—and that's literally pennies on the dollar."
—Ashley Bray