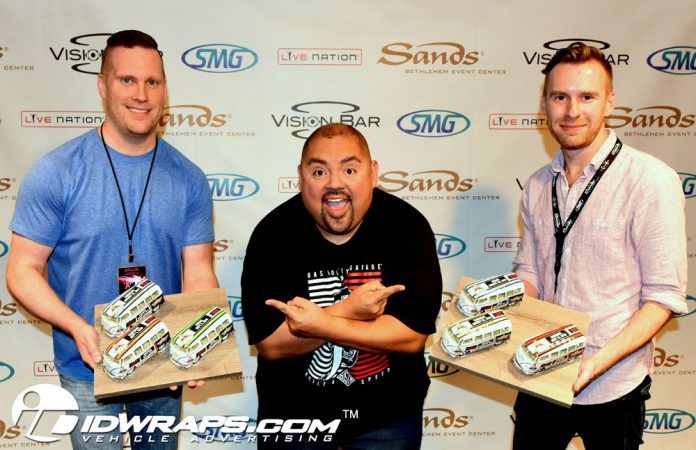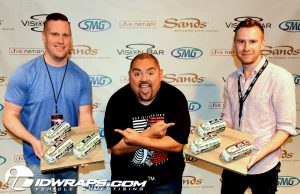 Our company's partnership with the Sands Event Center, located in Bethlehem, Pennsylvania, brought us the unique project that you see pictured above—wrapped toys!
The last toy I got to wrap using printed vinyl (and not gift paper) was a Tonka® truck for my sons over four years ago, yet here we were doing it again.
Actually this project involved toy Volkswagen (VW) Bus wraps that we created for world-famous comedian Gabriel Iglesias, whom has been one of the biggest hits at the Sands. He has sold out the entire facility at every one of his six shows.
As a special "thank you" to the comedian, the Sands Event Center marketing team enlisted our IDWraps crew to create an exceptionally creative gift for him.
Gabriel is a car buff and has a specific affinity for classic VW Buses, so they wanted us to outfit six die-cast custom model vans with unique graphics on each featuring the sold-out show dates.
We started with a quick search online for models that closely resembled the VW Buses Gabriel has in his collection.
Upon receipt of the VW Bus models, our next step was to perform a precision survey of these miniature buses. Sure we could simply shrink down our pre-existing vehicle design template of a full-size VW Bus, but we chose not to take chances on any dimensional deviations that may exist on the toy versions. All it takes is one door handle to be out of place and in the way of small text or images that may distort going over such dimensional features.
Our head designer, Nikki Humenik, then modified Gabriel's existing show poster art to fit our custom layout template for these small VW buses.
From there, the proofs were presented to the client for approval.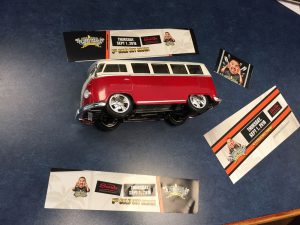 Printing was done on one of our HP L360 latex printers using 3M's Envision IJ480MC. The Envision product was selected due to its high level of conformability, along with its stretchability.
The tiny size of the scaled model surface features and raised objects warranted the added assurance of a film that can be stretched up to 150 percent. Throw in the fact that this film is often heated and rolled onto difficult textured surfaces, and we knew that the IJ480 was a good choice.
One's natural inclination may be to think that it is just an "easy to wrap" little toy van. Not! The installation process was rather tedious, considering the size of the applications.
A quality die-cast model has all the usual obstacles that we have to work around—only at a much tinier size.
A show-quality finish requires a super-steady hand and attention to detail. Being 1/20th scale means that a small slip has 20-times the impact on these miniature graphics.
All facets of the application, from the handling of the small prints to the trimming, required extra care.
As an installer, many of us are accustomed to trimming vinyl around reasonably sized shapes. When it comes to small vehicle models, a slightly jagged cut that may be normally acceptable on a full-sized vehicle stands out like a significant eye sore.
Upon delivery, Gabriel was quite surprised by the six custom model die-cast vans and was elated!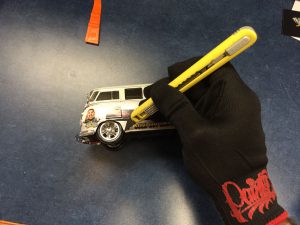 It's got to be tough to find a gift for a celebrity. Once again, though, the vehicle wrap industry was ready, as always, to knock anyone's socks off.
By Malcolm Gieske, PDAA Master/3M UASG Certified Installer at Identity Group, Inc.
All photos: IDWraps.com