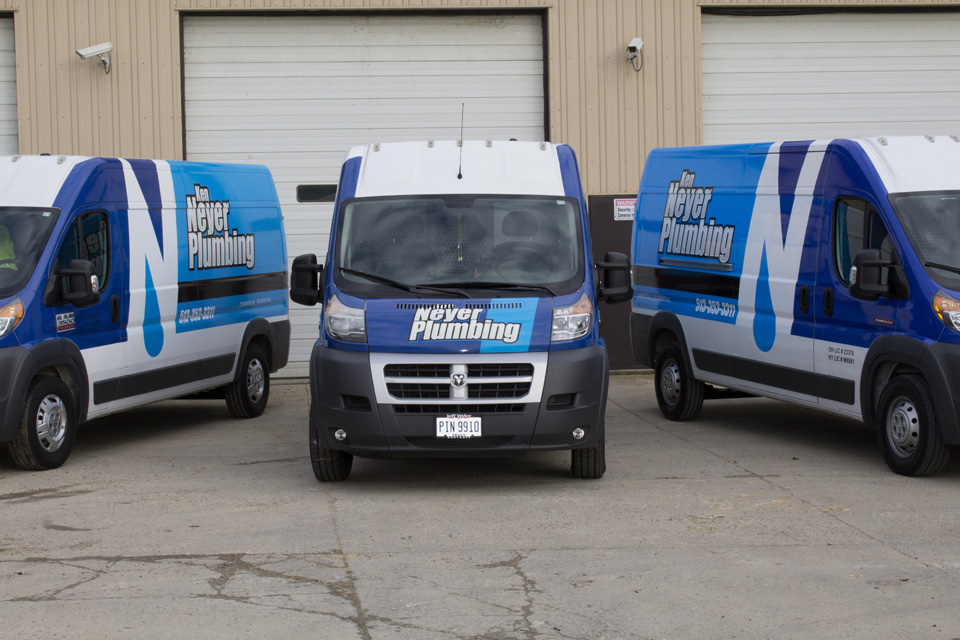 Whether you're working on custom decals, point-of-purchase graphics, or a vehicle wrap, there is no project too small or too big where you cannot use your vinyl know-how to suggest add-ons, whether this ends up being for the current order or a return visit. In this article, we will explore the different ways you can "upsell" vinyl to "score a bigger ticket" on shop projects.
New Markets. Think about new markets to try and upsell vinyl into—for instance, commercial office buildings. Progressive companies are investing more in their physical spaces to attract and retain employees, and the opportunities for vinyl graphics are endless—cafeterias, wayfinding, lobbies, hallways, offices, conference rooms, etc. The list goes on, and many of these opportunities remain untapped.
If there is a new construction or renovation project near you, find the decision maker for graphic products and show them what you can bring to the design. This may include architectural films, which can also be a new revenue source.
Expand the covered surface area. If your customer is requesting basic vehicle decals, show them examples of partial and full coverage wraps. The visual impact from a full wrap is much greater than decals, and it adds to the professional image that customers want to convey.
Your customers are often amazed at the number of calls they get from people who see their vehicles. You can recommend to them that they can track this by asking new customers how they heard about their business or putting a unique phone number of Web site on their wraps.
Suggest using reflective material in the design, which gives 24/7 visibility for increased impressions and improved vehicle safety at night. Also think reflective for building exteriors, parking ramps and retaining walls. Applying reflective films to textured walls can create a "wow" effect. When it comes to interior wall projects, upselling a customer with a textured overlaminate can add a unique look to an otherwise standard wall graphic.
Technology can also expand sales. Wrapmate, an online platform where business owners can visualize their brand on a vehicle by simply using their Web site address, provides graphic manufacturers (GM) with a great jumping off point for new customers. Wrapmate provides GMs in their Pro Network with qualified leads ready to be wrapped, which helps them also explore other graphic opportunities.
Higher quality films. Explain to business owners the value behind branding their commercial vehicles and provide figures detailing the effectiveness of vehicle graphics as a visual advertising medium.
Ask how long they want their graphics to last and let them know not all wrap films are equal. There are less expensive films on the market with shorter durability, but if the ink begins to fade prematurely, it reflects poorly on their brand.
Explain that if they want to save money by using a less expensive film and problems arise down the road (lifting, cracking, fading, etc.) not only will the wrap need to be repaired or replaced, but it also takes their vehicle out of service, creating an added cost to their business.
Ask how important it is that the graphics remove cleanly. Graphic removal is typically charged by the hour, so if the graphic is difficult to remove, it could be a large expense that customers don't account for.
Another upsell possibility is providing a warranty that covers initial installation and long-term durability; this can provide customers with added value and peace of mind.
Design. Creating (and charging for) a design can boost the cost of the project. Partnering with a third-party can also streamline design. Wrapmate helps customers develop the design and provides GMs with a ready-to-wrap project. GMs then can discuss other vinyl install options to further optimize the customer's brand.
Mixed Media. If your vinyl shop is equipped with machines like a CNC router or an engraver or even if work with digital signage, then you're primed to take advantage of upselling.
Vinyl films are especially useful to enhance color and illumination for dimensional projects. Monument signs are well suited for mixed media applications because they often include both architectural and corporate identity elements.
Watch Out! Be careful that you don't get in over your head on a project. If a customer with a large budget wants to do something truly unique, be sure the project can be executed in the needed timeline. Customers with large budgets have high expectations for timelines and flexibility to make changes, which can create challenges to delivering a successful result.
—Adrian Cook
Adrian Cook is marketing manager for Premium Films & Overlaminates with 3M Commercial Solutions Division.