The town of Riverton, Wyoming is comprised of nearly 14,000 people nestled in a county with a population of 40,000. Geographically speaking, Riverton is in the middle of wide-open Wyoming. The blue-collar, rural community is surrounded by farms and oil fields and corners two reservations of the Shoshone and Arapahoe tribes.
However an infusion of wild, creative, and energetic—yet highly effective—wrap designs are adorning a lot of SUVs, pick-up trucks, and other vehicles roaming the area.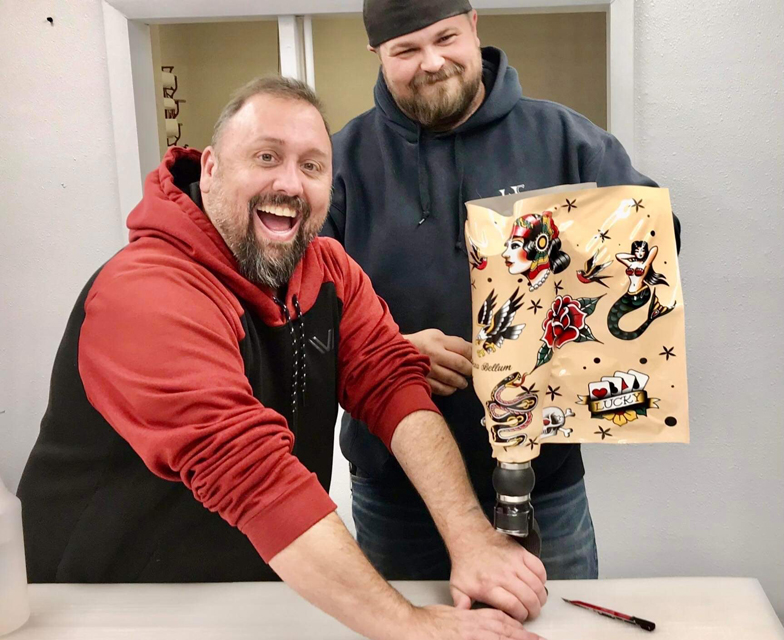 The company responsible for producing these stunning wraps for clients in the area (as well as those hours away) is Star Trims Automotive, also located in Riverton and owned and operated by Rob Stortroen and Nick East.
Word about them is spreading faster than any speed limit can contain! The shop is consistently booked two weeks out with project requests.
And in a community somewhat disconnected from mainstream trends, their amazing feats further prove the skills of the talented people working there. They're showing "Small Town USA" that vehicle graphics can draw more attention and business than they can imagine.
"Being so far away from the outside world means that every design we do for customers carries a special treatment to it," says Stortroen. "Every design we do is significant, whether it's simple spot graphics or a full wrap."
Stortroen started up Star Trims Automotive back in 2006. The business began in one small bay, where Stortroen performed window tints, detailing, and clear bras (a paint protection film applied to the front of a vehicle).
Today Star Trims Automotive has expanded into a larger building with one front office and two larger bays. "We just rented another bay because our workload is so overwhelming," says Stortroen.
Meanwhile East arrived at the industry fresh, describing his career before joining Star Trims Automotive as "a roughneck on a drilling rig." However the Wyoming Tech graduate has been working in automotive jobs since 2004, citing "a passion for cool hot rods and custom vehicles."
Interestingly East started out as one of Stortroen's customers. After moving with his wife to Riverton to take on a job in the oil fields, he frequently took their vehicles to Star Trims Automotive for window tint work. A friendship soon developed, and Stortroen, when he made the decision nearly two years ago to get more involved with vehicle graphics and decals, invited East to join his company.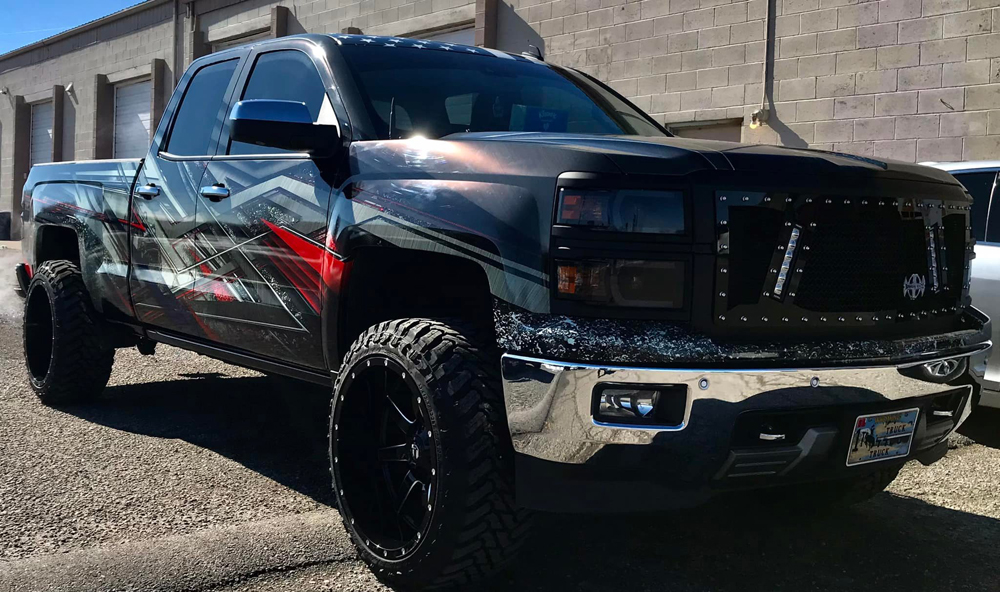 A quick learner, East is today the head of the graphics department at Star Trims Automotive and does all the design work. Stortroen credits him with knowing "everything" about film and vinyl.
They also now have four other employees on staff. Stortroen says that they're a very tight-knit group that relies heavily on each other. "We all work together as a team, whether it's graphics, window tints, detailing, etc.," he says. "We literally take people's dreams and create magic out of that."
Their work today is evenly split between spot graphics, partial wraps, and full wraps.
When they expanded into the field of vehicle graphics, Star Trims Automotive initially did more custom jobs, but they have since moved into municipal and commercial work as a whole. They also frequently give back to their community whenever possible—providing wraps for first responders, cancer patients, and the disabled community. They also print and ship (mostly small spot graphics) to other shops across the country.
Both Stortroen and East are amazed to see a rural community such as Riverton welcome the type of graphics work they do. But with demand also comes the need for education.
East says he often explains to customers that text on the side of a vehicle comes down to "size versus speed." He stresses to commercial clients to think differently on how information is presented on a vehicle as opposed to a billboard. "You can't just put a funny thought on a vehicle wrap if people can't read it because it's too far away from them," says East.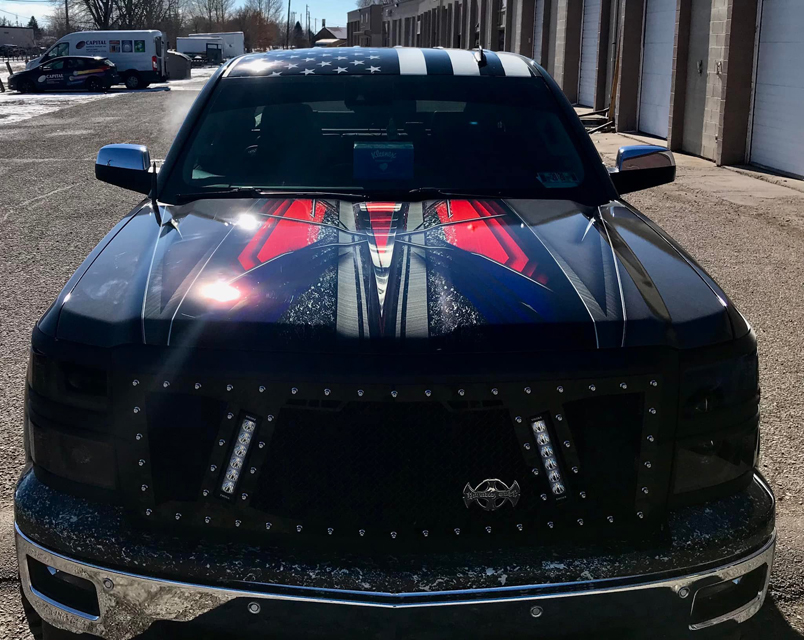 Speaking of designs, Star Trims Automotive recently created an exciting full wrap on a client's 2014 Chevy Silverado truck. The customer is located 120 miles away in Casper, Wyoming, and he came to them wanting the "baddest ass wrap" they could produce. There was no budget, so money was not an issue. "He just wanted to have the coolest truck in Casper," says East.
Because they are still slightly new to the vehicle wraps market, Star Trims Automotive contacted design expert Daniel Nava of Travel Wraps Graphics/IBOW Training in Franklin, Indiana to help with the design. East has taken several of Nava's online design courses, and the shop has struck up a friendship with the trainer, even venturing out to Indiana to help him out on some jobs.
Star Trims Automotive does lots of outside research in order to bring the best of graphic design and wrap expertise to their customers and tries to pull from everyone in the industry. East cites John Wiley, owner of Don't Drive Naked®, and Shane Lloyd, founder of Gecko Wraps, as not only points of reference but also good friends.
"We ask them about the kinds of problems they run into and what advice they have to solve them," says East. "Even though we operate in a small community, we are bringing big-market concerns to them."

This customer wanted an "edgy, metal, and mechanical" wrap design, and Nava and East talked for hours about it. They concluded that a reflective material would work best, so East selected Arlon's IllumiNITE Wrap® reflective film.
But what imagery would be included in the design?
When East provided a rough quote for the wrap to the customer (based off the year of the Silverado), he also designed and supplied a questionnaire for him to fill out. Questions included favorite colors and activities, as well as music preferences. "For example, when someone tells us they want 'wild,' and we learn that they listen to older, twangy country music, their 'wild' and my 'wild' might be two different conversations," says East.
The customer's responses helped Nava and East shape an appropriate design for this wrap. (Note: This was not a start-to-finish process, as the two collaborated on the design over a couple of months.)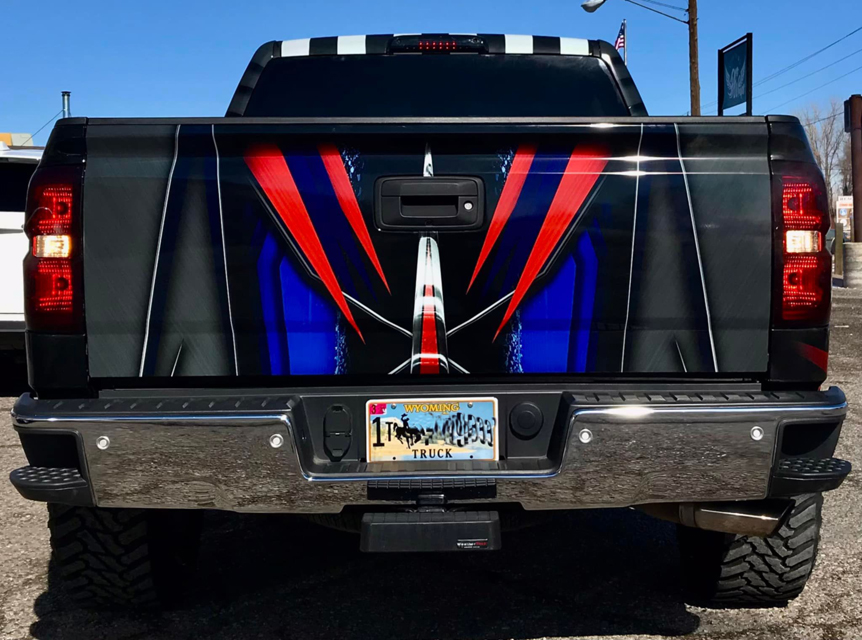 East used the Pro Vehicle Outlines template to work up the wrap design measurements for layout and Photoshop to put the design together. Experienced in the art of commercial graphics, Nava employed a mix of perspective shadows and brushes to the design in Photoshop.
East credits Nava for inspiring the wrap design, pointing out the shapes and movements featured on it that successfully gives it a '90s mini-truck feel. "That's something [Nava] always preaches—give the vehicle flow and movement so that the graphics don't end up choppy," he says.
When it was time for the installation, East told the customer that the better the paint was on the truck then the better the wrap would turn out. "So he had the entire truck repainted!" he says. "When he dropped it off with us, it featured beautiful paint and a beautiful surface. Everything was ready for us to wrap!"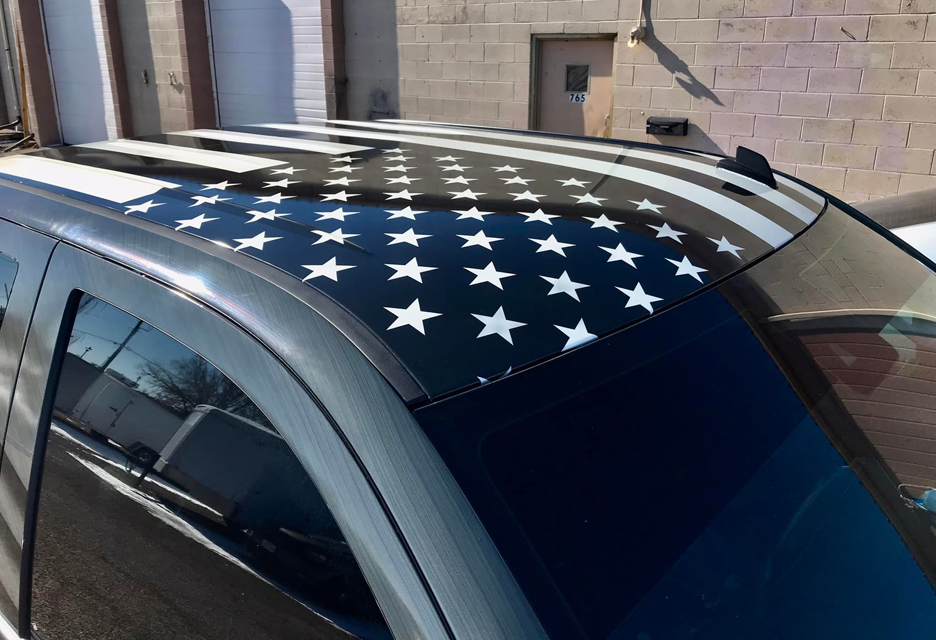 Star Trims Automotive used a lot of heat and steam to apply the IllumiNITE Wrap reflective film to the pick-up truck. "In fact, steam was the biggest source of heat on that wrap, since we were using a reflective vinyl," says East. "Reflective is temperamental and bruises easily, which can distort the reflective pattern in it."
Since the company hadn't tackled a wrap of this magnitude before, they invited Shane Lloyd to come out to their facility and help out with the installation. He happily accepted and even provided some essential advice.
"[Lloyd] told us that using ceramic coating would give the wrap a better look and a really beautiful shine," says East. "So we applied Ceramic Pro PPF and a vinyl coating over the top of the wrap when we were done with it."
Since the client had put so much money into the Silverado wrap and they had put in so much time, Star Trims Automotive went over post-care instructions diligently with him. They told him to avoid high-pressure and automatic car washes, instead recommending hand washes.
"We let him know that, because it has a ceramic coating, it's going to have a longer life, and it's going to be easier to maintain," says East. "But it's still like a paint job. It needs to be maintained and taken care of so that it can have the longest life and appearance possible."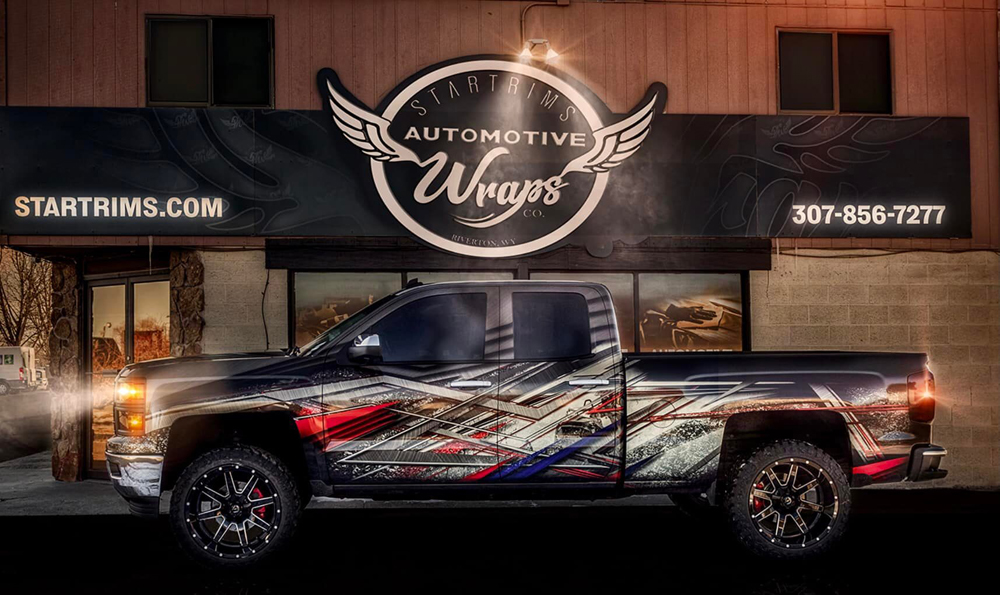 According to East, the client was enthusiastically "blown away" when he picked up his newly wrapped truck. "We always take pictures of our work and share them on Facebook," says East. "Yet before we even had a chance to do that, he had already posted photos and promoted the wrap all over his Twitter, Instagram, and Facebook accounts!"
Star Trim Automotive created the market in Riverton for clear bras and window tints, and now they're rocking the signs, graphics, and vehicle wraps markets in the area. "We're showing Small Town USA that, through graphics and signage on their vehicle, they can get more business than they can possibly imagine," says Stortroen.
However East feels that it's not the graphics or design work that keeps their clients happy; instead he feels that it's the attention they bring to their customers. "It's the service through and after the sale that we provide for all of our customers—especially our long-term one," he says. "They have this trust in us."
Another ingredient to their success is they are always upfront with customers, even letting them know that a job might take a little longer because of possible supply chain issues that have affected the films market.
"The supply chain starts and stops with us in terms of making sure we have enough rolls of film and clear bra on hand so it doesn't trickle down to our customers," says East. "But we set realistic expectations and don't hide anything from them," says East. "We tell them, 'This is how long we've been told it's going to arrive,' 'this is how long it's going to take us when it gets here,' and 'this is when you should expect your vehicle back.'"

Hard work, teamwork and being true to your word may sound like old-fashioned ideals to some, but for Star Trim Automotive, they're an essential business philosophy. "There are too many businesses who treat people as a number, and we can't do that. And we don't. And we never have," says Stortroen. "We treat people as an individual.
"If you put out the good work, [practice] good positivity, stay true to your [employees] and your community, and spread the love, it's going to reward you."
—Jeff Wooten