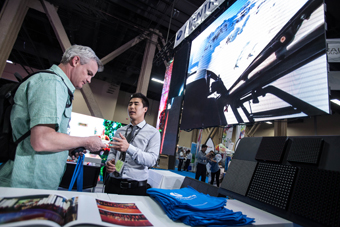 Last year's ISA International Sign Expo, held in Las Vegas, Nevada, landed on the most recent version of Trade Show Executive's annual list of the "Fifty Fastest Growing Trade Shows." That event occupied 202,000 square feet and drew more than 19,5000 attendees checking out more than 595 companies in the exhibit hall. The increase in each area was significant enough to place the event on separate lists for: (A.) growth in attendance and (B.) number of exhibiting companies.
Meanwhile ISA International Sign Expo 2014 takes place in Orlando, Florida on April 23-26. According to Brandon Hensley, chief operating officer of the International Sign Association, they're anticipating more than 500 exhibitors at this year's event, and early indications are that they will meet—and possibly exceed—projections for attendance.
"We have seen more consumer confidence and an earlier commitment to exhibit space, tel booki," he says. "We also have data that shows that 96 percent of our attendees would recommend this event to their peers."
hotel bookings, and registrations," he says. "We also have data showing that 96 percent of our attendees would recommend this event to their peers."
ISA International Sign Expo 2014 is intent on capturing the energy of the on-premise sign and visual communication industry through events and overall feel of the show.
With that in mind, Sign Builder Illustrated spoke further with Hensley about what attendees can expect at this year's highly anticipated event:
Brandon, what kind of improvements for members and attendees have been made on the show floor for this year's ISA Sign Expo?
We have a record number of co-locating and participating event sponsors (Almo, AIA, European Signage Federation, Digital Signage Federation, GRAPH EXPO, Inflatable Advertising Dealers Association, N. Glantz & Son, National Association of Sign Supply Distributors, SEGD, Serigrafia, and Signage Foundation). They will provide specific education and product elements.
In addition, we have enlarged and improved the dynamic digital program and the hosted design/architect program—both of which we launched to standing room audiences last year in Las Vegas.
And in response to sign company requests, we have developed an educational track aimed at project management.
Speaking of education, how can attendees get the most from these opportunities being presented?
We've crafted our educational offerings to respond to pressing needs of sign professionals at all levels. We polled attendees on issues they are facing in their daily activities and have developed education designed to provide hands-on solutions to these issues.
Our Dynamic Digital Day was sold out last year, so we've expanded these courses this year to provide more opportunities to learn about this rapidly expanding area of business.
In addition, there will be information to help sign companies explore commercial printing. Late in 2013, ISA co-hosted the commercial print zone at Print 13 along with GRAPH EXPO, and this program has been expanded at this year's International Sign Expo.
We have expanded our educational options on the Expo floor too (the Dynamic Digital Signage Park and the ISA INKJet Print Theater). These areas will allow hands-on experience to common day problems our attendees face at their shops.
Visit www.signexpo.org in advance to map out your schedule. Look for courses that address current pain points and those that will help you learn more about potential new business ventures.
Consider bringing several of your employees and helping them select education that aligns with their career goals and your business needs. Employees often say that access to training helps them feel more satisfied in their jobs.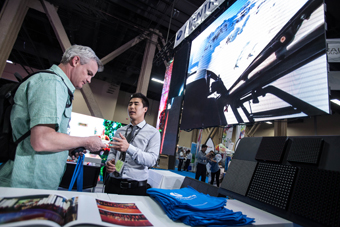 What kind of advice do you give attendees when it comes to networking at ISA International Sign Expo?
Networking opportunities are literally at every turn. Of course, we offer events—such as the popular ISA Networking Reception for National and Custom Sign Companies and the ISA/Southern States Golf Tournament. And we have brought back the Last-Hour Happy Hour to close out each day's Expo.
While we provide many opportunities to network, these really are just the beginning. The entire event is one giant networking opportunity.
Find time to meet new people in the education sessions. Strike up a conversation with someone new at lunch or at the Happy Hour. Stop by ISA's "The Hub" and say "hello" to ISA staff. Visit with your local Affiliated Association representative there too.
Connect with important suppliers and manufacturers on the Expo floor. Bring plenty of business cards and hand them out freely, from the time you leave your hotel room in the morning until you return at night.
Speaking of the Expo floor, what should attendees keep in mind to successfully navigate it?
The Sign Expo exhibit hall is open a total of twenty-one hours over three days. The best way to get the most out of it is to make a serious time commitment there.
Prepare in advance through our Web site and our My Expo Plan tool there. You can even use it to request meetings with some vendors.
Then spend a few hours getting around the floor to see what else you may have missed. Determine who you'd like to visit more in-depth and make a return call on their booths.
Others may prefer to walk one portion of the show floor one day and return to another part on subsequent days.
No matter what approach you choose, take advantage of the lounge areas that we have provided: 180,000 square feet is a lot of ground to cover!
Even if you come to the Expo floor with a product in mind that you want to purchase, be open to exploring new items out there. This can be a tremendous time to meet new suppliers and manufacturers.
This year, you are also co-locating with Almo's E4 AV Tour, which is aimed at education and networking in the audio-visual industry. What is your view of the state of digital signage with today's sign makers?
Adding a dynamic digital component may not make sense for every sign company, however we want to provide enough information so they can make informed decisions. No one should dismiss this area out of hand.
In fact, we are seeing a good deal of interest in this topic from our members and attendees. Our Dynamic Digital Day of education sold out last year, and we have expanded it so more can participate. Exhibit floor space for this topic has already exceeded the 3,300-net square feet from 2013 and will be significantly larger in 2014.
For a complete schedule of this year's events or to use the My Expo Planner tool, visit www.signexpo.org.
By Jeff Wooten
Photos: ISA.