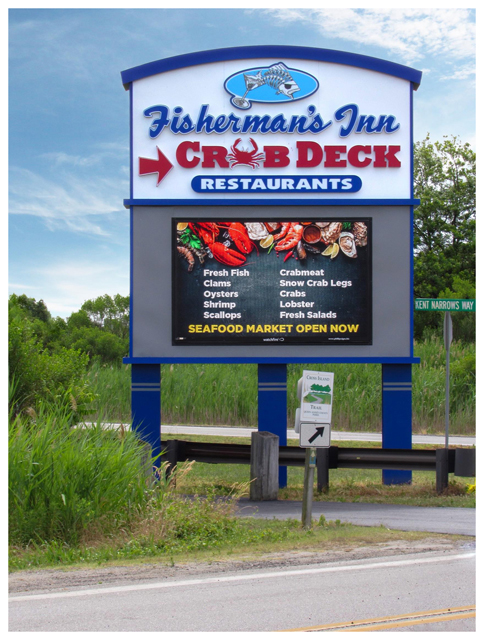 Fisherman's Inn in Grasonville, Maryland has been a well-known, go-to restaurant located on the Chesapeake Bay for ninety years now. The main restaurant hosts seafood lovers year-round, while its outdoor dining area, known as "The Crab Deck," is accessible from April through October (to take advantage of seasonal demand).
However this past spring, the onset of the COVID-19 pandemic forced the owners of Fisherman's Inn to temporarily close its doors due to shutdown mandates from the State of Maryland. The closure came at an inopportune time, as they were just starting the process of looking to replace their very-long-standing flat readerboard sign (which was in need of serious repair) with newer, state-of-the-art sign technology.
Undeterred by the closure, the owners pressed ahead during this period of time to invest in a brand-new, double-sided identity sign that incorporates a combination of illuminated channel letters, custom cabinets, and probably most importantly, a Watchfire Signs LED digital display. And this decision paid off for the owner when he was finally allowed to reopen this past summer.
The new 23-1/4-by-17-foot Fisherman's Inn and Crab Deck identity sign includes the Fisherman's Inn and Crab Deck logos above a 5-foot-4-inch-by-10-foot-3-inch, 8mm high-resolution Watchfire display. The tight pixel pitch of the sign allows the restaurant to display stunning photos and graphics that showcase the meals and beverages they offer.
The changing messages on the Watchfire LED display over the various reopening stages have also allowed Fisherman's Inn to let people know that they have reopened, directed patrons regarding curbside pick-up and outdoor dining, and let them know when indoor dining became available. In addition to showcasing seasonal fish, Fisherman's Inn uses the sign to advertise job openings and to promote its inside and outside dining options.
"When it came time to open the Seafood Market and Crab Deck, we cranked up the sign so people knew we were open for carry out, and then we were able to add messages when outdoor dining resumed," says Andy Schulz, co-owner of the restaurant with his two brothers. "When indoor dining was allowed, we advertised that Fisherman's Inn was finally open. We couldn't have picked a better time to have the digital sign. Customers stopped in just because they saw the sign and knew we were open."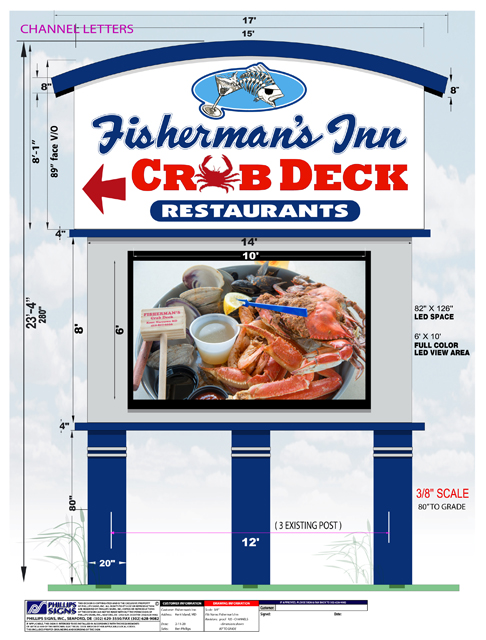 The new landmark sign was designed, built, and installed by Phillips Signs Inc., of Seaford, Delaware. This full-service sign company has been providing commercial-grade signage, message centers, and service plans for almost forty years now, developing a solid, good reputation along the way amongst its clients and the public at large. And the sign company has been specifying Watchfire displays exclusively now for twenty-five years, citing their reliability and support system.
Providing added visibility for this sign company has been their investment in TV commercials that promote their services. "The owner wanted an LED sign from the beginning and saw one of our televised ads," says Ben Phillips, president and owner of Phillips Signs. "Since we feature a lot of LED jobs in our commercials, he gave us a call."
Schulz did look at a number of sign companies and ideas before awarding the business to Phillips Signs. "I didn't just want to plunk a message center in an old sign; I was looking for a new design. This was a big investment for us, and I wanted it done right," says Schulz. "We liked Watchfire because we knew the sign would be supported and the warranty is really good."
Phillips has installed Watchfire LED displays at over 250 locations. He hands out a contact list featuring many of these end-user customers to any possible clients interested in their LED sign installations. "[Schulz] called some of those people, and they spoke highly about us," he says, noting these phone call recommendations proved to be another big selling point in his shop winning this major job. "Another big selling point was being able to show him the actual 8mm display on-site using the Watchfire demo truck."
Phillips says that, when it comes to sign customers, each one is different. Some know exactly what they want, so his shop can have a project up and running in three to four weeks, if so wanted. "The Fisherman's Inn was a completely different animal," laughs Phillips. "There were two brothers and a sister along with [Schulz] trying to make this decision, and everyone had their own opinion. We went through such an incredible amount of drawings and design changes initially that I was really wasn't convinced they were ever going to commit."
However Phillips admits that, in the long run, if you can pull out of the customer exactly what they want and successfully build and install it to their specifications, then a sign shop will end up with a much better project for their portfolio, which turned out to be the case here. "This sign has all the right elements that give it that look," he says, "and you don't always get that. Some people just want 'Plain Jane' signage, and it's much more exciting to provide a sign that has lots of thought put into it from the customer.
"[Schulz] is the kind of guy that, if he was out on vacation or on the road and saw an element on a sign that he liked, then he would stop and take a picture of it and ask us if we could add that."
And while Phillips jovially indicates that this sometimes led to headaches having to deal with yet another change, he appreciated having a customer that cared. Besides everything worked out in the long run. "A lot of times, it comes down to having patience," he says.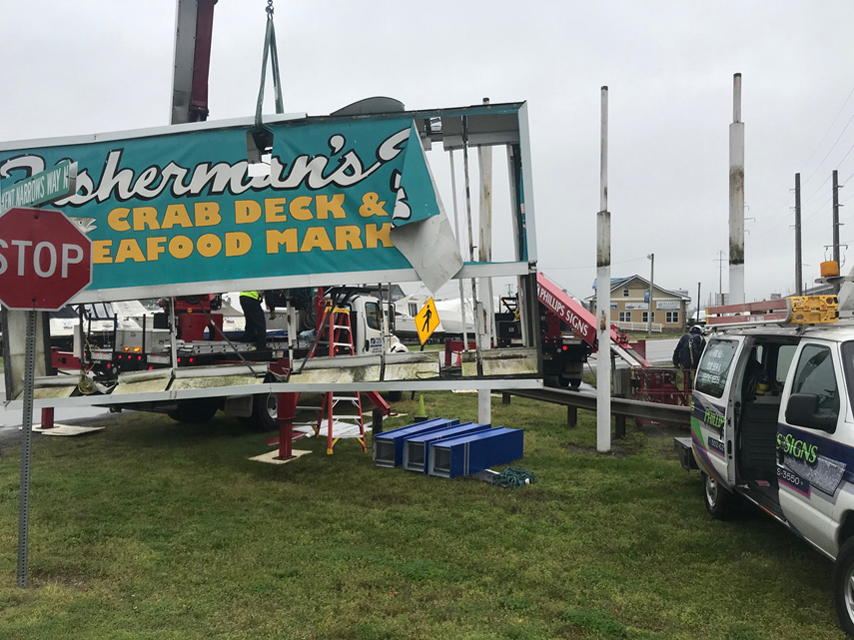 Phillips Signs built the new Fisherman's Inn sign as two sections, which they painted using Akzo Nobel EFX-LV Satin paints. The sections were fabricated from welded 1-by-2-inch aluminum tube with 1/8-inch aluminum face panels.
The top 8-foot-1-inch section holds the channel letters, a channel case featuring the new Fisherman's Inn logo, and an 8-inch-tall halo-lit curved top. Phillips Signs used Hanley LEDs and power supplies to provide this illumination. Meanwhile the 8-by-14-foot section below it hosts the 8mm high-resolution Watchfire display.
The sections were built to fit on the three 20-by-80-inch existing poles for the previous readerboard sign. These poles could not be moved or resized because of zoning issues. "That gave us a starting point for the design of the sign," says Phillips, "and everything was built around those three poles."
Phillips credits his shop for having great fabricators and great designers. "I'm really blessed that the best ones in the area have migrated to my sign company," he says.
All the channel letters were built in-house using their Accu-Bend 260 and a couple of CNC routers. Meanwhile they attached the 8mm Watchfire Sign to an angle iron frame on the sign panel using the mounting rail system behind the display and bolted them together from within.
Phillips Signs started out the daylong install by removing the existing readerboard sign from the three sign poles. Next they repainted the poles to match the incoming sections. Then they used their Elliot Equipment crane truck to lift up these heavy sign sections and their bucket trucks to guide them into place over the poles.
"The customer had an existing panel on-site which made the installation easier," says Phillips. "He also had an electrician there assisting us, so when the sign was done, it was ready to power up."
Phillips credits doing extensive surveying ahead of time as being key to alleviating any potential installation problems upfront. "Because we went out and studied and measured the sign poles, we pre-made all the sections to be able to slide down those existing poles and welded them together," he says.
The new Watchfire LED sign works even better since it is located in a perfect spot. "It stands at a main highway exit that comes out right in front of the restaurant, about forty feet away from the stop sign, which makes it very visible," says Phillips. "And on the other side of the sign is an actual bike and foot path that the community uses so they are right up on this sign.
"You couldn't ask for a better spot as far as people being able to see it."
According to Phillips, location also played an important role in the customer going with the higher resolution 8mm LED display. "Resolution is all about distance of viewing," he explains. "There are some locations I would never recommend an 8mm digital display because viewers wouldn't be close enough to it to notice the difference. The client would be wasting their money.
"But this sign is just so close to the highway and by a stop sign, so drivers can really take it in. And the foot and bike path behind it puts those people right up against it. The clarity of the Watchfire 8mm display is gorgeous. It's almost like a TV screen."
And while the Fisherman's Inn could have instead opted to save money by going with a lower-resolution 16mm screen, Phillips credits Schulz for taking the chance to really get some "pop" out of his investment that will last for years to come.
"He sees right now that he knows he made the right choice," says Phillips. "So many people told [Schulz] that they didn't know he was open until they saw it on his sign—and it has made all the difference in the world!"
The Fisherman's Inn and Crab Deck is successfully using their Watchfire sign to get their message out to the public that's affected by the COVID-19 pandemic. However Phillips has found that, if anything, the COVID crisis has actually increased his digital signage sales.
"I think [digital signs] have become indispensable in this age of constantly changing rules and mandates," says Phillips. "You've got to be able to get this information out there so the public knows where the end-user stands and what better way to do this than with a digital sign?
"A lot of my other customers with digital signs are so glad to have them because they can easily put this information out there.
—Jeff Wooten
Note: Portions of this article appear in a previously written press release.