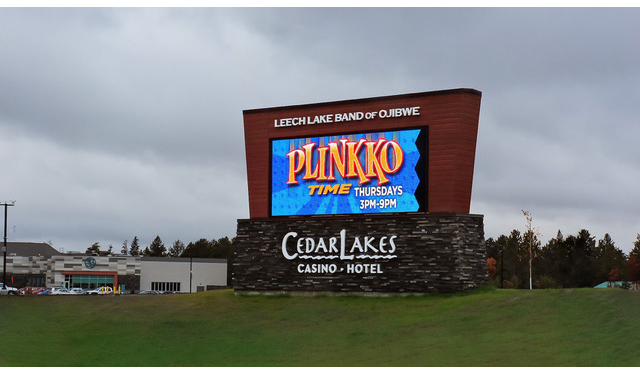 Cedar Lakes Casino & Hotel takes advantage of its prime location fronting Minnesota State Highway 371, a heavily trafficked stretch of road in Cass Lake, Minnesota. This location improvement came after the Leech Lake Band of Ojibwe decided to update their aging Palace Casino Hotel and move the facility three miles down the road.
The new Cedar Lakes Casino & Hotel knew they were going to need a state-of-the-art sign. This would prove to be a cornerstone to showcase the $45 million project, which opened in August 2019. The massive monument sign features a stacked stone base and wood surround. It also features a 21-foot-long 16mm color digital message center reflecting the bright, modern finishes of the new casino.
The sign was designed by LSE Architects of Minneapolis and SignArt Company, Mendota Heights, Minnesota. SignArt specified Watchfire Signs for the digital message center. "It was important to be able to easily advertise events, concerts, and promotions at the new facility, and a digital message center was the perfect vehicle for this," says Kevin Snyder, vice president at SignArt Company.
Billy Krotzer, with Leech Lake Gaming, is responsible for creating and programming all the content that runs on the Cedar Lakes Casino sign. He says that the Watchfire digital message center is the best visual way to entice guests to visit the facility.
"People today are very familiar with digital media. Our Watchfire sign allows us to use video and animated graphics to grab their attention and communicate with them in the way they are accustomed," says Krotzer. "Static images simply don't work as well."
Krotzer programs messages to change every eight seconds or so. This way, passers-by can see at least two messages. He includes a mix of video clips of entertainers, animated graphics of weekly and daily promotions, and reminders about upcoming events. "The Watchfire sign gets noticed because it's robust, bright ,and looks great," says Krotzer. "I frequently gets requests from managers in the casino to run content."
SignArt specified Watchfire because of the company's long history of providing excellent tech support. "I've had a relationship with Watchfire for thirty years,," said Snyder. "They are a preferred partner because they stand behind their products. Technical and sales support are always available on site when I need them."
—Press Release