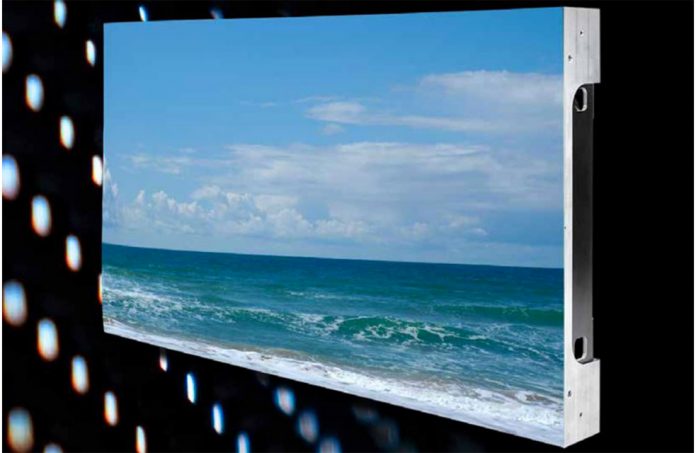 Daktronics of Brookings, South Dakota, introduces their new NPN-6200 product line, an expansion to their direct-view LED displays solutions. Allowing AV integrators and solutions providers to quickly and easily install the technology, the NPN-6200 is engineered with a lighter and thinner design.
"The NPN-6200 product line is really designed with the AV integrator in mind by combining high-performance products with robust reliability," said Adam Gilliland, Daktronics product manager. "Our experience in developing LED solutions has led us to set extremely high standards for our products. This ensures the end customer receives the highest quality for their application and we stand by our products to build customers for life."
The new line employs Daktronics proprietary Pure Pixel Processing technology designed specifically to allow LED displays to provide crisp, clear images through high-quality gray scale capability and color reproduction.
"To quickly convey any message and show fine details on LED displays, gray scale and color reproduction is extremely important," Jim Vasgaard, Daktronics national sales manager for spectacular projects. "Brands that are advertising want their exact colors shown along with fine detail of their entire image and messaging. The better a display can do that, the more effective it is for the end user.
"And it's not just advertising, it could be corporate presentations with graphs and charts, military applications with live video feeds and crucial information, and many other uses where detail and color need to shine through correctly."
"This product is available in a variety of pixel pitches ranging from 1.2-millimeters to 2.5-millimeters with many options for the AV integrator on a single 27.5-inch panel size, easily forming into a 16:9 aspect ratio," added Gilliland. "It's perfect for lobbies, boardrooms, storefronts, concourses, bars and restaurants, control and command centers, and many other applications with close viewing distances where clarity is extremely important."
With the NPN-6200 product, customers also receive Daktronics support benefits, including repair and return in Brookings, South Dakota, parts and support access for ten years with an option for extended parts service, and direct contact with the U.S.-based provider of their products.
—Press Release