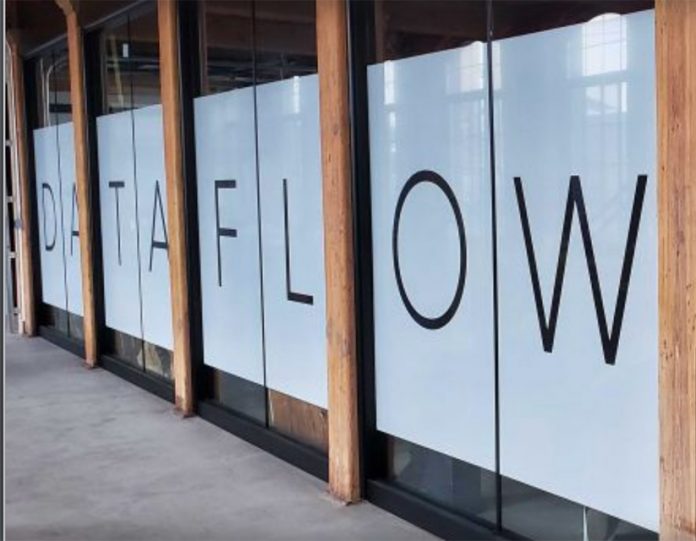 The use of the word "acrylic" once conjured images of fancy manicures or 1960s-era mod furniture, but today, the material has a higher calling, as it's being utilized to create physical barriers to protect people from the transmission of the coronavirus. Employed by medical facilities, banks, restaurants, offices and more, acrylic has emerged as an essential material on the frontlines of the pandemic.
Business owners across the country and the world are seeking tools to help them combat the virus while still keeping business operations running as smoothly as possible. While these tools take on many forms, including enforcing avid mask-wearing and maintaining a six-foot distance, the push for more steadfast solutions has resulted in an inexpensive, dependable answer: the acrylic barrier.
Acrylic resin, also known by brand names like Lucite and Plexiglas, is a material that's long been used by Dataflow, a digital printing and documentation services company with offices across Upstate New York, but is now seeing increased demand.
"Acrylic used to be seen as an inexpensive and temporary solution, but the ongoing regulations in place for safe operating practices during the age of COVID have proven that it may be a more permanent part of doing business," said Dan Zimmerman, president of Dataflow.
Many of Dataflow's clients, like Ascension Lourdes Hospital in Binghamton New York and the State University of New York at Cortland, among others, have reconsidered the importance of acrylic barriers as the lasting effects of the pandemic continue.
Back in February 2020, the World Health Organization issued a document noting ways to use personal protection equipment (PPE) in response to the rampant outbreak. WHO emphasizes the use of barriers as a way to reduce COVID-19 exposure, as well as to optimize PPE availability, stating, "Use physical barriers to reduce exposure to the COVID-19 virus, such as glass or plastic windows."
It should be noted, however, that these barriers are not a substitution for masks but rather an additional layer of protection.
Michael L. Fischman, a consulting physician and clinical professor of medicine at UC San Francisco, notes the benefits of plexiglass (acrylic) barriers over their more expensive rivals in an article published by the American College of Occupational and Environmental Medicine, stating, "Physical barriers are an example of an engineering control that can reduce droplet transmission in these settings…Plexiglass is advantageous because it is readily available, easily worked, smooth, transparent and easily cleanable."
Lourdes Hospital, which tasked Dataflow with designing and installing acrylic barriers throughout their medical facility, valued the impenetrable, easy-to-clean and well-designed aspects of the company's acrylic product, and chose to work with a local business throughout the process, which required frequent visits and walk-throughs to ensure the best fit to meet the medical facility's needs. Originally Lourdes contracted Dataflow to provide acrylic barriers only to separate employees from patients in close areas like check-in, but upon seeing the custom craftmanship and the efficacy of the acrylic dividers they received, hospital management opted for additional barriers between employees as well.
"During the pandemic, healthcare organizations have had to adapt very quickly to protect patients and caregivers from the spread of infection," noted Laura Donovan, chief marketing and communications officer at Ascension Lourdes Hospital. "We contacted Jax Signs [a division of Dataflow] to install [acrylic] partitions and they provided quick, high-quality service to meet our needs. We are impressed with their excellent, reliable customer service."
While many businesses have chosen to opt for cheaply made, one-size-fits-all barriers, management at Lourdes knew that installing barriers that were custom-fit to their spaces was of the utmost importance to provide thorough protection for patients and hospital staffers. Mass-produced barriers not only can leave gaps that lead to dangerous exposure, but also have a tendency to yellow, bubble and break, a risk that medical facilities, and other critical businesses, can't afford to take.
While the team at Dataflow has been keeping busy, they don't expect to slow down anytime in the near future. "Coronavirus isn't going anywhere soon, but if we want to collectively commit to slowing the rate of infection, businesses need to install solutions like acrylic barriers to ensure that extra level of protection," said Zimmerman.
—Press Release