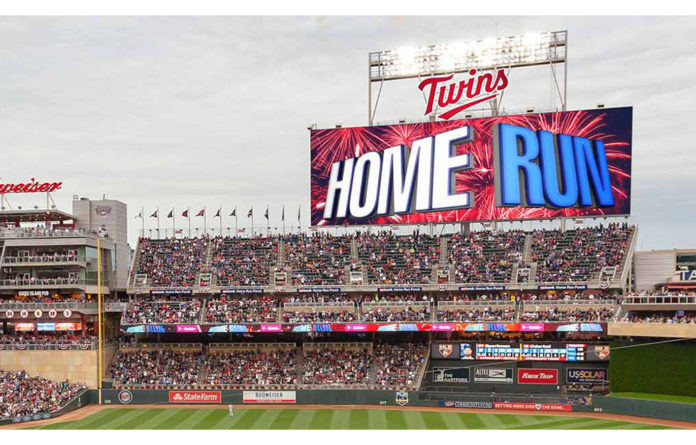 Ahead of the 2023 baseball season, Daktronics (NASDAQ-DAKT) of Brookings, South Dakota, has continued a long-standing partnership with the Minnesota Twins and Target Field to design, manufacture, and install 22 new LED displays totaling more than 23,000 square feet—a 63 percent increase from 2022, a 113 percent jump from when the ballpark opened in 2010, and now among the most extensive in all of Major League Baseball.
The new main video display will be HDR-capable and increase in size by 75 percent while the new auxiliary display will increase by 60 percent over both previously existing displays. The production of more than 13.1 million LEDs has begun as installation will be completed prior to the Twins' April 8 Home Opener in Minneapolis, Minnesota.
"The Minnesota Twins are thrilled to continue our longstanding partnership with Daktronics as we deliver a best-in-class fan experience at Target Field," said Twins President & CEO Dave St. Peter. "Digital displays bring the game-day environment to life, and these LED upgrades will equip our ballpark with the very best of stadium videoboard technology.
"We are fortunate to have the industry leader right here in Twins Territory and cannot wait for our fans to experience these incredible new LED boards."
The main attraction will be the left field video display that will measure approximately 56.5 feet high-by-178 feet wide and total more than 10,000 square feet—75 percent larger than the previous display and the sixth largest in Major League Baseball. As one of a select few in MLB to be HDR-capable, it will deliver excellent image clarity and contrast with wide angle visibility. The display will also incorporate industry-leading environmental protection to ensure it operates as expected in the outdoor elements of Minnesota.
"The upgrade to Target Field's LED technology will be exceptional and enhance the experience at every event," said Daktronics President and CEO Reece Kurtenbach. "We've been proud to work with the Minnesota Twins for more than twenty years and extending this partnership is something we greatly value here at Daktronics. Our local factory in Redwood Falls, Minnesota, and Brookings, South Dakota, will be assembling product for this in-state partner, something that brings pride to many of our employees, and we're extremely excited to see this project come to life in 2023."
The main video display is one part of this overhaul of LED displays at Target Field which includes a 1,600-square-foot auxiliary display in right field that will be 60 percent larger than the previous display. There will also be an outfield fence display running 110 feet long and an 800-square-foot bullpen display, all within the seating bowl to add to the game-day experience.
Additionally 11 new ribbon displays will be affixed to the seating fascia throughout the stadium and total 1,485 feet in length. These allow for game-in-progress information, captioning abilities, additional statistics and graphics, and the opportunity to highlight sponsors throughout events.
A tower feature will total 2,000+ square feet and a box office display will provide an additional 187 square feet of digital space to connect with audiences and communicate information pertinent to those spaces. At Gate 34, a display featuring 725 square feet will welcome audiences and Twins fans to the stadium.
"This current update will put the technology and information available to the fans at Target Field to the top of all ballparks at the highest level of professional baseball," said Daktronics Regional Manager Tony Mulder. "We're proud to continue our relationship with the Minnesota Twins that dates back to the early days of the HHH Metrodome. Opening Day in 2023 will be a new visual experience for everyone!"
All of the products for this project will be manufactured at Daktronics' factories in the United States while leveraging the company's tested and proven global supply chain for parts. This extensive assembly process includes placing components – including the LEDs themselves – onto circuit boards to create modules, the building blocks of LED displays.
Daktronics has grown with the sports industry from the company's beginnings in 1968. Today the company has integrated LED super systems in nearly 60 percent of all professional sports facilities in the United States and Canada.
—Press Release