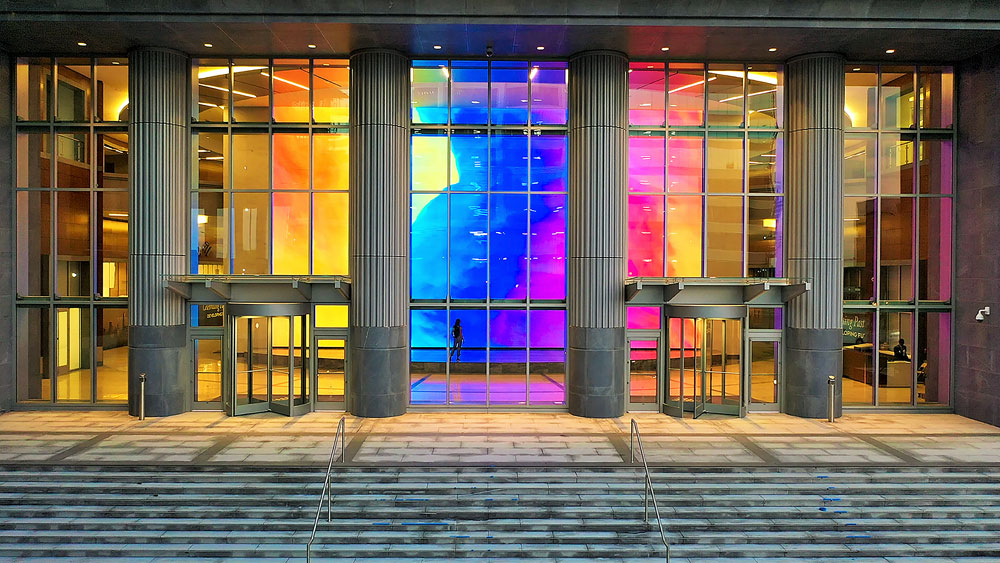 The new ten-acre Legacy Union development in Uptown Charlotte, North Carolina takes up two city blocks with its high-rise office and residential spaces alongside shopping and dining options. The signature building on the property is the fifty-story Bank of America Tower corporate center, and during its planning stages two years ago, real estate developer Lincoln Harris wanted a modern-style digital visual feature in its lobby so compelling that its visitors and tenants couldn't ignore it.
The end result is a (nearly) 1,000-inch-diagonal NanoLumens LED video wall—an achievement billed as the largest native 4K display ever installed indoors. And its successful implementation can be traced back to the collaboration between several different companies throughout the development and installation processes.
The 4.7mm NanoLumens Performance Series 4K display measures 64 feet wide-by-36 feet tall. It features over 9.4 million pixels on an aspect ratio of 16:9 and boasts a 4096-by-2304 resolution.
The Bank of America Tower stands triumphantly next door to Bank of America Stadium (home of the NFL's Carolina Panthers) and a newly built large parking deck. Its lobby is framed by tall two-story floor-to-ceiling windows that look out across a lively plaza toward Charlotte's main thoroughfare.
"The initial premise was to not only create [something] unique to Charlotte but also be relevant to the community," says Hal Shute, associate principal for LS3P (the architectural firm that helped build Legacy Union).
LS3P made the decision to place the giant LED video wall display at the front of the building, knowing the surrounding large grass lawn and blooming bosom trees would help activate it to both pedestrians and vehicular traffic. "We treated the [LED display] as a wall in the building that was engineered and tailored for the space and materials around it," says Shute, noting it would be affixed to concrete and marble walls.
More urban locations are now integrating "architecture as art," so Shute and his team started out by surveying surrounding commercial office buildings in the Uptown area. "Everybody had 'traditional' art, but nobody embraced digital video walls in any meaningful way," he says. "We felt this would be the perfect opportunity to bring the Bank of America Tower's lobby into the twenty-first century."
There was no conscious effort at the beginning to make this particular project the world's largest indoor 4K display. "We intentionally wanted to make the video wall feel like a part of the building," says Shute, "which led to it being as big as it is."
Legacy Union owners and LS3P contacted integration experts from audio-visual provider Cenero to get the project moving in the right direction. Having recently completed a similarly ambitious video wall at Charlotte Douglas International Airport, Frank Milesky, southeast area director for Cenero, gave Shute and his team a behind-the-scenes tour, showing them how they installed that LED display. This helped prepare everyone for what was needed.
The Nanolumens video LED wall was installed towards the very tail end of the building's construction. Cenero's team of installers used a scaffold wrapped in a mesh breathable fabric followed by a plastic overlay to protect everything from dust and debris. "This took place during the middle of summer, so bottles of water for everyone were a must," says Milesky.
The 64-foot-wide-by-36-foot-tall video wall also has audio and can function as one enormous screen or several separate screens—up to 16 total measuring 16-by-9 feet each. An Extron Quantum Ultra 610 processor drives the display.
Its resolution allows any style of modern content to be shown without any reformatting or special processing. Content includes marketing messages, local footage taken by drones, and Carolina Panthers pre-game shows on game day. The display is also synced to work in tandem with the building's LED exterior border lighting, most notably when the Panthers score a touchdown next door. "There's also an extensive lighting package programming for all the holidays and any special area events," says Shute.
However its content centerpiece is the immersive rainbow amalgamation developed by interactive design studio Second Story dubbed "Unify." This award-winning content is actually featured on the video wall 80 percent of the time.
An interdisciplinary ten-person team of programmers, digital designers, art directors, project managers, and technologists at Second Story created the algorithm of evolving rainbow art. The effort was more to tell a subtle story than traditional communication or advertising. "We wanted to instill a sense of unique character or place through media architecture," says Joel Krieger, executive creative director for Second Story.
There's no set output nor video. "It's basically a computer program that creates a universe that has rules and laws that sets forth this never-ending kind of chain of events and reactions," says Krieger. "Deciding which way to go had all sorts of implications on the challenges you're going to face, and here, it was making sure we had enough horsepower to drive the resolution of this program at this scale."
With "Unify," Second Story designers also had to consider Bank of America Tower employees who were going to be seeing this display every day. The team had to create something the employees wouldn't get tired of looking at, which meant that a full pre-rendered video on loop wasn't going to work. "[The algorithm] we created means you never quite see the same thing twice," says Krieger. "It's always changing and evolving."
This is definitely not your run-of-the-mill lobby display. The end-result has caught the attention of bystanders on the grassy plaza outside, passing vehicular traffic, and building visitors and tenants, generating lots of smartphone photos and selfies amongst them. "Part of what makes it so mesmerizing is the movement of the colors and the sound," says Krieger, "and part of it is its scale and the intentionality of the architects' design. When you walk through the front doors, the edges of the screen are still just barely in your periphery. The scale exponentially helps it feel like an immersive experience."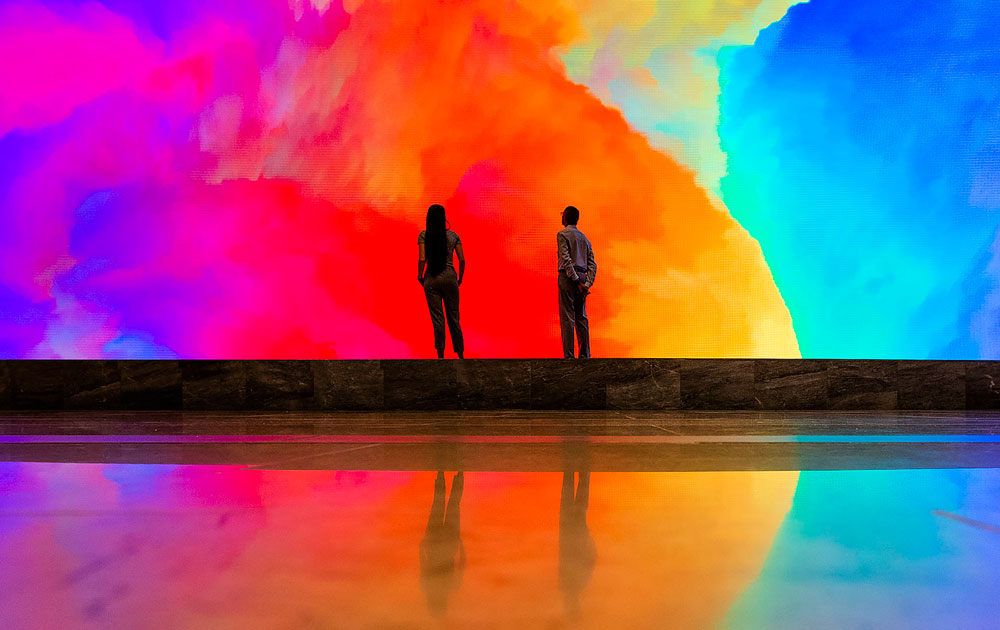 Everyone agrees that the Nanolumens video wall does a great job delivering a message of modernity and cohesiveness to a "city on the rise."
Krieger says Charlotte is currently experiencing a renaissance of more people moving there. "[The wall] is an homage to how a community works," he says. "In a community, the actions of every person affect everyone around them, so the algorithm we created is a beautiful homage to a vibrant community. Every pixel affects every other pixel around it."
The scale of work achieved here is credited to fantastic partnerships. Early planning proved essentially critical. "This video wall was thought about from the beginning during development and not after the building was completed," says Shute.
"Thinking about a project early dictates the medium," says Milesky, "especially when you're creating computer algorithms and scaling content in a meaningful way. The earlier you can get in and conceptualize your idea with the designers, the architects, and the owners, the more success you'll find."
Note: Some portions of this article appeared in a previously written press release.
By Jeff Wooten