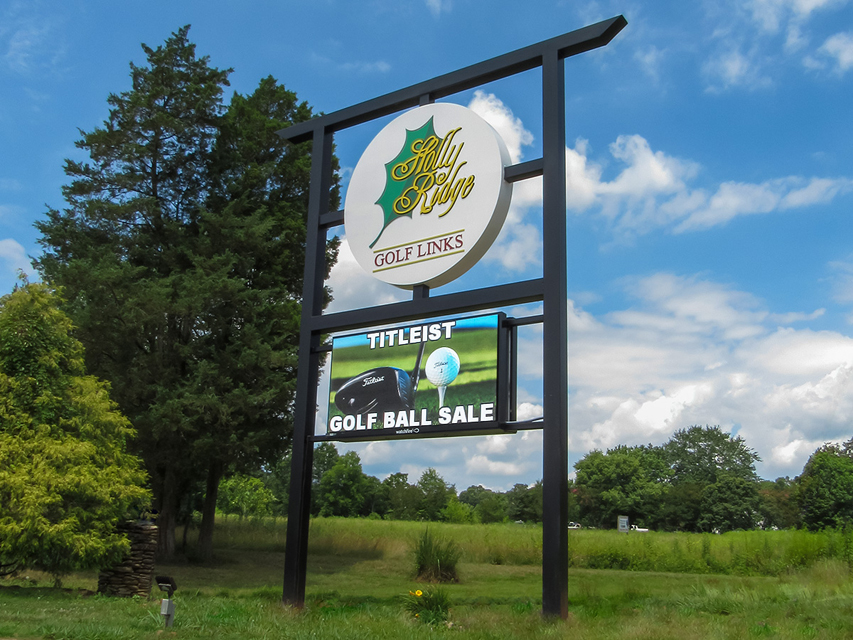 Holly Ridge Golf Links is an eighteen-hole public golf facility and event venue located between High Point and Asheboro, North Carolina in the town of Archdale. The facility has been catering to area golf enthusiasts since 1994.
Located on busy Highway 311, Holly Ridge is a destination for new and experienced golfers and hosts various tournaments throughout the year. The facility also provides a beautiful backdrop for weddings and other events, and its bar & grill is a popular lunch and dinner spot for locals.
To appeal to area golfers, owner Luke Hollingsworth traditionally promoted the facility in a local golf publication, spending thousands of dollars yearly. He wondered if there was another way to expand the facility's profile.
"I always felt like we weren't taking advantage of our visibility on Highway 311 to promote what's happening at the golf course," said Hollingsworth. "I considered installing a digital sign for six to eight years, but I wasn't convinced it was worth it."
In 2021, Hollingsworth decided to replace his 10-by-5-foot wooden sign flanked by rock columns with a new black metal structure that features the Holly Ridge logo and includes a high-resolution 4-foot-3-inch-by-8-foot-5-inch digital sign from Watchfire Signs.
The flexibility of the 8mm digital sign allows Hollingsworth to easily change messages, something he couldn't do with print advertising. He is able to promote lunch and dinner specials, upcoming tournaments, sales and specials in the clubhouse, and special events, such as weddings.
Almost immediately the sign began paying for itself. Hollingsworth has been able to stop his expensive advertising in the local golf publication and relies on his digital sign and Facebook ads to keep the facility busy. The sign will generate 3.1 million exposures per year.
Hollingsworth selected Watchfire after conducting his own research and noting local signs that he thought looked great. "Everyone I talked with said you get what you pay for," said Hollingsworth. "I really love a sign at a local car dealership, and it's a Watchfire. When Watchfire brought the demo truck and showed me what the sign would look like, it was an easy decision."
Quicker hiring has been an unexpected benefit of the new sign. "We post open positions and within an hour or two we have candidates applying," said Hollingsworth.
—Press Release