Founded by Floyd "Sonny" Tillman, Sonny's BBQ started up in Gainesville, Florida back in 1968, serving slow-smoked, real Southern barbecue. Today the Sonny's BBQ chain has ninety-seven restaurants located all across the Southeast, each of them dishing out generous portions of oak-smoked meats and sides.
In addition to cooking up generous delicious servings, the Sonny's BBQ in Concord, North Carolina has also found the advantage of using on-premise digital signage—but it was the second time around that proved to be the real selling point for them.
Tricor, Inc., is the only Sonny's BBQ franchisee in the states of North and South Carolina. In addition to Concord, they also operate restaurants in Mooresville and Rock Hill.
The Sonny's BBQ in Concord is located right off the heavily traveled I-85 Interstate and a few exits away from the popular Charlotte Motor Speedway (which uses a large LED board).
Tricor CEO Steve Tubel saw that there was going to be a significant advantage in visibility and viewership to making the investment in digital at the Concord Sonny's BBQ restaurant.
So five years ago, Tricor, Inc., decided to upgrade from its static two-sided identity sign to a large pole-mounted digital display, with the idea being to gain additional advertising impressions from motorists. A portion of the LED sign would display the restaurant's name and logo, and the rest would advertise food specials.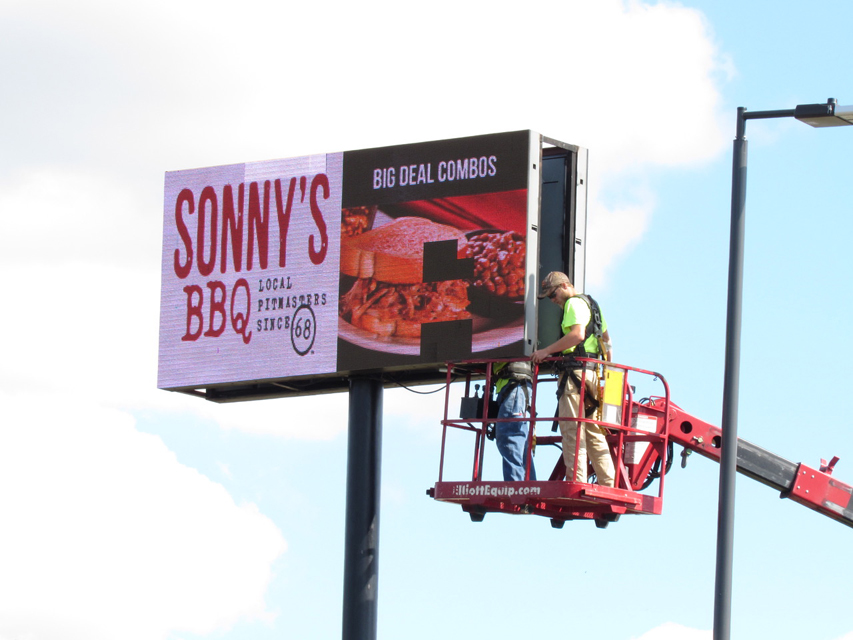 Tubel networked with a fellow franchisee who recommended a sign company offering a "rock bottom" price—and unfortunately, eventually ended up with "rock bottom" results.
Within six months of installation, the sign started failing. "At times, part of the sign went black, and at other times, the entire sign was out. We could not advertise our promotions, and sometimes we lost our restaurant identification altogether," said Tubel.
Since Tricor, Inc., purchased the sign from an out-of-state company, getting someone to service the sign was difficult and finding parts was tricky. Eventually the sign company subcontracted with a local repair professional, who regularly serviced the sign until it died after five years.
Rite Lite Signs of Charlotte, North Carolina contacted Tubel offering to take a look at the sign and see if there was anything they could do to help. This full-service sign company is actually located only a few miles down the road from Sonny's BBQ restaurant along I-85, and key workers there had noticed that the malfunctioning digital sign was either fully dark or a certain percentage of the sign was blacking out.
"We have also used Rite Lite Signs for all our neon repair work for several years now," says Tubel. "They've got an in-house neon shop, which is really attractive to us because not many sign companies have that these days."
Tubel learned that Rite Lite Signs was the contracting company for Watchfire Signs. So a Watchfire representative and sign dealer, Tim Stout of Rite Lite Signs, Inc., met with Tubel at the Concord Sonny's BBQ and brought the Watchfire demo truck with him. "They had already prepped the demo truck and pre-programmed Sonny's images onto the display, which was pretty cool," says Tubel.
It was also arranged for Tubel to visit the Watchfire manufacturing facility in Danville, Illinois to see how the signs are manufactured from meticulously sourced global components and quality-tested for durability and color accuracy.
Change was already in the air, as this particular Sonny's BBQ had undergone an interior and exterior renovation that started in late December 2019 (ten days before Christmas) and lasted until March 2020. But there were challenges.
The COVID-19 pandemic wreaked havoc on the grand opening of the renovated restaurant, as they had to shut down their dining rooms as soon as the renovation was completed. "March through June was pretty rough and pretty dismal," says Tubel.
By the third week of June, things started picking back up. "Although we couldn't open our dining room, we were able to do drive-thru, take out, third-party delivery, curbside, etc.," says Tubel, "and that kind of gained some traction. We eventually were able to reopen our dining room at 50 percent capacity."
Yet the malfunctioning exterior digital sign remained a problem. "It was out a good part of March through August," says Tubel. "There was no logo and no messaging on it. And at night, you could only see our building and parking lot lights, but no one could see this sign with our logo on it."
So Tubel made the decision last August to replace the malfunctioning sign at the Concord Sonny's BBQ and upgrade it with a new 10mm Watchfire LED display.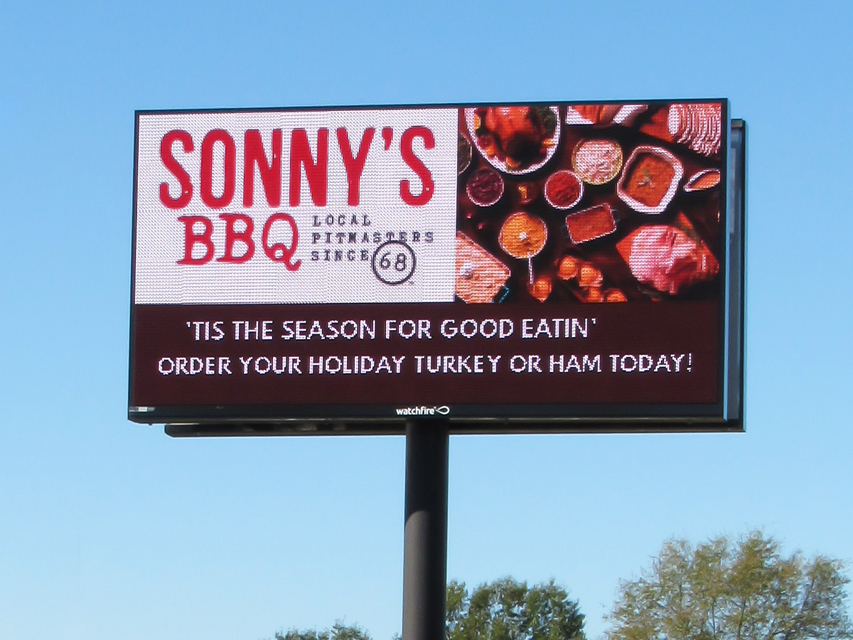 Sonny's BBQ stayed open regular hours during the Rite Lite Signs installation of the sign. Fortunately the sign is located in its own corner of the parking lot that wasn't blocking traffic. Still Rite Lite Signs scheduled their installers to arrive and begin work hours earlier than the restaurant's 11:00am opening time.
It took Rite Lite and their bucket and crane trucks about an hour-and-a-half to remove the old sign. Throughout the day, they got everything fastened and hooked up. "They were off-site by 4:30pm," says Tubel.
The new 6-by-12-foot Watchfire digital sign is in operation 24/7 each day.
Local jurisdiction bans the use of video on digital signs and development covenants prohibit reader boards, so the Sonny's BBQ sign is displaying still images that change every thirty seconds. "The county allowed us to split our logo, but we also have multiple messages on it for a limited time on it—such as offers and daily specials," says Tubel. "We also use the sign to run charitable type of promotions, as well as special messaging like, 'Welcome, Race Fans!'"
Tubel easily programs the sign himself using Watchfire OPX Manager. "I manage the Sonny's logo portion of the sign and use the other part for messaging about food, displaying photos, running promotions, or a combination," he says. "There are times when we do a 50/50 split, and there are times I'll go ahead and do a little bit smaller logo (30 percent) with a larger message or photo image with the software."
Tubel is also using the digital sign to address the labor shortage concerning many restaurants today. They've successfully programmed two of the rotating messages to successfully recruit workers. "Because of its location, the sign is basically up in the air and projecting that, 'yes, we're hiring and here's the Web site to visit,'" says Tubel. "We wouldn't be able to advertise in that manner with a static sign."
Sales have experienced double digit increases since the sign install. "We haven't seen any monthly sales dips since the Watchfire sign was installed," says Tubel, "We attribute a lot of this growth, in addition to the remodel, to our new sign."
—Jeff Wooten
Note: Portions of this article appeared in a prior written press release.