PPDS, the exclusive global provider of Philips digital signage, interactive displays, direct view LED and professional TV products, is excited to announce its range of direct view LED and digital signage solutions have been selected to create new, highly immersive, and emotive shopping experiences for visitors inside Jack Wolfskin's flagship store in Frankfurt.
Founded in 1981, the German-based brand has been motivating people to go outside and connect with nature for over 40 years and is one of the biggest international suppliers and franchisers of outdoor clothing, footwear, equipment, and accessories.
With more than 500 stores and 1,400 employees across Europe and Asia, their premium product collections have empowered people to experience some of the world's most exotic outdoor locations.
With a mission of enabling people to discover new experiences, the team at Jack Wolfskin wanted to bring the same sense of wanderlust and excitement for the outdoors into their stores. To make this happen, they needed an innovative solution that would stimulate the senses of their customers while also creating an intuitive and inspiring sales journey.
To achieve its mission, Jack Wolfskin teamed with PPDS and Hamburg-based integration specialist, pilot Screentime to deliver a comprehensive AV solution to transform the flagship Frankfurt am Main location into a next generation Jack Wolfskin store. This included the installation of an immersive 7.5m Philips L-Line 7000 Series LED wall into the store, used to engage customers and draw passing crowds inside.
To complement this awe-inspiring screen, a 55-inch 4K Ultra HD Philips Q-Line digital signage display was strategically placed to showcase the sustainability features of the store and its products. These Philips professional displays were integrated into the store's wider content system, which includes interactive touchscreens and seamless storytelling experiences that set the mood for adventure.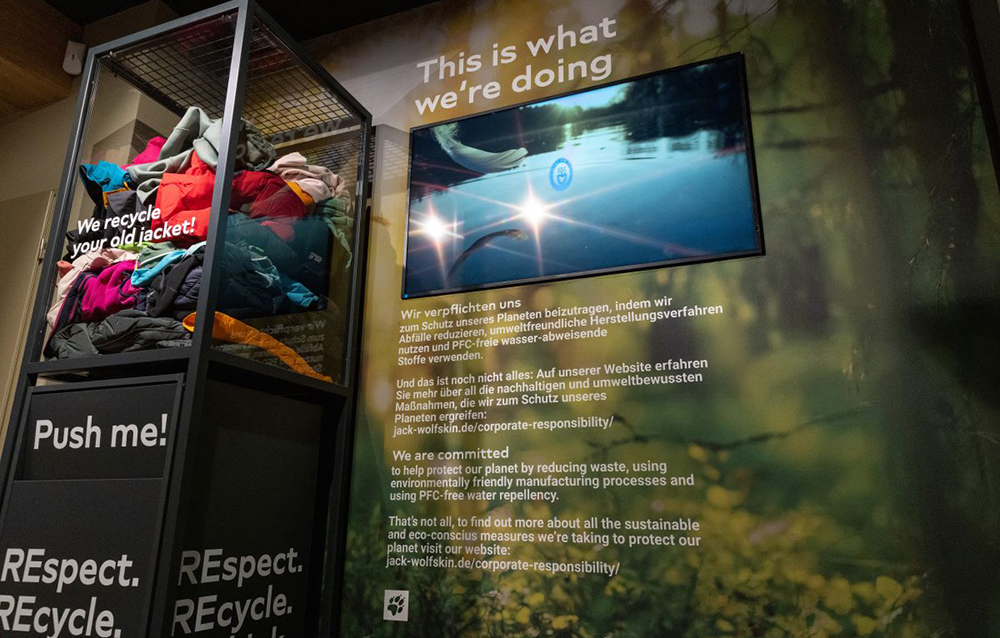 The benefits provided, both to customers and to the Jack Wolfskin team, are extensive, with the Philips 7000 Series LED's modular design allowing for panels to be removed and for the wall to be reshaped with ease, bringing limitless options for design and simplicity for any future panel requirements. Offering high brightness and ultra-clear resolution, the dvLED wall provides a powerful impact for those both in and outside of the store, helping to maximize customer engagement and improve sales.
The Philips LED 7000 Series also offers low power consumption without impacting performance, meaning lower operating costs and a bigger step toward a greener future.
Damian Rodgett, CEO at pilot Screentime GmbH, commented, "The digital POS sales concepts we have developed for Jack Wolfskin's flagship stores are designed to make the shopping experience even more emotional. The combination of LED boards, standard digital signage screens, innovative touchpoints, such as the campfire, and touch tablets leave a lasting impression on customers at the POS, where competition is increasing in the highly competitive outdoor apparel sector.
"This is a good example of what is now the new benchmark in POS sales and marketing: a minimum of investment achieves the maximum impact on the customer experience."
—Press Release