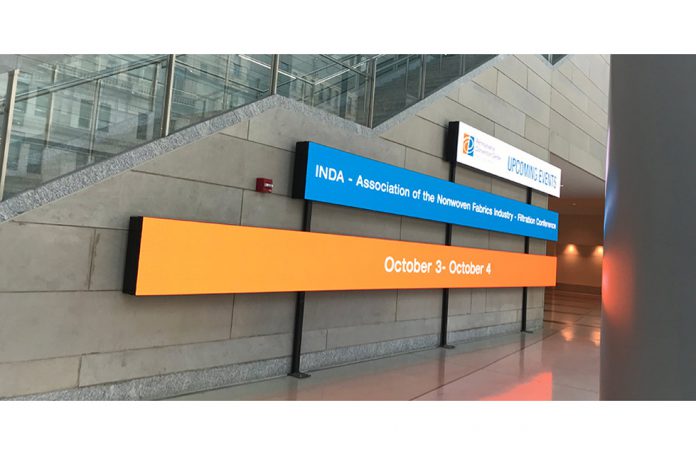 Daktronics (NASDAQ-DAKT) of Brookings, South Dakota, in conjunction with SMG, was asked by the Pennsylvania Convention Center to provide seven new LED video displays to amplify the guest experience during more than 200 annual events hosted by the facility. The installation took place this summer and the displays are currently sharing messages with visitors and passersby.
"As the world becomes more digitalized, our new digital displays will offer our customers a chance to bring that new technology right into their meeting spaces," said John J. McNichol, president & CEO of the Pennsylvania Convention Center. "This installation has heightened the presence of meetings and conventions—as well as the experience of event attendees—in our Broad Street Atrium, which was already a unique and impressive space."
Six displays featuring 4-millimeter line spacing are lined on each side of the main entrance in mirror fashion below each escalator to greet visitors to the convention center and to show event-specific content. Further inside the entrance, a display along the rear wall features a narrow pixel pitch of 2.5-millimeters that engages guests as they pass by. These displays also show upcoming event information and other abstract content to create a welcoming atmosphere.
"We are pleased to work with Daktronics, the world's premier digital signage company, in bringing a premier amenity to our customers," said Kelvin D. Moore, CMP, regional general manager for SMG, the nation's leading public facility manager which oversees the day-to-day operations of the Pennsylvania Convention Center. "We are very pleased with the response we are receiving from our customers."
Two displays along the bottom of the atrium's staircases measure 2 feet high-by-34 feet wide. The next two displays above that area measure 2 feet high-by-28 feet wide, while the top two displays measure 2 feet high-by -6.5 feet wide. The narrow pixel pitch display in the rear of the atrium measures approximately 8 feet high-by-14 feet wide. The combination of displays provides crisp, clear imagery to wow visitors to every event and to passersby.
"SMG, the venue management group for the convention center, presented Daktronics with a challenge of how to attract greater awareness of the building's Broad Street entrance from the significant outdoor audience," said Peter Dunkle, Daktronics sales representative. "The challenge was to attract interest through design, display brightness and content, yet also blend in and keep in style with the iconic architecture of the building's interior.
"Working together with SMG, we believe that we've accomplished these goals while also incorporating additional effects that Daktronics can achieve through our master Show Control System."
Daktronics Creative Services, an in-house, award-winning creative team, worked closely with the convention center to produce event-specific content as well as Philadelphia-specific content for the new system. The content produced includes a welcome message and template, upcoming events template, a logo treatment, artistic elements, and treated footage of the Pennsylvania area in an ink reveal fashion.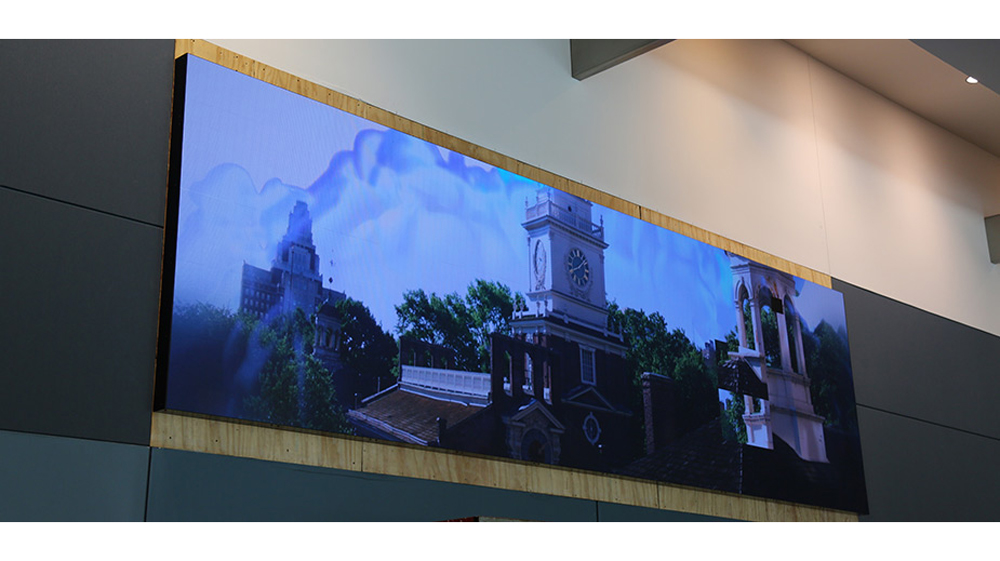 "We really wanted to create content that showcased a more artistic interpretation for this project," said Ethan Sevilla, Creative Services account manager. "We are able to use the displays as seven different canvases or we can use multiple displays as larger canvases by accounting for the space between the displays and creating content as if they were whole. It leads to some cool effects with all the displays working together when an individual is standing near the entryway."
Daktronics' line of narrow pixel pitch products consists of 2.5, 1.9, 1.5, and 1.2 millimeters. This technology provides for high-resolution imagery at close viewing distances – as close as five feet or less. They are great for indoor locations where audiences are very close to the displays and add an element of luxury to venues.
Daktronics' Show Control System is an industry-leading solution providing a combination of display control software, world-class video processing, data integration and playback hardware that forms a user-friendly production solution. For more information on Show Control, visit www.daktronics.com/show.