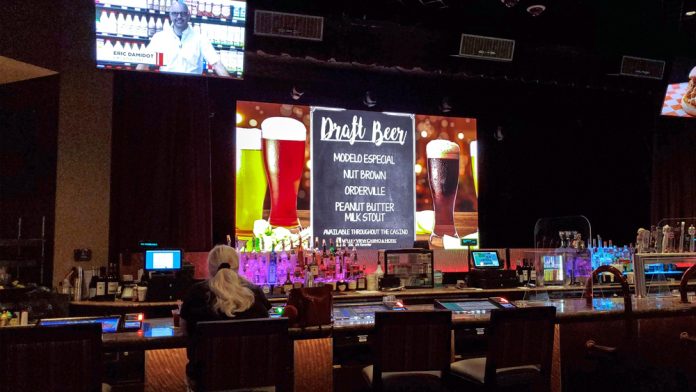 San Diego's Favorite® Casino, Valley View Casino & Hotel, replaced an LED display at their Main Stage Bar & Lounge with an upgraded video wall using digital display technology from SNA Displays. Audio-visual integrator D3, Inc. procured and installed the LED display, which will show live sports and other entertainment videos for their guests at the bar & lounge. The new video wall will enhance the guest experience with state-of-the-art brightness and clarity for all to enjoy.
From gaming in San Diego's luckiest casino to dining in award-winning restaurants, Valley View has gained recognition as an exceptional destination for both San Diego residents and Southern California visitors alike.
Along with earning the title of "Luckiest Casino," Valley View Casino & Hotel also prides itself on offering every guest a beautiful, spacious, safe and contemporary environment. Guests can enjoy state-of-the-art, loose slot machines and thrilling table games along with exceptional personalized service and the most delicious food that all adds up to an unforgettable experience.
"We were happy to partner with SNA Displays to provide our Main Stage Bar & Lounge with new, state-of-the-art LED display with BRILLIANT Technology. This new addition will enhance the guest experience and provide more crisp entertainment for our guests to enjoy," says Todd Jackson, Vice President of Information Technology at Valley View Casino & Hotel.
The new LED screen comes from SNA Displays' BRILLIANT™ line of indoor display products and features a 16-by-9 aspect ratio. The display is approximately 9 feet high and 16 feet wide and has a narrow pixel pitch of 1.9 millimeters, meaning the high-definition digital contains more than 3.5 million pixels (1404-by-2496).
"Valley View Casino already had the infrastructure that was needed in place, so this was an ideal retrofit project," said Tony Kaiser, project manager for SNA Displays, referring to the display which was replaced. "So installing the permanent technology was fairly straightforward and we are very pleased with the results."
The casino also boasts a very generous Players Club where membership is free and guests are immediately rewarded with over $100 in casino and restaurant offers plus a free Bluetooth speaker. Guests can sign up for free at the Players Club in Valley View Casino & Hotel and will enjoy wonderful benefits for choosing Valley View as their casino gaming and dining destination.
Valley View Casino & Hotel is located just fifteen minutes northeast of Westfield North County Mall, just east of Escondido and south of Temecula. All guests twenty-one-and-over are invited to enjoy the casino, hotel, and restaurants.
About D3, Inc.
D3, Inc., provides consulting guidance, design documentation, and construction administration services for professional digital audio, video, information technology, and lighting systems.
About SNA Displays
SNA Displays brings creative visions to life by building high-end digital displays as vivid and dynamic as the imagination. SNA Displays employs a team of SNAPros™—engineers, skilled project managers, systems experts, installation managers, and support staff—whose mission is total project satisfaction.
SNA Displays is headquartered in Times Square and has worked with clients to design and build some of the largest and most recognizable digital spectaculars in the world.
—Press Release