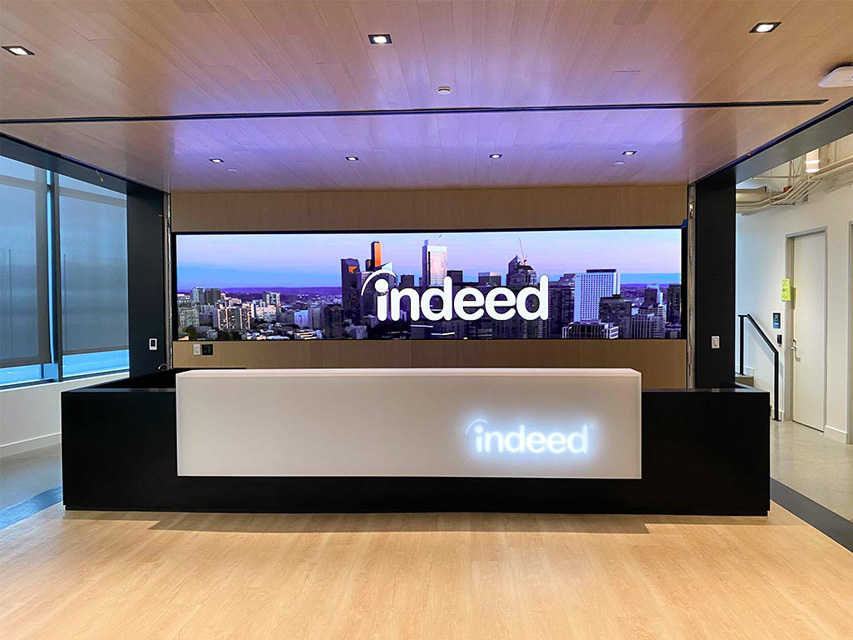 Indeed®, the most popular job-search website in the U.S., recently added a narrow pixel pitch LED video wall to the reception area of its Seattle location. The technology company's new direct-view LED was installed by commercial integrator Ford AV and built by leading LED display manufacturer SNA Displays.
"Indeed uses the large video display to capture the attention of anyone walking through the lobby," said Daniel Muraida, project engineer for Ford AV. "The video content is agile, displaying the Indeed logo with amazing background graphics as well as moving video with custom content that can be programmed to change, so it displays content when it would be the most impactful."
The LED screen was wall-mounted behind a large reception desk on the thirty-eighth floor of Qualtrics Tower, a thirty-eight-story building just a few blocks from Seattle's iconic waterfront and Pike Place Market.
The digital display is 3 feet-8 inche tall and stretches 17 feet along the office wall. It was built from SNA Displays' BRILLIANT™ line of indoor LED display products and employs a tight 1.56 mm pixel pitch. With a resolution of 720×3328, the display contains approximately 2.4 million pixels.
"So many tech companies understand how high-end, custom digital display technology can enhance corporate space and identity," said Raymond Jonathan, project manager at SNA Displays. "An eye-catching feature like this display really sets the tone for visitors and firmly establishes the company's brand."
Ford AV, which procured the display technology and coordinated the project, is a member of SNA Displays' preferred partner network. Ford AV also provided the content management system.
"Indeed incorporates a large amount of AV technology throughout their facilities," said Wes Akin, account manager for Ford AV. "It is important for their employees, clients, and visitors to see it in use. That is why a large, direct-view LED display is used to welcome each person who walks into the lobby, easily competing with full daylight streaming from surrounding glass windows."
—Press Release