SloanLED, leaders in light technology for 65 years, proudly announces the extension of its VL4 value series of channel letter lighting solutions. VL4 shatters expectations with its prism lens technology for an ultra-wide radiation pattern and an impressive light output of up to 195 lumens per foot (High Output 7200 K). VL4 also features a lifetime rating of over 54,000 hours and a peel-n-stick, perforated, one-piece release tape liner that reduces installation time by up to 30%.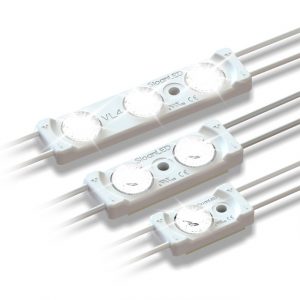 Designed to cover the full range of sign and display applications, VL4 Standard, Mini, and High Output (HO) now offer the complete selection of White color temperatures (7200 K, 6500 K, 5000 K, 4000 K, 3000 K) as well as Red, Green, and Blue in Mini and HO sizes. The new HO colors replace the existing Standard colors and deliver twice the light output without sacrificing performance and long-term reliability. At the same time, Mini Red, Green, and Blue allow the use of color in shallow applications where full-size modules won't fit.
"We're excited to offer customers even greater unprecedented value and adaptability," explained Barry Blythe, Director of Sign Product Solutions at SloanLED. "They now can choose a specific module size to meet the application requirements regardless of the required color temperature. And the new Mini and HO ranges offer class-leading performance and efficacy, enabling our customers to illuminate an even wider range of channel letter applications when colored illumination is required."
VL4 is available in Standard (White [7200 K, 6500 K, 5000 K, 4000 K, 3000 K]); Mini (White [7200 K, 6500 K, 5000 K, 4000 K, 3000 K], Red, Green, Blue); HO (White [7200 K, 6500 K, 5000 K, 4000 K, 3000 K], Red, Green, Blue]); and Super HO (White 6500 K). VL4 comes with SloanLED's industry-leading 10-year product and 5-year labor assistance warranty.