SloanLED, leaders in light technology for over sixty years, introduces the next generation in its Value Series line of products for small, standard, and large channel letters with the launch of VL4, a low-cost, 12 VDC channel letter lighting solution.
VL4, available in Standard (White [7200 K, 6500 K], Red, Green, Blue), Mini (6500 K, 5000 K, 3000 K), and High Output (6500 K), features a 160° radiation pattern for wide, uniform illumination, improved optics over its predecessor, continuous tape for faster installation, impressive light output of 150 lumens per foot (6500 K), class-leading efficacy of 111 lm/W (6500 K), and a lifetime rating of over 60,000 hours.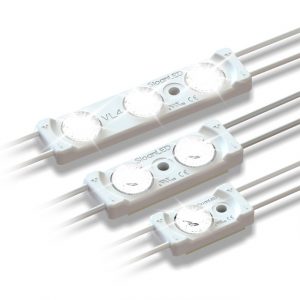 "There are many low-cost options available today, but not all are created equal," said Bruce Quaal, Chief Technology Officer at SloanLED. "VL4 is positioned to shatter expectations in price and performance and we're proud to offer sign makers a truly affordable option that will stand the test of time."
SloanLED offers three tiers of channel letter lighting solutions with Value (VL4), Performance (SloanLED Prism), and Performance+ (SloanLED Prism24) Series products covering the entire gamut of applications and price points—delivering significant energy and maintenance cost savings, easy installation, faster ROI, and exceptional performance with consistent brightness and uniformity for every application.
For more information about SloanLED's expanded portfolio, please visit https://sloanled.com/collection.
—Press Release