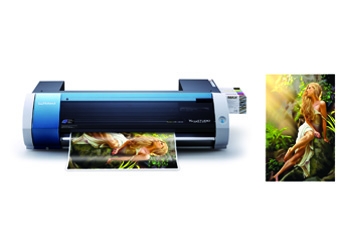 Alexei Oglushevich's entry, Summer Fantasies, has earned the Russian designer the Grand Prize in the 2013 CorelDRAW® International Design Contest. This year's award includes a Roland VersaStudio BN-20 desktop printer/cutter, Wilcom® EmbroideryStudio with 16 Elements, and $10,000 in cash. (Note: Click here to watch Alexei's eye-catchy speed drawing video.)
In all, eighteen winning entries were selected out of the thousands submitted to Corel for the contest, which recognizes outstanding works in a variety of categories, including: Advertising/Specialty Graphics, Vehicle Wraps, Textile/Fashion Designs, General Illustration & Fine Art, Student and Speed Drawing Video (Bonus).
In addition to winning the 2013 Grand Prize, Olglushevich won a Roland STIKA® SV-15 Vinyl Cutter for taking top honors in the contest's General Illustration and Fine Art category. Also awarded STIKA SV-15 Vinyl Cutters were first-place category winners Misa Mladenovic, Serbia (Advertising/Specialty Graphics), Jesus Irvin Herrera Aquino, Mexico (Vehicle Wraps) and Boopalan M., India (Student).
According to Kevin Gavine, Product Manager, CorelDRAW, this year's competition attracted exceptional work from accomplished graphic designers all over the globe. "The contest has become an important event for showcasing the outstanding creative skills and dedication of CorelDRAW users worldwide," he noted. "One of the key reasons behind the continued success of the contest is the support of major sponsors, like Roland DGA, who not only supply valuable prizes, but also help inform and educate people about the capabilities and benefits of CorelDRAW Graphics Suite."
Roland DGA's president, Rick Scrimger, also values the collaboration between his company and Corel, and looks forward to continuing the mutually beneficial relationship. "Being invited by Corel to serve as a Grand Prize sponsor for the third consecutive contest is a real honor," said Scrimger. "Our advanced printers and printer/cutters, such as the BN-20, work hand-in-hand with CorelDRAW software to help bring creative designs to vibrant, colorful life, so this partnership is a natural."
To access a list of the contest winners and view their winning entries, click here.
For more information on Roland's VersaStudio BN-20 Desktop Printer/Cutter, STIKA Vinyl Cutters, or the complete lineup of quality Roland digital printing equipment, visit www.rolanddga.com.
To learn more about Corel or the CorelDRAW International Design Contest, visit www.corel.com.